Understanding how to use Mac's Stage Manager is a terrific approach to simplifying multitasking and maintaining focus on your job.
That's because Stage Manager, a clever new feature in macOS Ventura, arranges your open apps into a pile of tiles on the left side of the screen while moving whatever you're working on into the middle of your display.
Stage Manager functions similarly on iPadOS 16 and macOS Ventura. The purpose is to keep you focused, but it's also an excellent way to see everything you're working on at a glance quickly. The Stage Manager tiles can even update life, so you can see when you get a new text message in Messages or an email in Mail.
This article covers how to turn on and off Stage Manager, customize it to your liking, and how it works. It's speedy and easy to set up.
What Is Stage Manager?
With Stage Manager, a new multitasking experience for the iPad and Mac, your most frequently used apps are automatically stacked into windows pinned to the screen's left side. Each of the stacked window groups can be changed by users to build unique workflows.
A stage Manager is unquestionably a specialized type of multitasker who prefer multitasking continuity that must be acquired. Instead of switching between windows or full-screen programs and hiding active apps behind other windows in the forefront, many users prefer to see all of their most recent apps at a glance.
How does a Stage Manager work?
Apps are arranged in thumbnail form on the left side of the screen. There is no thumbnail when the initial app is launched or when there is only one app open. When you open another app, that app appears as a thumbnail. Launch more applications, and so on, until five thumbnails have been created. When there are more than five active apps, the most frequently used apps are displayed as thumbnails; if you close one, another program that isn't currently being shown takes its place.
The window on the screen is opened by clicking the thumbnail. If an app is open in many windows, they appear as stacked thumbnails, and you may navigate between them to find the one you want.
How to use Stage Manager on Mac?
How to Set Up Stage Manager on Mac?
Stage Manager is turned on by default in macOS 13 Ventura. But some of its settings can be changed. Ventura-compatible macOS 13 devices:
From the menu in the top right corner, select Control Center.
On Stage Manager, click. Click Enable in the pop-up box if this is your first attempt to activate Stage Manager. Otherwise:
Choose whether to turn Stage Manager on or off.
Open apps are default displayed on the screen's left side. The apps can be hidden if you modify this. Choices include
Show Recently Used Apps: This will display the most recent apps on the left side.
Hide Recent Apps: The currently open apps are hidden until you shift the mouse pointer to the left.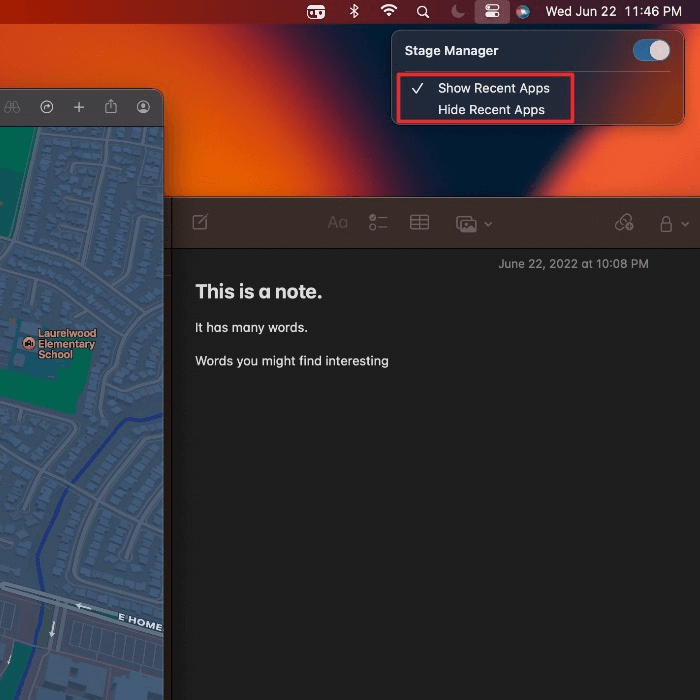 How to See Hidden Recent Apps?
You may quickly access recent programs when you've elected to utilize Stage Manager and conceal them by clicking on the lower left corner of the desktop. When you do, the hidden apps will become visible on the left side of the display.
How to Customize Stage Manager on a Mac?
To change the appearance of Stage Manager, click Customize. There are two options available:
Strip: If you want the thumbnails to remain visible, turn this setting on. When turned off, the thumbnails will be hidden; to reveal them, drag the mouse pointer to the display's left side.
Desktop items: If you want desktop items to appear, turn on the setting.

How to use Spaces?
Apple refers to collections of apps in Stage Manager as spaces.
With one of the programs you want in the space already open, drag another one from the side of the screen and plunge it onto the desktop.
Repeat step 1 if you want to add another app.
Use the apps as you usually would, and click on the app's icon on the side of the screen to swap to a different place or one that is not currently in use.
How to Group Apps or Open Windows?
The most practical method to use Stage Manager on a Mac maybe with a group. You can simultaneously utilize two or more programs when grouped without returning to Stage Manager.
To group windows or apps:
On your Mac, open at least one program.
Stage Manager allows you to drag an app over an available app.
To group more than two programs or windows, repeat these instructions.
How to See Desktop Content?
Apps, documents, and shortcuts from the desktop won't be displayed when Stage Manager is in use. Click somewhere outside of Stage Manager to see this data.
You can do the following if you want to view Stage Manager and the desktop icons simultaneously:
On your Mac, select System Preferences.
On the left side of the window, select Desktop & Dock.
Choose the Customize button on the window's right side.
On/Off Desktop Items.
How to Disable Stage Manager on Mac?
In macOS 13 Ventura, you can disable Stage Manager if you'd prefer not to use it.
Choose Control Center from the menu bar at the top right.
Click Stage Manager.
Toggle Stage Manager off.
Conclusion
After turning on Stage Manager, you'll see a few changes. When Stage Manager is enabled, your recently used apps will be shown on the left side of the screen if you want to show recent apps.
Second, when Stage Manager runs, any discs or servers ordinarily visible on your desktop will vanish. You can see them once again if you click on the desktop.
Thirdly, the Stage Manager can only display six apps or "spaces" simultaneously. Numerous windows will take up the same space for each app; however, there is no apparent visual indication.
Finally, Stage Manager won't be available if you use an app in full-screen mode (by tapping the green button in the window's upper-left corner). However, even if a window fills the entire screen and obscures the app icons, dragging the arrow to the left of the screen will make the icons visible.
DoYourData Products
Clone HDD, SSD, Mac OS, external disk, USB drive, and more under Mac OS.
Free Trial