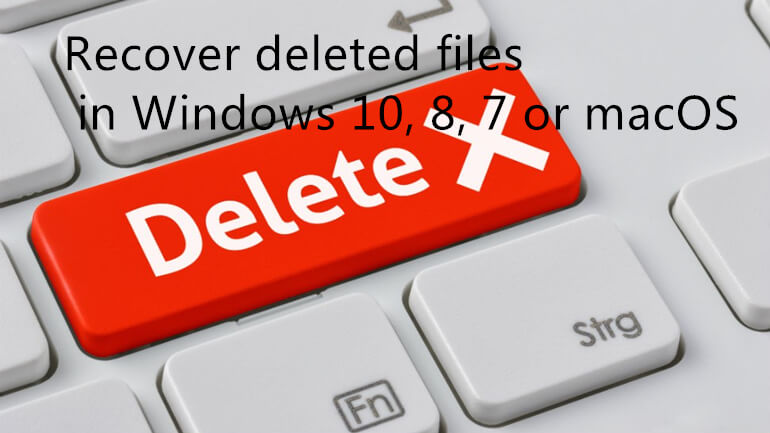 Page Content:
1. Software for deleted files recovery on Windows 10/8/7.
2. Easy steps to recover permanently deleted files on Windows 10/8/7.
3. Is it possible to ''really permanently" delete files on Windows 10/8/7.
Mostly, if the files were deleted on Windows 10, 8, 7, the files will be put into Recycle bin. However, if the Recycle bin was emptied, then the files will be removed from the computer completely. Also, the files deleted by Shift + Del keys will be deleted permanently without going into the Recycle bin. If the deleted files were still in the Recycle bin, it will be very easy to restore the files from the Recycle bin simply. However, if the lost data was deleted permanently, is it possible to recover the files?
Actually, it's able to recover deleted files even the files are not in Recycle bin. On this page, you will see how to recover permanently deleted files on Windows 10, 8, 7 with a reliable data recovery tool.
Software for deleted files recovery on Windows 10/8/7
Why it's possible to recover the deleted files on Windows 10, 8, 7? Actually, if you deleted files permanently on Windows, the data will not be removed completely from the computer immediately. Instead, the system will just mark the files as deleted and it's impossible to access the files directly in the Windows explorer. The space of the deleted files will then be used by newly added data. If there is no further data added after deleting files, you can recover the permanently deleted files with a reliable and professional data recovery application.
So after deleting files permanently on Windows 10/8/7, please stop using the drive and don't add new data to the drive. It will avoid further damage to the deleted data and then there will be a great chance to get back the lost files successfully.
To recover permanently deleted files on Windows 10, 8. 7, we strongly suggest you have a try with Do Your Data Recovery. The software can recover deleted files quickly and it supports data recovery for different types of data, including photos, videos, documents, audio, etc. If you unfortunately deleted some files permanently from you drive on Windows 10, 8, 7, you can download and have a try with this software.
How to recover deleted files with the data recovery software?
We recommend the software because it's not only effective, but also it's very simple to use it. With simple and understandable interface, you can easily operate this tool to retrieve deleted or lost data by using the software. Please do as follows step by step to recover deleted files with the software.
Step 1. Select the drive where you deleted files.
After deleting files from a drive, please ensure to connect the drive to the computer and run the software. Then choose the drive from the device list in the software.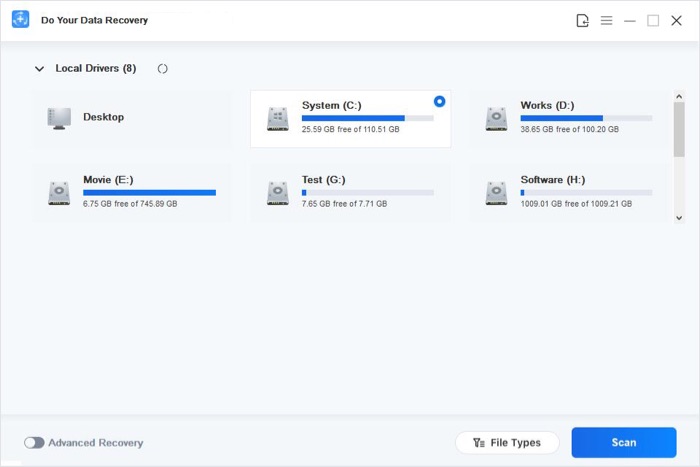 Step 2. Scan the drive for the deleted files.
The data recovery software will scan the drive automatically after you click the Scan button. It will scan and drive and show you the deleted files quickly.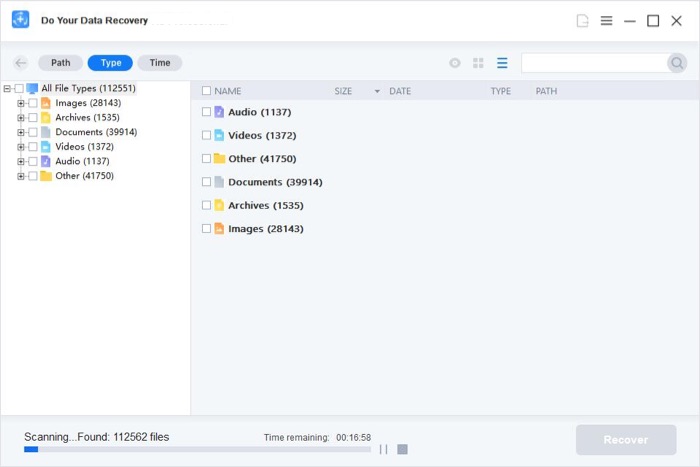 Step 3. Preview and recover deleted files.
Please check and preview the deleted files after the scan is done. Then you can locate the wanted files and choose them to recover to another drive.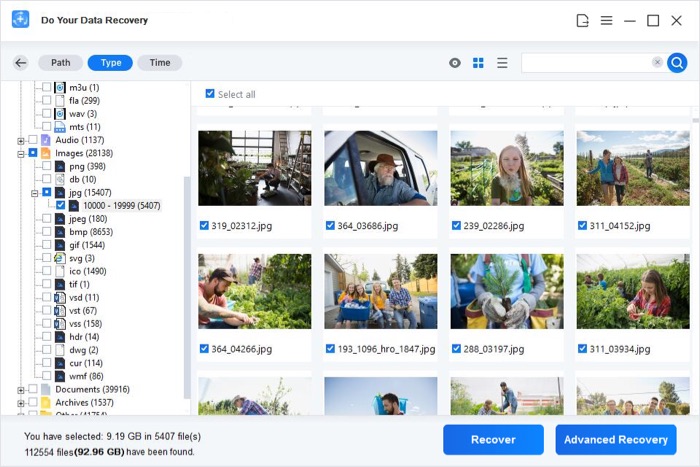 If you can't find all deleted files after a quick scan, just try advanced recovery mode. This mode will deeply scan your hard drive and find every recoverable file.
We always suggest users be careful and check twice before deleting files. Besides, please delete the files into the Recycle bin first, then you can easily restore the deleted files if you find some important files were deleted by mistake. Otherwise, you can try the best data recovery software Do Your Data Recovery to help you rescue the deleted files. What's more, the software can also recover lost data in other data loss cases on Windows 10, 8, 7, like formatting, partition loss, file system corrupted, system crash, and so on.
It also can recover lost files in Window Vista, Windows 2000, Windows XP, Windows Server and macOS, OS X, Mac Server.
---
How to really delete or shred files in permanent way?
When a Windows user is going to sell a PC, he or she would like to permanently erase sensitive data on the PC to avoid data leakage. As you've seen, the deleted files can be easily recovered by data recovery software. So, how to permanently delete files from Windows 10/8/7 system? Delete+empty trash bin or Shift+Delete? Actually, you just need a reliable data erasure tool.
DoYourData Super Eraser is a powerful, safe and easy to use data erasure tool. It can help you securely and permanently delete files in Windows 10/8/7 or Mac OS to prevent potential data recovery. Why choose it?
Easy to use data erasure tool.
Once the files are erased by DoYourData Super Eraser, the files will be gone forever, can't be recovered by any data recovery software.
Certified data erasure algorithms.
It will not cause any damage to your hard drive, 100% safe.
Three flexible data erasure modes.
If you want to permanently delete files from your computer or external storage device, just download this software. It can hep you securely and permanently delete selected files, wipe entire hard drive or erase already deleted data.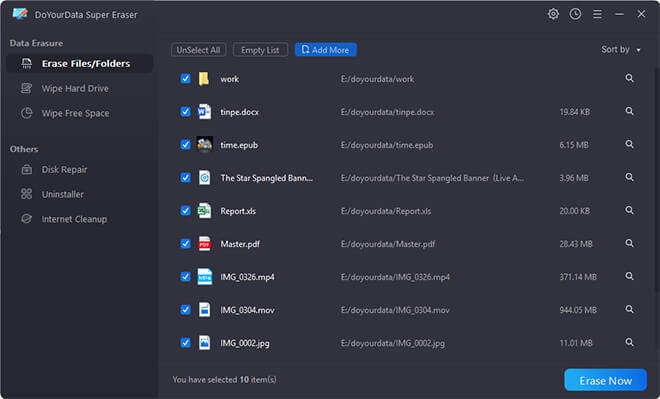 Powerful data recovery software to easily recover all lost data within easy steps.