When you see this topic, you may think it is easy - it is easy to permanently delete files on Mac. You may think you can permanently delete your files or folders by command+del and emptying the trash bin. Actually, after deletion+emptying trash bin, your files are not permanently lost. You just delete the entry of the files on your Mac to make them disappeared. Many of data recovery programs like Do Your Data Recovery for Mac can easily recover the deleted files even you have emptied the trash bin. Other people also know the truth, they can easily restore your sensitive data or private information by recovering these deleted files.
And you can't get your files permanently lost with disk utility. The erasure function of disk utility can erase your Mac hard drive. But you or other people still can recover lost files after erasing Mac hard drive with disk utility.
How to completely and permanently delete files on Mac?
Before you resell your Mac or give your Mac to other person, you'd better delete your important files on the Mac in case that your privacy would be leaked out. Is there an easy and reliable way to permanently delete files on Mac? You should try DoYourData Super Eraser for Mac.
Super Eraser for Mac is a Mac data erasure software that can permanently deleted files, folders from your Mac hard drive or storage media under Mac OS. It uses advanced erasure technology to destroy, overwrite the Mac data to ensure permanent deletion. After erasing the files by Super Eraser for Mac, your files will be permanently lost and can't be recovered by any data recovery software or manual data recovery service.
Step 1: Add Mac files for erasure.
Run DoYourData Super Eraser on your Mac, then you can see three data erasure modes. Choose erase files/folders to permanently delete Mac files.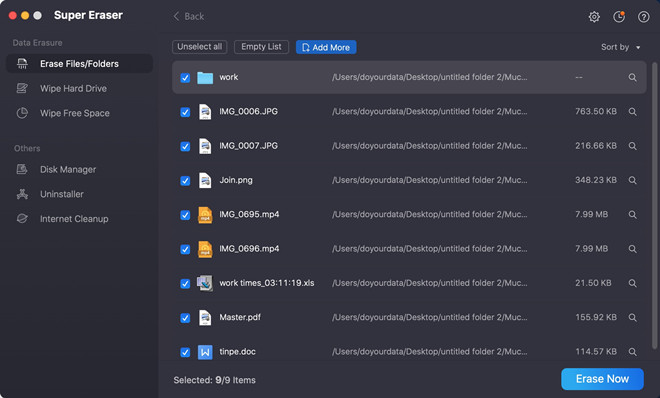 Step 2: Permanently erase Mac files.
Click on Erase Now button to permanently erase selected Mac files with certified data erasure algorithms.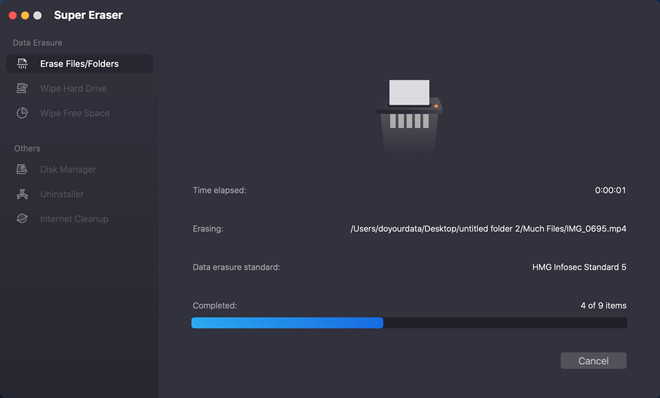 Super Eraser for Mac is very easy to use. You just install it on your Mac, and launch it when you want to permanently delete files. It only deletes the files you have selected, will not delete other files.
Best permanent deletion solution
Super Eraser for Mac provides secure Mac deletion solution. You can use it to permanently delete sensitive data, business data, privacy files etc. It makes sure that the deleted files will never be recovered by any powerful data recovery software, even the precise manual data recovery service can't recover the deleted files, effectively making data recovery impossible.
Before reselling you Mac device, recycling your Mac computer, you can easily use Super Eraser for Mac to permanently delete your emails, photos, documents, videos, audio files etc. When share a Mac with others or login on a public Mac, it is recommended to permanently erase your private files before shut down the computer.
Other tools for permanently deleting files on Mac
Can Disk Utility permanently delete your files on Mac? No, it can't. Data recovery software is able to quickly and easily recover data which is erased by Mac Disk Utility. But, don't worry. Here we also recommend other reliable tools for permanently delete files on Mac.
1. File Eraser for Mac - simple file shredder for Mac
File Eraser for Mac is a powerful Mac file shredder. It can help you securely and permanently erase any file from Mac hard drive or storage device.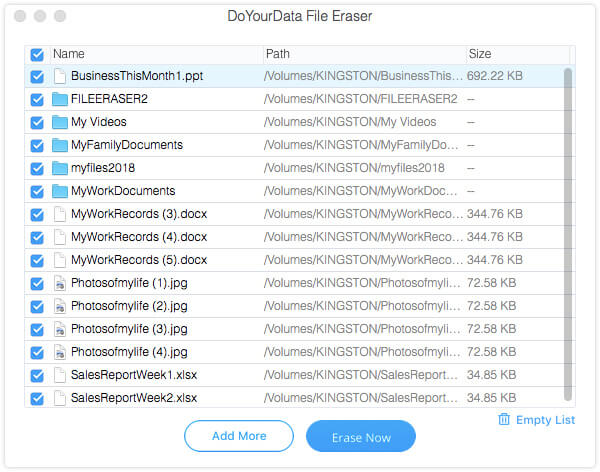 2. MacClean360 - quickly delete files on Mac to prevent data recovery
MacClean360 is an all-in-one Mac system utility. It offers a tool - file shredder. The file shredder can help you permanently delete selected files under Mac OS. Just add or drop files to the erasure list, the the selected files will be permanently erased.