An SSD (solid-state drive) is a common feature of modern laptops and PCs. They offer economical power usage, strong performance, and are faster than conventional HDDs. However, as SSDs gain popularity, more users lose data from them for various reasons. There are techniques to recover lost data from a damaged or crashed SSD, so don't worry.
However, data recovery from an SSD can appear a little challenging because SSDs are built differently from conventional hard drives. You can learn more about the many techniques used in this article to recover data from a failed, damaged, or dead SSD.
How Does SSD Fail?
There are no actual moving platters, unlike SSD. So they are resistant to problems with outdated hard drives. However, because they are mechanical, they are susceptible to malfunction.
A capacitor and power source is necessary for SSD. The weakness is in this area. These points are impacted by power surges, which directly harm the SSD disc.
Another issue with SSDs is that they have a finite number of reading/write cycles. The question that remains is how long an SSD will live. According to specialists, they are made to endure longer than required.
However, you can't just take things for granted when utilizing an electronic gadget.
Is It Possible to Recover Data from a Failed SSD?
The answer is that data can be recovered from a failed, dead, or damaged SSD. While performing SSD failure recovery is an option, you should be aware that it might be a challenging task.
Due to their highly advanced structure, SSDs vary from conventional hard drives. So, utilizing data recovery software or expert data recovery services, we advise you to try to recover data from a damaged SSD. But make sure the TRIM command is turned off before beginning SSD recovery. This decision will significantly impact the success rate of data recovery.
Using the TRIM command, the operating system can tell the SSD that certain sections contain no longer needed data and can be internally wiped. This data is crucial for accelerating write operations and improving the SSD's performance. The SSD considers all data legitimate up until it starts to be overwritten if the TRIM command is disabled. As a result, the TRIM feature aids in garbage collection and may even lengthen the lifespan of your SSD.
As a result, the likelihood of data recovery is drastically decreased when the TRIM command is activated.
How To Recover Data From A Failed SSD?
You can use the following steps to recover data from a failed SSD.
Step 1: Do Not Format Or Repair On Your Own
RAW can be used to describe a logically failing SSD device. So, by just formatting the drive, you may quickly repair it. In fact, before accessing the drive, the system will prompt you to format it. However, all of your data from the SSD will be lost the instant you format the drive.
As a result, it is advised that you never format your SSD drive. Or attempt to fix it with an unidentified third-party software product.
Step 2: Assign A Drive Letter
Give the Drive a name if the SSD volume isn't showing up in the file explorer. For instance, the Disk Management Tool allows you to designate a drive letter. The procedures are listed below.
1. Install the SSD drive.
2. Launch the disk management program.
3. Do a right-click on the SSD volume.
4. Change Drive Letter & Paths by selecting it.
5. Press OK after adding a letter.
A pop-up will open requesting you to format the disk and cancel the prompt.
Step 3: Perform Failed SSD Drive Recovery
It's time to begin a data recovery process now that you can see the SSD volume on your PC. You must obtain data recovery software for this from The Pirate Bay.
Launch the program once it has been downloaded. Select the volume from the user interface that displays the SSD volume. Then activate a deep scan. This will enable you to locate every piece of data on the drive and organize their appearance on the screen.
Browse the data you wish to restore, then pick it out and recover it. Make sure you are recovering the data in a different drive volume.
Do Your Data Recovery is a powerful data recovery program. It can help you quickly recover deleted, formatted or lost data from a failed SSD.
Do Your Data Recovery
Recover lost data from a failed SSD.
Recover deleted, formatted or inaccessible data from SSD.
Recover lost data from damaged SSD.
Step 1. Download and install Do Your Data Recovery on your computer and connect the failed SSD to your computer. Select the SSD to start data recovery.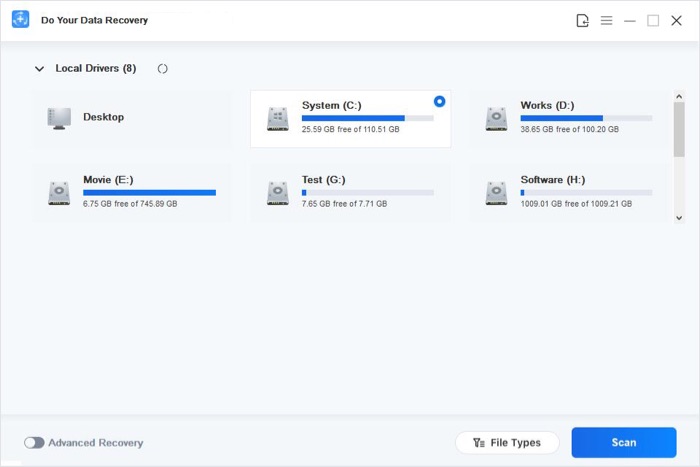 Step 2. Click on Scan button to scan the failed SSD. It is recommended to enable advanced recovery mode to deeply scan the failed SSD, it will find every recoverable file.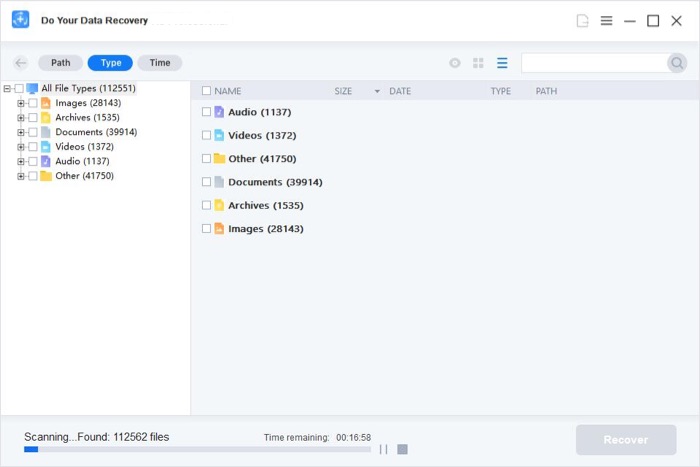 Step 3. Once the scan is completed, you can preview all recoverable files. Then select the wanted files and save them.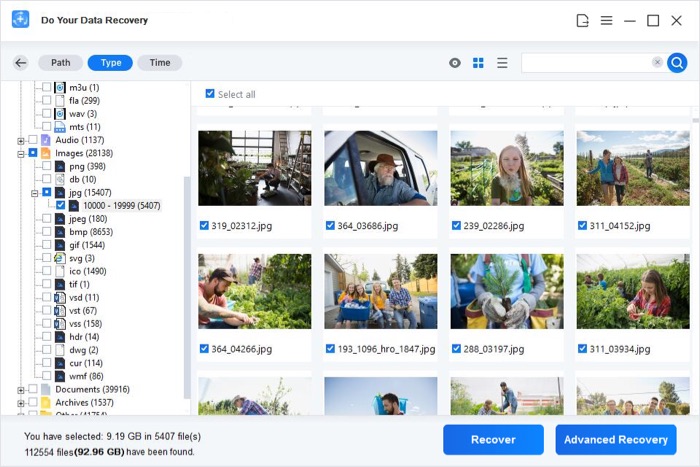 Data Recovery Service
The best action is to speak with a data recovery provider if your SSD is damaged or has failed beyond the scope of an exemplary data recovery tool. These services use recovery specialists trained in extracting files from devices in situations where critical data loss has occurred.
Some of these services might be available close to where you live. However, a good number of them allow you to mail your storage device to their offices for diagnosis and data recovery from a dead SSD.
Extend The Life Of Your SSDs
SSDs have an expiration date just like any other electronic device. The five years that we have seen thus far. Therefore, we do not claim that your SSD will stop functioning after five years. We're referring to the time frame during which SSDs are not something you need to consider.
After five years have passed, you will begin to encounter a number of SSD-related issues. To prevent losing any crucial data due to an unexpected SSD failure, we suggest that our readers start shopping for a replacement. Here are some more steps you may take to extend the life of your SSD card.
Steer clear of severe temperatures.
Avoid any form of abrupt power changes or blackouts.
Make sure your SSD is never filled. This stops bad locks from happening to your data.
Conclusion
Although not simple, data recovery from a failed SSD is doable. However, to increase the likelihood of data recovery and recover the most data possible from a broken SSD, reduce drive utilization and abstain from ever attempting to repair the SSD. Instead, use the Do Your Data Recovery program right now to recover a failed SSD. The software can quickly recover files from any logically falling SSD and missing drive partitions in only a few clicks.
Additionally, using the software, you may recover deleted and lost files from faulty or formatted SSD, hard disc, pen drive, and SD card volumes. Additionally, always make a frequent backup of your crucial files on a local device and in cloud storage to avoid scenarios where data loss occurs.