Summary: Data loss can happen on any device including NVMe SSD. Now, you can download Do Your Data Recovery to securely recover deleted, formatted and lost data from NVMe SSD. Three steps to get all lost files back!
Businesses and individuals are embracing NVMe, the newest and best type of flash storage, to store and access data. The new protocol, NVMe-based flash storage, is anticipated to replace SAS and SATA, which had previously supplanted the spinning disks found in hard drives. The advantages of flash storage cannot be completely reaped via SAS and SATA. Solid-state drives were designed with NVMe, or non-volatile memory express, in mind to increase performance even more.
Although NVMe storage is better than hard drives, there is no industry standard for SSD manufacturing. Find a data recovery firm with specialized knowledge working with flash memory if your SSD technology has failed.
NVMe Data Recovery Faces Specific Challenges
When trying to safeguard data via NVMe storage, data recovery solutions are more difficult:
If a PCIe channel has a problem, NVMe storage might stop working. You can use another lane for communication if there is an electrical issue on one lane to get around it. As a result, an expert has to be knowledgeable enough to restrict the usage of PCIe lanes.
Limiting the PCIe link speed may be another method of communicating with a broken NVMe storage device, but this needs specialist equipment and knowledge.
Most data recovery experts simply cannot handle these considerable issues specific to NVMe storage.
Reasons Why NVMe Data Recovery May Be Necessary
SSDs are not flawless, but they are more reliable than storage systems with moving parts. PCIe SSDs might experience failure for the following reasons:
Programs that can erase data include malware, viruses, and others.
Disk drives can still sustain physical harm. Although it is harder, an SSD can still be physically damaged, and the recovery process is more challenging.
Solid-state drives may have inaccessible partitions that prevent you from accessing the data on your storage device.
A human mistake frequently causes logical errors, such as removing a crucial file or folder that you might require.
A solid-state drive may become corrupt due to an operating system malfunction.
Even though SSDs are more reliable than hard drives, bad blocks may exist on them.
On NVMe storage, accidental reformatting is another possibility. Sadly, because this sort of storage is so uncommon, the success rate of data recovery suffers when this occurs.
The majority of data recovery firms lack the necessary tools to maintain sustained connectivity with failing NVMe storage.
Why You Need a Reliable NVMe Data Recovery Firm
You must contact data recovery experts with particular NVMe data recovery skills if you need to recover erased files.
Expertise Is Needed for SSD Data Recovery
Due to special characteristics and TRIM technology, solid-state drive recovery is a challenging operation. TRIM technology will make sure that a file is entirely wiped from the SSD when it is destroyed.
You'll need to deal with an SSD recovery provider that can employ TRIM technology to recover erased contents if you've lost files due to corruption, error, or another reason.
Even More Difficult to Recover NVMe Data
SSD data recovery is made more difficult by NVMe storage. Each manufacturer has specific key elements.
Information in general:
Even in relatively low-cost versions, Solid State Drives (SSD) are currently the predominant storage components in contemporary PCs. They are superior than traditional hard disk drives in several ways, including reading/write speed, power consumption, and shock resistance. Even its two primary drawbacks, comparatively lower capacity and higher cost, are getting better over time.
Early SSD hardware had the same 2.5" HDD form factor and SATA connectivity as traditional hard drives. But now they also have a new, significantly smaller form factor called M.2, which is better for laptops. Additionally, they could have a variety of interfaces, including SATA 3.0, USB 3.0, and NVM Express (NVMe), which is based on the PCI Express bus and is the quickest.
File recovery guidelines for NVMe devices:
The standard method for recovering files from a system storage device entails removing the device from the computer and connecting it to a SATA port, as well as through an external USB, FireWire, or Thunderbolt box to a different computer configured specifically for file recovery. This method typically cannot be used with NVMe devices because it calls for extensive knowledge of handling electronic components.
Such devices are frequently connected to the system board, making their removal unfeasible for the average computer user and unnecessarily challenging even for experienced technicians. Because of this, the NVMe device on the same machine must be used to recover the data.
To recover lost data from NVMe SSD, you can try data recovery software - such as Do Your Data Recovery, a powerful and easy-to-use data recovery program.
Do Your Data Recovery
Recover deleted, formatted or lost data from NVMe SSD.
Export data from inaccessible NVMe SSD to your computer.
Recover all file formats from NVMe SSD.
Three steps to recover lost files from NVMe SSD
Follow the steps below to recover lost files from the NVMe SSD:
Step 1. Run Do Your Data Recovery on your computer, then select the NVMe SSD to start data recovery.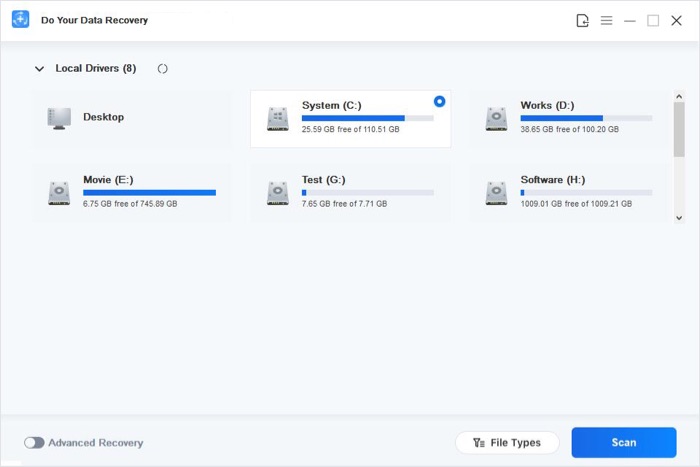 Step 2. Click on Scan button to scan the NVMe SSD and find recoverable files.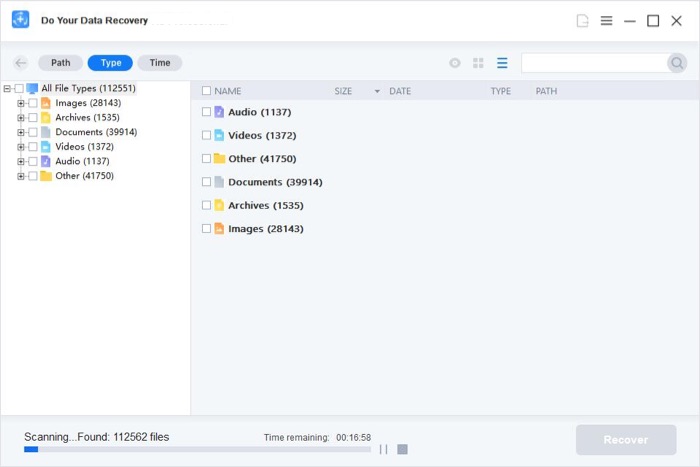 Step 3. Once the scan is completed, you can preview all recoverable files. Then select the wanted files and save them.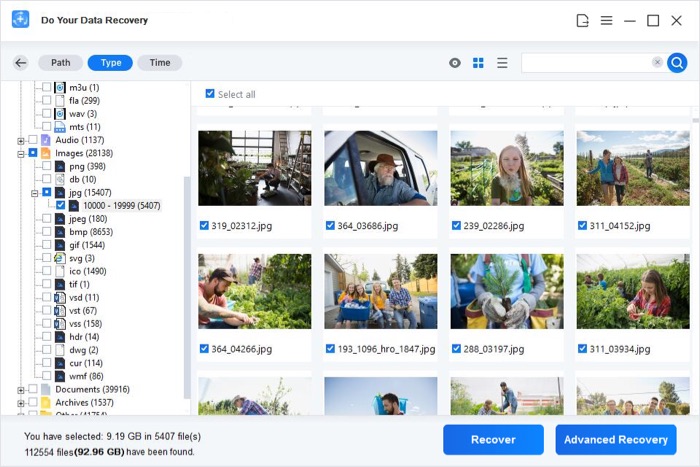 Do Your Data Recovery offers two recovery modes: Quick Recovery and Advanced Recovery. If the Quick Recovery mode can't find all lost files, just click Advanced Recovery to deeply scan the NVMe SSD and find much more lost files.