Methods to Recover SSD on Windows 11:
Windows 11 was released to the public on October 5, 2021, and many people with suitable PCs have already installed it. If you're a Windows 11 user who has accidentally deleted or lost data on a SSDD, you've come to the perfect spot.
If you lose or delete data on a SSD, you don't have to worry about the consequences. This article will provide the easiest way to recover data from SSD on Windows 11 that has been accidentally erased. But to begin, let's take a look at some of the causes of data loss.
Factors that frequently cause data loss on SSD
Organizations and individuals alike lose an enormous amount of money each year due to data loss. Why? Because its causes are many and might be difficult to foresee. In this section, we'll focus on the following:
Data corruption may occur as a result of both software and hardware problems, making it difficult to access a file. A backup may always be used to restore a working copy of the file in the event that the original is corrupted.
Windows 11 is supposed to be straightforward and approachable, but it's also brand new, so users have not had much opportunity to acquaint themselves with its quirks. It is more probable that a mistake will be made and essential data will be lost.
While modern storage devices can store enormous amounts of data at a low cost, their dependability is still questionable, and reports of abrupt failure are very uncommon.
The majority of Windows power users think that it's best to conduct a clean install when upgrading to a newer version of Windows since upgrading from an earlier version might result in data loss.
Windows 11 can run most Windows 10 and earlier software without problems, but not all of it. Microsoft appreciates the importance of backward compatibility for its consumers. You may not have enough time to save your work and avoid data loss if a program or perhaps the whole operating system crashes because of a software issue.
Delete files from SSD or format the SSD without backup.
The best way to recover lost data from SSD on Windows 11
Here's a super-fast way to get back data that have been accidentally deleted or erased from your SSD:
Method 1: Using Recycle Bin
Windows users may check the Recycle Bin folder to see whether any of their deleted files are still there if they removed them using the "Delete" command alone. Follow these procedures to recover lost data from Recycle Bin:
Open the Recycle Bin from your Desktop.
Restore the files you desire by searching and selecting them.
Restore the files by right-clicking them and clicking Restore.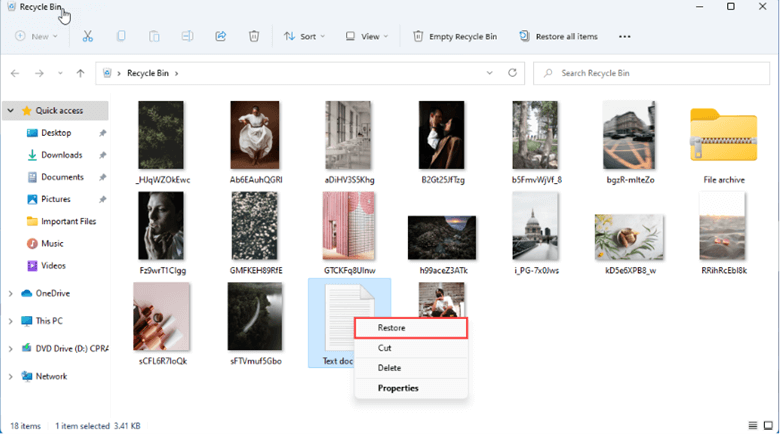 After the operation is complete, all specified files will be returned to their original locations.
Method 2: Using Undo
Windows 11's Undo tool, which can be accessed through the CTRL + Z keyboard shortcut or the right-click context menu, is the fastest and most convenient method to recover accidentally deleted files. The following is a step-by-step guide on how to use it to restore an accidentally deleted file:
Do a right-click on any empty space in the same folder as the file you mistakenly deleted.
From the context menu, choose Undo Delete.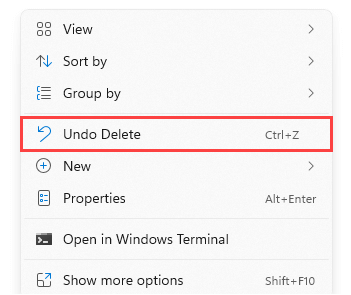 You may also undo a previous operation by pressing CTRL + Z on your keyboard while the proper folder is selected; however, this method hides the action you're going to undo.
The major drawback of the Undo option is that it is only accessible for a short period. If you restart your computer or do too many other things before utilizing the function, it won't assist you at all.
Method 3: Using Previous Version
The previous version's functionality has been included into Volume Shadow as a convenience for users. Restore points are set up by this service so that modifications may be rolled back.
Try restoring your PC to a prior version if you've accidentally deleted or accidentally deleted important data and want to recover them. To accomplish this:
Right-click on the folder or disk where your data was lost, and pick "Properties" from the menu that appears.
The "Previous Versions" tab will appear in a new window; click on it.
To recover your deleted data, go to "Restore/Restore To..." and choose the folder versions you want to restore.
Method 4: Using ATTRIB
Microsoft's Windows 11 operating system also includes a utility named ATTRIB. You may use this program to alter the "attributes" of a file or directory on a computer. For example, you can access files that have been concealed by malware. Please follow the instructions below.
Select Windows Terminal by pressing Win + X.
Type the command: attrib -h -r -s /s /d volume:\*.* (To avoid confusion, use the letter allocated to your storage device instead of "volume").
Using your keyboard, press "Enter".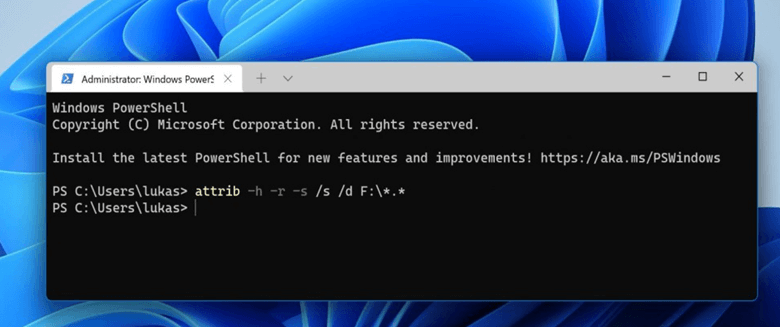 Remember that ATTRIB on Windows 11 does not truly retrieve permanently deleted data. Essentially, it exposes files that had previously been concealed from view.
Method 5. Using Data Recovery Software
If the method above can not help you restore deleted or lost files from SSD, just try data recovery software. Here, we recommend you Do Your Data Recovery. This software can help you recover lost files from SSD, HDD, USB drive, memory card, camera under Windows 11. Download it here:
Do Your Data Recovery
Recover permanently deleted files from SSD on Windows 11.
Recover data from inaccessible SSD on Windows 11.
Now, follow the steps below to recover lost data from SSD on Windows 11:
Step 1. Select the SSD to start data recovery.
Once your SSD is connected to your Windows 11 PC, Then open Do Your Data Recovery and select the SSD to start data recovery.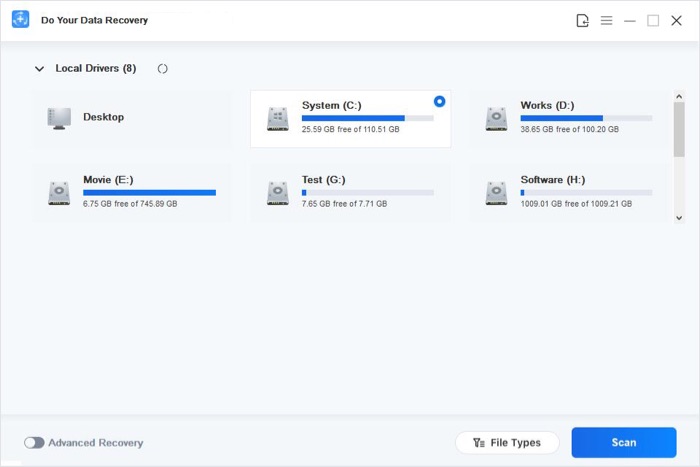 Step 2. Scan the SSD to find lost data.
Click on Scan button. It is recommended to try advanced recovery mode to scan the SSD.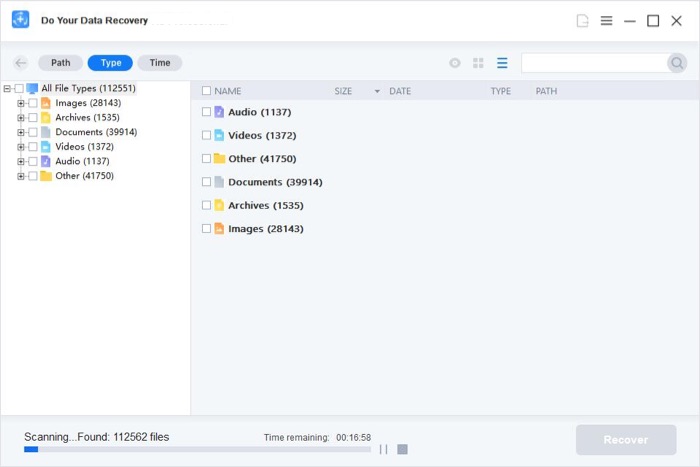 Step 3. Preview and recover lost data.
Once the scan is completed, you can preview all recoverable files. Then select the wanted files and save them.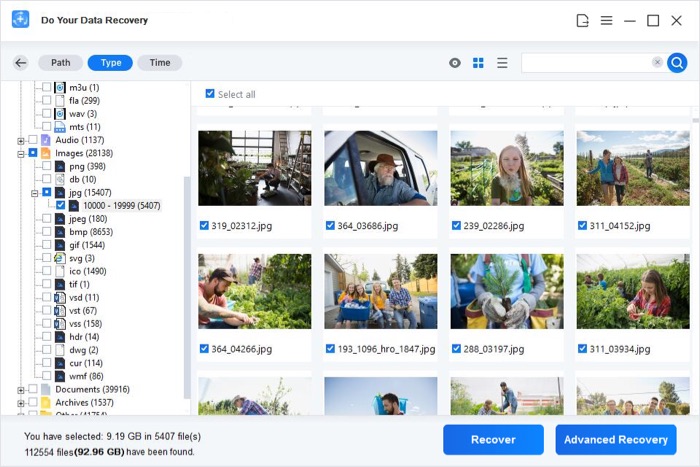 Conclusion
A variety of factors may cause a loss of data. However, if you mistakenly erased the data or lost it due to a hard disk malfunction or formatting, you may still recover it. Recovering deleted data from an SSD in Windows 11 isn't difficult. These strategies might help you recover data that have been deleted, lost, or even hidden.