Quick Navigation:
If you want to switch from a traditional hard disk to a solid-state drive, the Samsung SSD Clone is the way to go. Using this cloning program, you may effortlessly copy all the data from your old hard drive onto the Samsung SSD.
The Samsung SSD Clone has fast read and write speeds, guaranteeing trouble-free operation of your computer and programs and the safety of the information it stores. If you want to get the most out of your computer, the Samsung SSD Clone is a simple and quick way to upgrade your hard drive to a solid-state drive.
In Windows OS, how do I clone my current SSD to a Samsung SSD? If you right-click on an SSD and choose "volumes," you can create new partitions for storing data. It's a useful Windows application for cloning hard drives, making copying full drives into smaller ZIP disks easy. When cloning one SSD to another, the software does not restrict you to any SSD brand.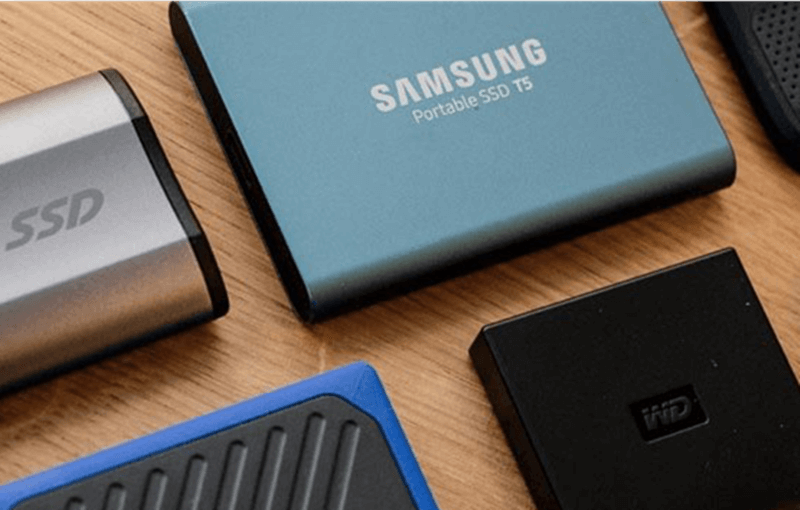 Update Your Storage With Samsung's Reliable SSD Cloning Software:
Samsung solid-state drives are the perfect complement for expanding your storage capacity via a hard disk drive (HDD) or solid-state drive (SSD). To facilitate the transition between hard drives and SSDs, Samsung developed its cloning software, Samsung Data Migration (SDM). With this straightforward utility, you may quickly and easily make a copy of your entire hard drive, including the operating system, programs, and user data. In addition, your data is safe and secure during the brief migration process. Samsung's SSD cloning software provides a quick and simple means of increasing your SSD storage capacity.
Samsung SSD Cloning Preparations:
There are steps to do before the actual cloning procedure begins. Verify it first.
1. Copy data to the Samsung SSD disk.
When you clone a disk from one computer to another, the data on both drives is permanently deleted. Please use backup software or physically transfer data off the target hard drive if there are any irreplaceable files.
2. Prepare a larger Samsung SSD for cloning.
A Samsung SSD of equal or greater capacity to the original hard drive is what you need for a successful cloning process. If a smaller target SSD was purchased, some larger files may need to be relocated from the old hard drive. That would be a hassle. A larger solid-state drive (SSD) should be ready.
3. Connect Samsung SSD to PC and initialize.
Connect the SSD to the computer's USB port, launch Disk Management, right-click the hard disk you wish to initialize and select "Initialize Disk" to begin setting up the SSD.
Clone SSD with Samsung Data Migration:
After downloading and installing Samsung Data Migration from the official website, follow the steps here to clone your SSD to a larger SSD.
Samsung Data Migration should be started when the target SSD has been connected to the computer.
Second, decide which volumes you want to clone and which SSD you want to clone them to. Up to three volumes may be chosen.
Third, initiate the cloning procedure by clicking the Start button.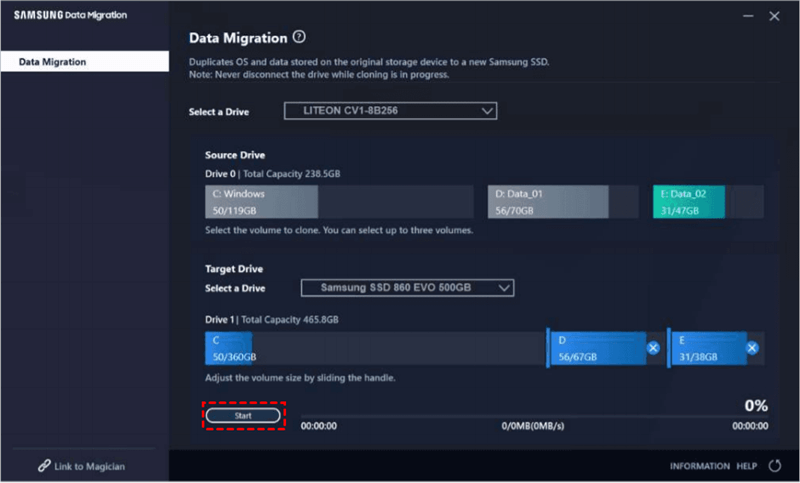 Clone An SSD with Samsung Magician:
Select Target Drive.
The addition (+) button appears to the right of each partition if there are two or more partitions on the source drive. Select the addition (+) button to duplicate the partition.
The X button would appear on the right side of each partition if the destination drive contained two or more partitions. You can cancel the copying of the partition by clicking the X.
Performance modes:
There are four distinct performance modes available in Samsung Magician. These items are:
Full Performance:
In this setting, you'll get the best possible performance. It excels at data-intensive activities like gaming and video editing that necessitate lightning-fast transfer and access times.
Standard Mode:
The default configuration. Created with a focus on both speed and efficiency. It works well for a wide variety of purposes.
Power Saving:
The energy savings and increased runtime of laptop batteries are obvious goals of the power-saving mode. The power consumption drops as a result.
Custom Mode:
In this mode, you can tailor the interface to your specific requirements.
Clone Hard Drive to SSD with DoYourClone:
Samsung disk cloning software only can clone Samsung disk drive. If you want to clone another hard drive including Samsung SSD, you can try the universal disk cloning program - DoYourClone.
Follow the steps below to clone HDD to Samsung SSD on your computer:
Step 1. Download and install DoYourClone on your computer, then open it and connect the Samsung SSD to your computer.
DoYourClone - Best Disk Cloning Software
Clone Samsung HDD, SSD and other hard drive.
Quickly clone a HDD to SSD.
Step 2. Select the HDD as the source disk and select the Samsung SSD as the destination disk.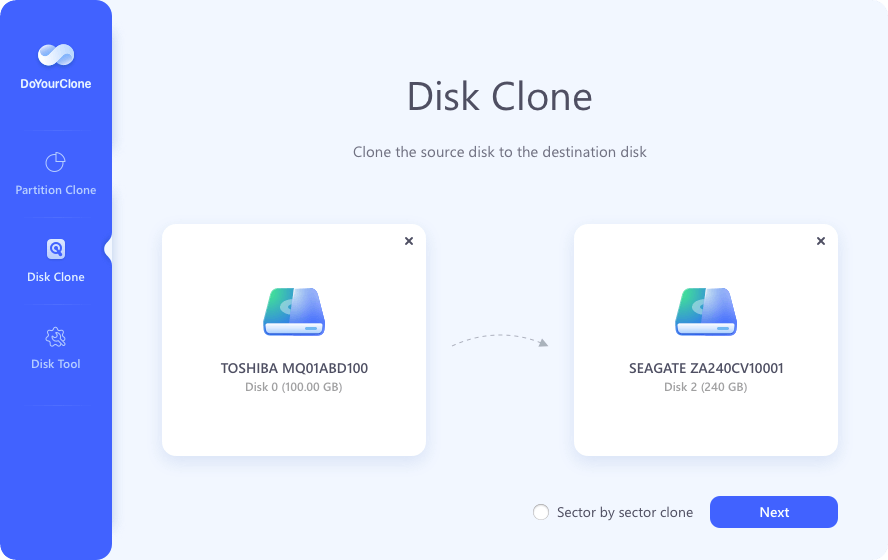 Step 3. Preview the clone layout, tick "Check the option if the destination is SSD." Then click Clone button.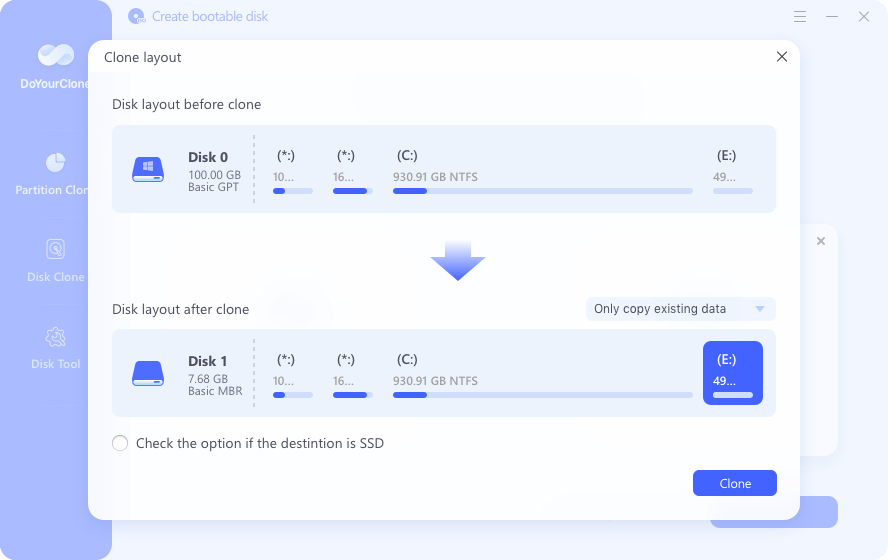 It will quickly clone the HDD to Samsung SSD. If you want to clone Mac startup disk to a Samsung SSD, just try DoYourClone for Mac.
Conclusion:
In conclusion, users who wish to increase their system's storage space and performance can benefit greatly from Samsung's Data Migration and Samsung Magician. It can work with many different operating systems, making it a good option for all skill levels.
This ground-breaking product displays its worth in the tech industry with lightning-fast startup, streamlined file transfers, and increased efficiency. With Samsung Data Migration and Samsung Magician, you can say goodbye to sluggish computers and hello to a more streamlined computing experience.
If you want to clone other type of hard drive, you can use an universal disk cloning program - DoYourClone to help to clone any hard drive to Samsung SSD or clone Samsung SSD to any other hard drive.