When it comes to upgrading the old PC or laptop with the new one; you obviously more than just excited. New computer with the better hard disk, higher SSD, and shiny new laptop will make your heart burst with excitement. You know perfectly it is the time to toss the old computer and play the new toys. Hold on, it is not going to be that fast; tossing old computer and laptop cannot be done recklessly. Your old data in the hard drive can be the potential matter for crime and you can be a victim of identity theft. The common ways which you usually use to permanent delete data, the Shift + Del, cannot actually remove the data from hard disk. It just temporarily hides the deleted data from the current view.
To permanently erase files from hard drive or old computer, you need certain to take more drastic as well as the time-consuming process to empty the drive. Different technology and conditions require a different way to permanently erase files from hard drive. Here are the guides if you are planning to permanently erase files from your computer.
Are you sure that you want to permanently erase files from your hard drive?
Keep in mind that before you conduct any permanent file erasing, backup your data first. Once the data is erased from the drive; there is no possible way to obtain it back. Therefore, secure your important files first by transferring to other disk or USB drive. In addition, if you are going to delete the file in a laptop, make sure to plug in the power source before starting. If in the middle of the wiping disk the power goes out; it can cause disaster for the drive.
Super Eraser – Best Data Destroy & Erasure Software
To permanently erase files from your computer hard drive, you need software to do the job. This is when the software plays important role to erase the file. Introducing the powerful computer software for every of your needs. For permanently delete files, the DoYourData offers a solution for you. The Super Eraser software is the solution for your need to permanent erase files from your hard drive. The software has the power to permanently wipe your data and once it is erased, you will not be able to restore the file even though you use the file recovery software.
With the user-friendly interface, you will need only select, delete, overwrite and destroy using Super Eraser. There is some others software for deleting files permanently; however, not all of them offers easy features as well as allow the user to choose which files to wipe. The Super Eraser allows you to choose which files to delete. Through this way, you do not have to erase the entire file and able to select certain files only. Also, this software allows you to erase any file from both internal and external storage. DoYourData Super Erase makes permanent file delete has never been this easy; with the user-friendly interface, it is a safe solution to permanently erase files from hard drive.
Mode 1: Selectively erase hard drive files.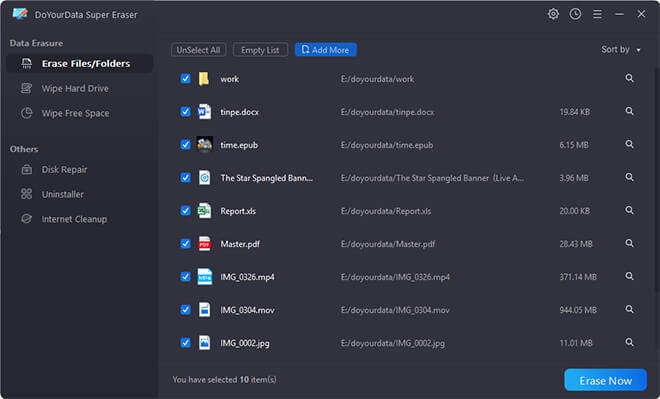 Mode 2: Wipe all files on the hard drive by wiping entire hard drive.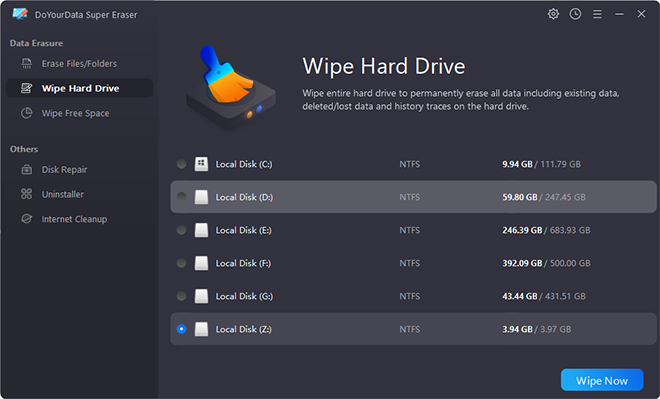 Mode 3: Erase free disk space to erase already deleted files on hard drive.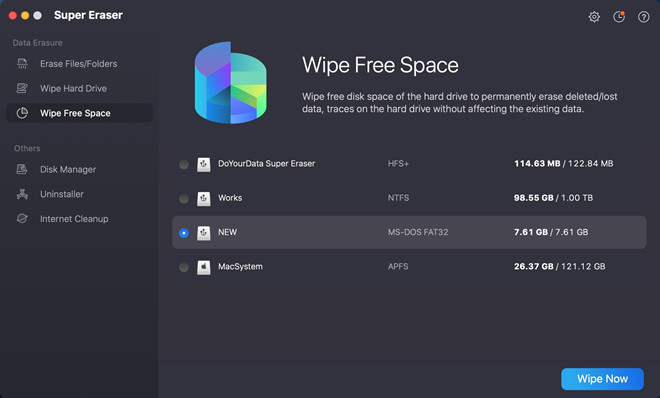 DoYourData Super Eraser is 100% safe for erasing files on hard disk drive. It will never cause any damage to your hard drive. Download this powerful data erasure software here: