CAD, or computer-aided design and drafting (CADD), is technology for design and technical documentation, which replaces manual drafting with an automated process. CAD software is widely used by architect, mechanical designer, etc. In some cases, the users need to permanently delete some CAD files to prevent potential data recovery. For example, when a designer is going to sell a computer, he/she should permanently destroy the CAD files so that nobody has the chance to get the important drawings, drafts, ideas, etc.
Data recovery software is able to easily and completely recover deleted or formatted data. When you delete the CAD files on your computer, you or any one else can easily recover the missing CAD files with data recovery software - such as Do Your Data Recovery. So, deletion or format operation is not the right solution to permanently delete CAD files. You may think there is no way to destroy the CAD files. Don't worry. Data erasure software can help you complete the job in easy and safe way.
Download CAD File Erasure Software
If you want to permanently delete CAD files, you need special data erasure software. Here, we recommend DoYourData Super Eraser. This powerful data erasure software offers advanced data erasure methods including HMG Infosec Standard 5, Baseline; DOD 5220.22-M; U.S. Army AR380-19; Peter Gutmann's algorithm. It will securely and permanently delete CAD files without causing damage to your computer/storage device.
DoYourData Super Eraser is fully compatible with Windows and Mac OS. Download and install it on your computer. It can help you permanently delete or erase CAD files from HDD, SSD, memory card, digital device, USB flash drive, RAID, Server, etc. Once the CAD files are erased by DoYourData Super Eraser, the CAD files will be lost forever, can't be recovered by any data recovery method - it is recommended to back up your CAD files before you permanently erase them. It can erase all types of CAD files (2D/3D), such as DWG, DXF, DGN, STL, etc.
CAD File Erasure Solutions
Different people have different data erasure needs. That's why DoYourData Super Eraser offers three flexible data erasure modes. Here, we will show three main ways to permanently delete CAD files with DoYourData Super Eraser.
Solution 1. Shred CAD files permanently.
Just run DoYourData Super Eraser on your computer, then select the CAD files or folders you want to erase. Then click on Erase Now button to permanently erase all the selected CAD files.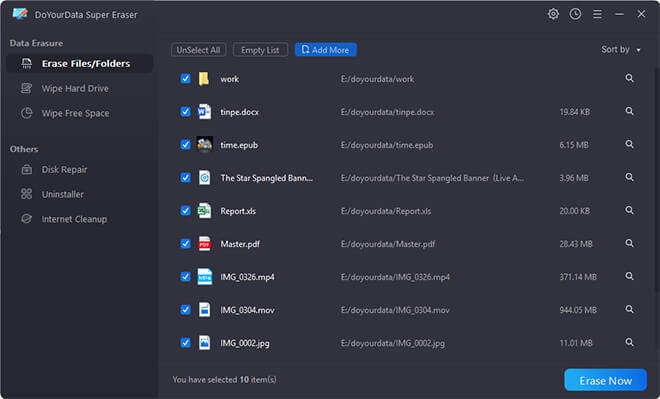 Solution 2. Completely erase all CAD files.
Before you sell or donate your computer, you need to permanently erase all CAD files on your computer. Just uninstall the CAD software first. DoYourData Super Eraser is able to help you uninstall CAD files and delete related files.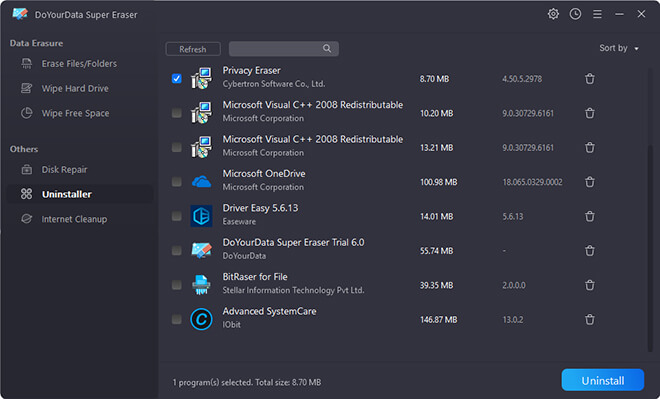 Then choose Wipe Hard Drive mode to wipe the entire hard drive. All CAD files including existing CAD files and deleted CAD files will be permanently erased.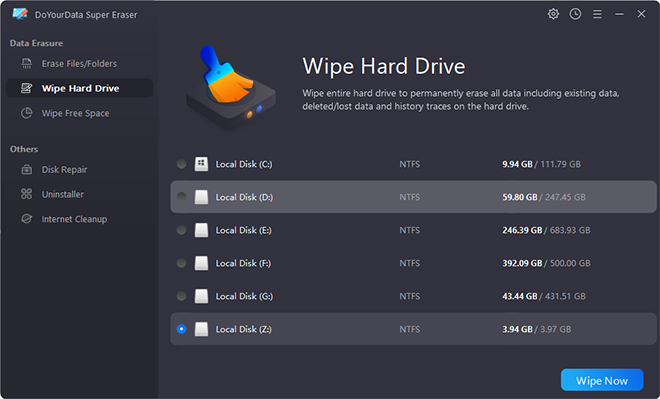 Solution 3. Erase deleted CAD files.
If you only want to erase already deleted CAD files, just try Wipe Free Space mode. It will help you securely erase all deleted files including deleted CAD files on your hard drive.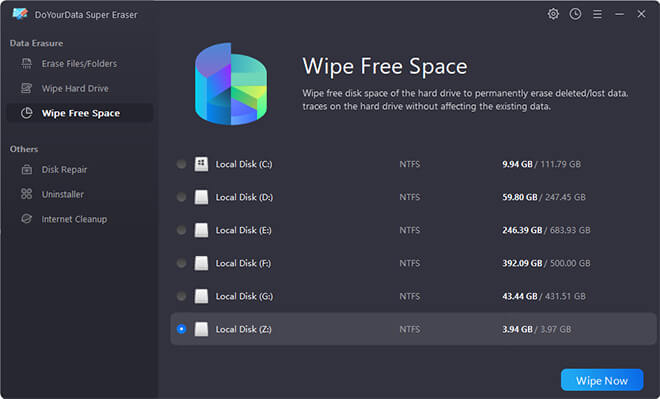 DoYourData Super Eraser is able to help you securely and permanently delete targeted CAD files. Just choose the mode which meets your needs to help you wipe data before you sell or donate your computer. It also can help you shred photos, videos, documents, etc. Download it here: