Are you looking for a great and reliable data erasure tool to permanently delete music files? If your answer is yes, this guide may be very useful for you. Choosing a good data erasure software to delete your files definitively could be a little complicated because there are different programs used for this task. As we know that, we will help you make your best choice. DoYourData Super Eraser is considered as one of the best data erasure tool and it is highly recommended by many users. Just download this software and install it on your computer.
Three different modes to permanently delete music files
Users often delete a lot of information, like music files, from their computers, smartphones, tablets, USB flash drives, memory cards, digital cameras, camcorders, local and external hard drives, MP3, MP4, and so on. Some of them think that it is enough, but the truth is that all deleted information can be recovered by a good data recovery software. Nowadays, we can find many of these data recovery programs, so if you want to be sure these files will not be retrieved is better to use a powerful data erasure tool, like DoYourData Super Eraser, which is highly recommended by many users who show their satisfaction after using it.
DoYourData Super Eraser is very easy to use. It offers three data erasure modes to help you permanently delete music files and other files.
Mode 1: Selectively delete music files.
If you only need to permanently delete some music files, this mode may be your best choice. Here, you have to select files and add them to the erasure list and DoYourData Super Eraser will delete them permanently. Just click on the Erase Now button and these files will go forever.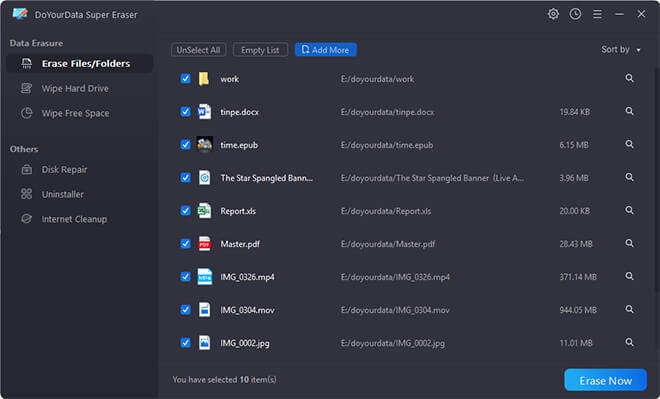 Mode 2: Wipe all music files on a hard drive or device.
This second mode is different. In this case, you can delete the entire hard drive data and so all music files. Now, you have to click on the Wipe Now button and DoYourData Super Eraser will carry out its task. It is advisable to make a data backup before permanent deletion in case you need these files in the future.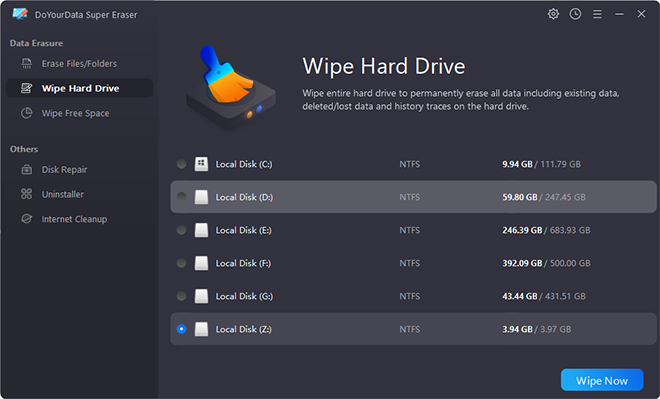 Mode 3: Wipe deleted music files.
This mode help you quickly wipe already deleted music files. It will not erase the existing data on your hard drive.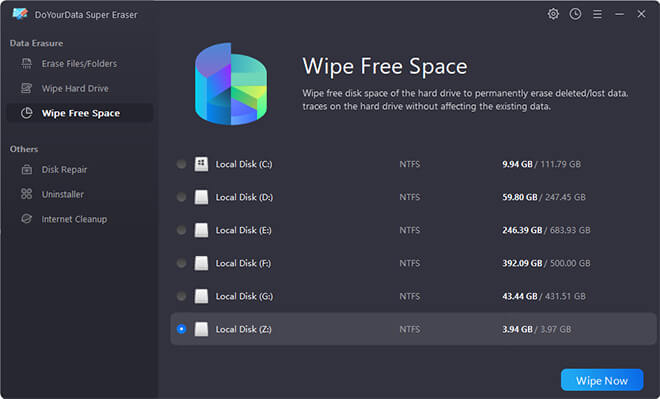 You can choose the most convenient mode, depending on what you need to do. The process is very simple. Just download and install the software on computer and select one of these modes to permanently delete music files or any other kind of information.
DoYourData Super Eraser is 100% safe data erasure software. It will not cause any damage to your hard drive/device. With advanced data erasure technology, it is fully capable of permanently erase your sensitive data before you sell, donate or dispose hard drive/computer, and external device. Download DoYourData Super Eraser here: