Why should we permanently erase some photos?
Photos can record our life, our work, our wonderful time. So it is very important to protect this kind of record from being exploited by cyber criminals. In some cases, you are at risk of privacy leakage if you don't get your photos from your device permanently. For instance, when you resell, donate, or recycle your computer, digital camera, other people may get your private photos from the device. Once your photos are stolen by cyber criminals, you have to face big problems. Worse, if the photos contain your business/trade secret, you may lose your money or business opportunity due to the leakage.
Can deletion or format permanently remove the photos from your device? The answer is NO. In this technology world, data recovery tools/methods are very common. Other people can easily recover your photos even you have deleted them and emptied the recycle bin. Other people also can easily recover your photos even your device is formatted or damaged. Data recovery software like Do Your Data Recovery Professional can quickly recover deleted or formatted photos from your hard drive, digital camera, Memory/SD card, or other storage media.
When you lend your digital camera to other people, you may cut all the photos on the camera to your own computer. But it is not safe, other people can easily recover these photos by data recovery software. Manual data recover service even can recover/repair damaged photos when your device is broken. So they can get your photos and other files from abandoned hard disk, digital camera, or SD card.
How to permanently destroy & erase photos from hard drive or storage media?
To permanently erase your photos, a professional data recovery program is necessary. For the purpose of permanent photo erasure, you have to find a tool to destroy, erase the photos and overwrite the disk space of erased photos to make them impossible to be recovered.
DoYourData Super Eraser is powerful data erasure software that can permanently destroy and erase your photos from PC, Mac, digital camera or other storage media. With advanced technology, it can shred, destroy, overwrite, permanently erase the photos that you want to destroy, making data recovery impossible.
When you run DoYourData Super Eraser, you just need to select the photos or folders you want to ease. DoYourData Super Eraser will help you permanently destroy and erase these selected photos. After erasure, the photos will be lost forever. You can't recover them by any data recovery software & manual data recovery service. It is complete secure photo erasure solution.
Step 1: Add photos for erasure.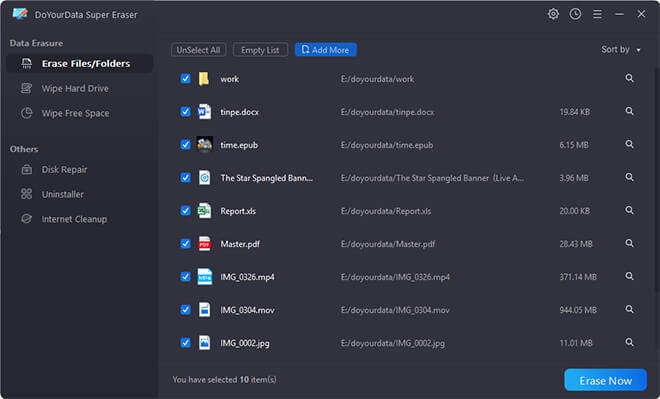 Step 2: Click on "Erase Now" button to permanently erase photos.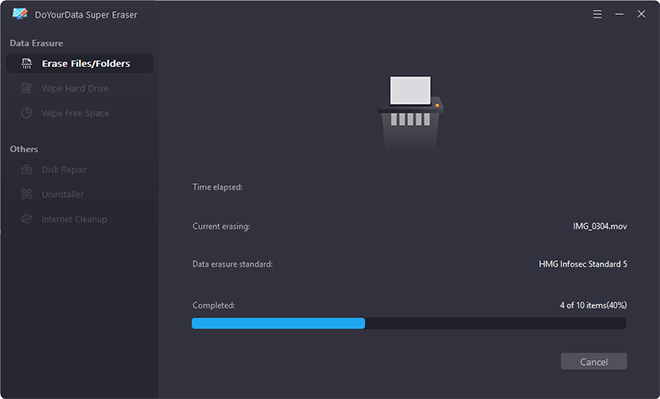 It is recommended to back up your photos to other place before you erase them with DoYourData Super Eraser. For example, when you sell your camera to other people, you can back up your photos to your local hard drive and then use DoYourData Super Eraser to erase your camera.