You probably have heard various stories of identity theft obtained from discarded computer, laptop or other devices. When you upgrade your laptop or computer and no longer use the old device; you certainly do not want to be the next victim of identity theft. For every device you discard, make sure to wipe all the data from hard drive partition before tossing it away. Here you can find the best solution to permanently wipe hard drive partition data.
If you think that deleting only is enough to discard the file; you are completely wrong. The deleted file is moved to recycle bin until space is used by other files. If you usually used Shift+del to delete the file; the original space of the file will be available for other files. That files somehow can be restored easily using third party data recovery software. The deleted file can be recovered as long as space does not use other files. Therefore, permanent deletion is required to clean up the hard disk especially if you want to discard the computer or laptop.
In addition, there is also data encryption option and dismiss the encryption keys rather than choose to securely wipe the entire hard drive partition. However, safely erasing data is still advised since encryption takes a big amount of time. Whatever your choice, it is better to make backup data prior erasing just in case you need it one day.
As mentioned above, before start permanently wiping hard drive partition; make sure to back the important data, in case you will need that in the future days. Backup data is important since once the data is erased there is no possible way to get it back. Moreover, if you use a laptop, do not forget to plug the power source to prevent the power goes out and cause damage to the disk.
Permanently Wipe Hard Drive Partition Data with Super Eraser
There is plenty software which can permanently wipe partition data; however, the one of the best choices is Super Eraser from DoYourData. The software company has recently introduced powerful software to Permanently Wipe Hard Drive Partition. If you are looking for powerful and reliable software to wipe your hard drive partition, the Super Eraser can be your good choice. Before erasing the data, it is important to think carefully or make a backup since once the DoYourData Super Eraser wipes the data; you cannot get the data back.
The software has five main easy steps to Permanently Wipe Files:
1. Select – select the files that you want to delete
2. Delete – safely delete the data
3. Destroy – data shredding and deleting
4. Overwrite – overwrite the space of deleted file
5. Complete – the deletion process is complete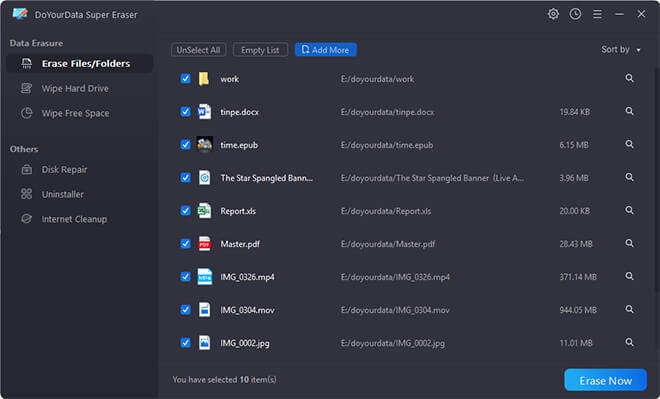 And DoYourData Super Eraser is able to wipe all data on a hard drive partition. Just choose mode "Wipe Hard Drive". Choose the hard drive partition and wipe it. All data on the hard drive partition will be erased permanently.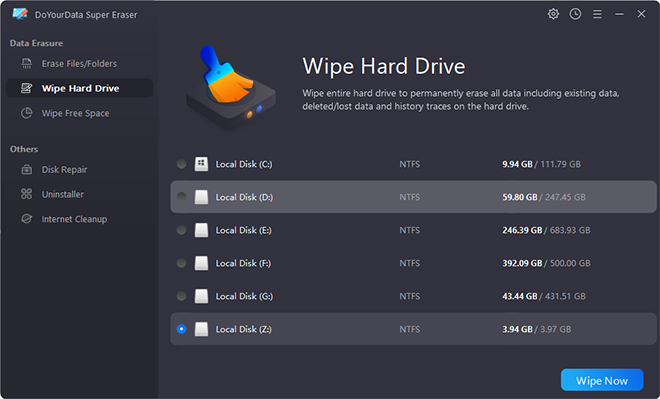 "Wipe Free Space" Mode is able to help you permanently erase already deleted data on your hard drive. Just free download DoYourData Super Eraser here: