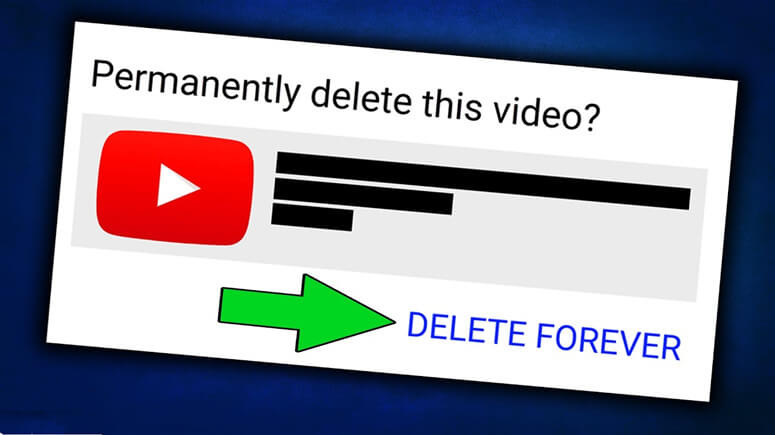 Quick Navigation:
"I am going to send my household computer to be repaired. However, I have once stored hundreds of very private videos on the hard drive. These videos mustn't be seen by other people because they are very private. I want to permanently shred these videos before sending the computer to local computer repair store. How to do that? I don't want to other people recover the deleted videos by data recovery software or any method. In a word: I want to permanently destroy these videos so that they can't be recovered any more." – Kanic
If you are worried about permanently deleting your personal videos, video recordings or movies, then you are not alone. Almost everyone who has content stored on their PC shares this same concern as some videos can be of great importance to them.
Losing one of your personal videos can cause chaos and can pose you at great risk. People stay worried even after deleting the videos with the Shift + Delete combo as some recovery software have the capability to reverse the process of deletion even if the user thinks that it is gone for good.
In this article, we will discuss how to permanently delete videos on PC as the conventional methods are not deemed secure anymore. Before we start our main discussion, we will study the risks associated with deleting videos from PC using old methods, and then we will take a brief look at the possible solutions to this problem.
A Video File Can be Recovered Even if You Have Deleted it
If you are a PC user, then you must be well-familiar with different methods to delete video files on your PC. One way is to move your files to Recycle Bin and afterward, empty it. Furthermore, you can also shorten this step by using the Shift + Delete button on a selected video file and hitting Enter to permanently delete it.
With these procedures, the video may seem to have disappeared completely from your PC but not many people are aware that this method only hides the video paths. The videos can be accessed again using good recovery software. Therefore, it poses a great hazard to the privacy of an individual.
Why do videos remain accessible even after you have totally cleared them from PC? Here's the reason. When you delete a video file, the space that it once occupied appears to be free. But, behind the scenes, this space is still engaged by the same video file unless you decide to paste some other file in its place. In simple terms, you will have to overwrite the previous video file to permanently delete it.
Overwriting: The Best Bet on Your Privacy
Yes, you can manually overwrite the space that you want to be permanently cleaned. Let us say that Folder A had your personal video files that you deleted for privacy concerns. To make this deletion irreversible, you should copy and paste some other unimportant files in (now apparent) empty Folder A.
This way your video file should stay deleted even if someone tries to access it after using some recovery software.
While this process can be executed manually, however, it can take a bit of time from your busy schedule. Conversely, you can use some third-party software to perform this process to permanently delete your video files and possibly, save yourself some extra time.
First Method: Use A 3rd Party Software to Permanently Erase Videos
Let us now look at a couple of software that can answer the query which is how to permanently delete videos on PC.
Note: Please note that we can only recommend the software based on their description. We have not necessarily tried them before listing them here nor this article is paid by any of these software companies. If you are not satisfied with any of these software for some reason, then you can always look for alternatives on the web.
As the name suggests, this software promises to shred user files i.e., video files, and make them permanently deleted so that they cannot be accessed later. It rewrites the files with a "random series of binary data multiple times". And this process is called Shredding. The product says that this way the possibility of recovering a file is "mostly theoretical".
Some highlights of this product are given below:
Claims to be a fast and safe tool to permanently delete user files
Free to download and can be used without any restrictions
Has 5 different shredding algorithms, each stronger than the previous one
Very small downloadable size
The website is trusted by ScamAdvisor.com
This is one of the best data erasure software. It supports to securely and permanently erase videos, photos or documents from any type of hard drive or storage device. Once your videos are erased by Super Eraser, the videos are lost forever, can't be recovered by any data recovery method. Download it here:
Permanently Delete Videos with Super Eraser
Super Eraser is a powerful data erasing application. It will permanently shred, destroy and wipe the selected files from hard drive or storage media without any chance of data recovery. Why it can permanently deleted video files? Cause it will shred and wipe the selected video files and overwrite the disk space of deleted videos to make data recovery impossible. It can destroy and permanently delete videos from PC/Mac, hard drive, USB flash drive, digital camera, digital camcorder, memory card, etc. It offers three convenient options to permanently wipe video files or other files.
Option 1: Permanently shred and delete video files.
In order to delete some private videos and make data recovery impossible, you should permanently erase these videos. This option allows you to selectively shred and wipe videos on your hard drive or storage media. It is very useful when you only want to erase several videos.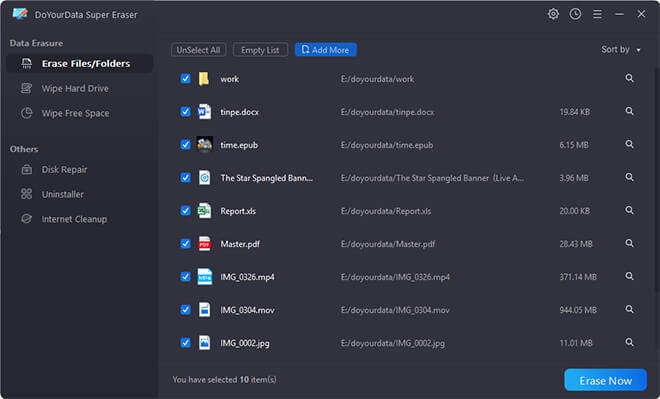 Option 2: Wipe entire partition to destroy all videos files.
If you have stored all your videos in a partition or device, this mode can help you wipe the entire hard drive partition to destroy all videos. Please note that this option will permanently wipe all the existing and deleted/lost data on the selected hard drive partition or device.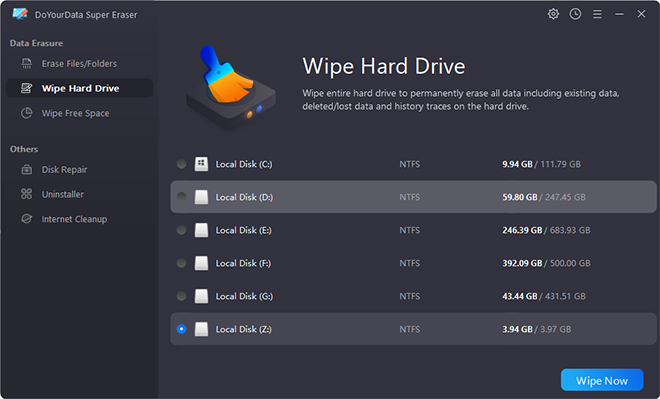 Option 3: Wipe unused disk space to destroy deleted/lost videos.
If the videos have been deleted or formatted by you, you can use this option to wipe the unused disk space to permanently erase the deleted/lost videos on the hard drive partition so that other people can't recover your deleted or lost videos any more.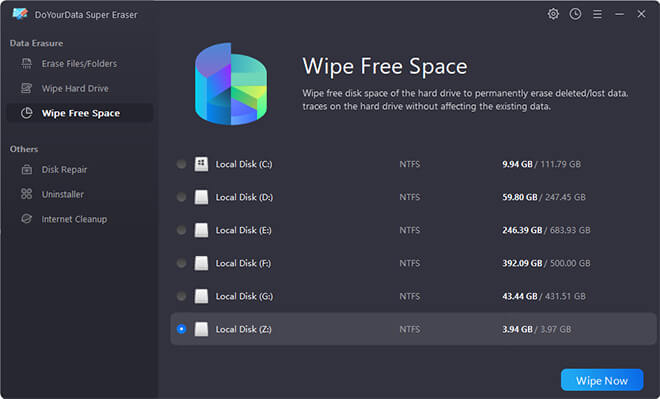 The videos that contain sensitive information should be permanently deleted before you resell, donate or give away your old computer/device. You do not want to your videos fall into wrong hands. So just download and install Super Eraser and run it to permanently shred/delete videos from your hard drive or storage media under Windows and Mac. It will permanently destroy the videos that you don't want to other people see. It also supports to permanently delete other files like photos, emails, documents, archives, audio, etc.
Second Method: Keep/Destroy the Hard Disk
By far the best way to make sure that your video data is gone permanently is by destroying the hard drive of your PC and installing a new one in case you want to sell your PC. This method may sound very odd but usually, HDDs are not that expensive and can be bought at cheap prices.
Furthermore, buying a new hard disk will cost more or less the same as paying for software that claims to permanently delete the required files.
If the previous method seems unimpressive, then you can always unmount and keep the Hard Drive to yourself before selling the PC or Laptop. You can later install a new hard disk whether you own a laptop or PC or both. Keeping the Hard Drive will allow you to be the sole proprietor of your property and will ensure that your files are not compromised.
Using a File Recovery Software to Double-Check
Finally, you can also double-check the permanent deletion of your videos with the help of good recovery software. Recovery software can detect whether the File Shredder or DoYourData Super Eraser was able to remove your videos permanently. That way you will have a clearer vision of the further steps that you may need to take.
Conclusion
So, this was a brief look at a hot topic addressing how to permanently delete videos on PC. We hope that our readers will be able to securely remove their personal videos after reading this article.
Thank you for your time.