Quick Navigation:
"Hi, I will sell my Windows 11 laptop, but even I formatted the disk drive, all the data still could be found by data recovery program. That is unsafe. Is there any method to permanently wipe all data before I sell my Windows 11 laptop?" - Lucien
It appears like erasing data and files from your Windows 11 computer is a safe practice, doesn't it? You must, however, completely erase all data from the old computer before selling or disposing of it in order to protect your privacy as well as the data and files stored on it.
Without a doubt, you can delete all files and folders from your Windows 11 PC by using the format options or the main delete feature, but keep in mind that this is the least secure method of removing data from your Windows 11 PC.
Because these files and folders can be recovered by using a professional data recovery software program, the deletion of essential computer files merely eliminates connections to the files. In addition, the data themselves are not removed from your computer in the true sense of the word. In such a case, any experienced hacker may look for and recover the missing links of a deleted file using data recovery software. It allows them to access all of your personal information and abuse it before you even realize it.
How to permanently erase private data before selling an old Windows 11 computer?
The most effective method of deleting or erasing a file and folder from your Window 11 PC before selling it is to use a professional data erasure program to remove it. The topic of DoYourData Super Eraser will be discussed in this post.
This software has the capability of permanently deleting all files and directories from your computer, rendering them unrecoverable. DoYourData Super Eraser is an advanced data deletion program that completely erases computer files or folders.
In addition overwrites the empty space with blank data, making it difficult to recover anything from your laptop computer once it has been deleted. It is applicable with both Windows and Mac operating systems, and it is currently supported by all major hard drive types.
Due to the fact that this program includes three different types of data eradication procedures, it is more complicated to implement. Because of the program's beautiful design, it is quite simple to use, even for complete beginners.
The use of this technology is not restricted to those who are computer engineers. In order to sell your computer, you must permanently remove all data and folders from it.
After reading this article, you should have completely erased all files or folders from your computer and properly cleaned them. The following steps are taken to permanently erase all data before selling a windows 11 PC.
Step 1: Install and Open DoYourData Super Eraser.
To begin, download and install DoYourData Super Eraser software on the computer from which you wish to completely remove all of the information you have stored there. Then open it.
DoYourData Super Eraser
Permanently erase all data before selling a Windows 11 PC.
Permanently erase data from HDD, SSD, memory card, USB flash drive, digital camera, external disk, etc.
Once your data is erased by this software, the data will be gone forever, can't be recovered by any data recovery method.
Step 2: Choose Data Erasing Method.
DoYourData Super Eraser provides three different sorts of data cleaning procedures, and I'll go through each of them in detail so that you can grasp the advantages of each choice.
Option 1: Permanently erase files/folders.
This is the best option to select if you just delete certain data from your computer. Directly select all the files and folders you want to delete and click "Erase Now" to erase all selected files and folders from your computer permanently.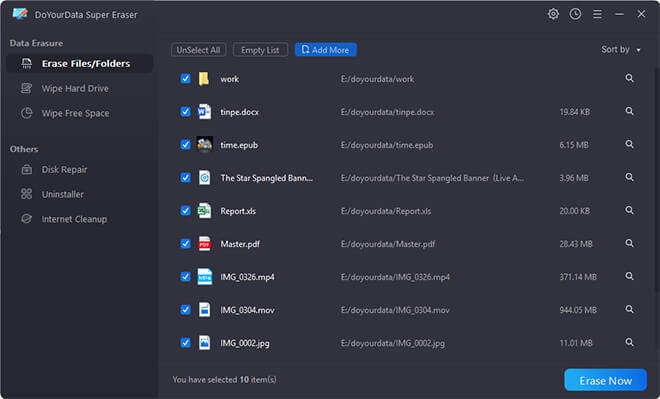 Option 2: Wipe the entire hard drive.
If you're selling or giving your computer, this is the most advantageous alternative. If you choose this option, all data from the whole hard disk will be deleted and will never be recoverable again.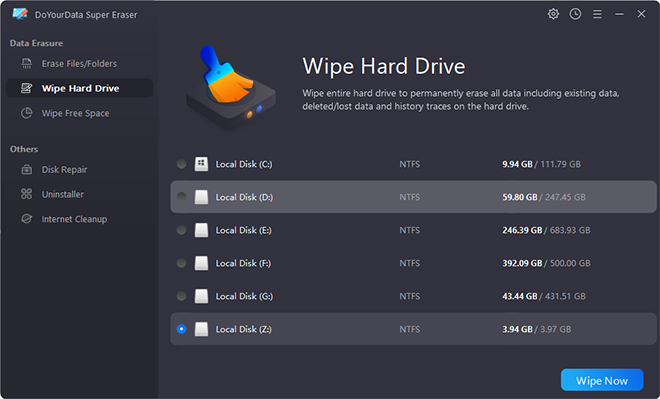 Option 3: Erase already deleted/formatted data.
If you wish to clean out the deleted or lost files, choose "Wipe free space." It will have no effect on the existing data. It will wipe free disk space of the disk drive and permanently erase all deleted/lost files.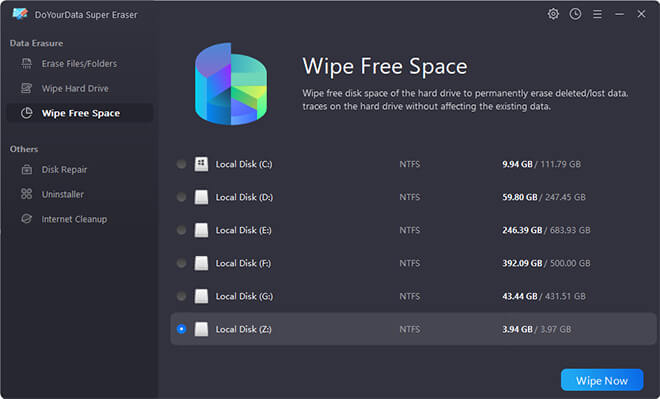 That's all there is to it. Now you can sit back and relax, knowing that the files on your Windows 11 PC will be effectively wiped without leaving a hint that they may be recovered if you follow the procedures outlined above.
As a result, let us say You no longer have to be concerned about selling or giving away your Windows 11 PC.
Conclusion
DoYourData Super Eraser is a strong data erasing program that can completely delete data from a hard disk or another storage media without leaving any trace. Once the data has been deleted by DoYourData Super Eraser, it cannot be retrieved by any data recovery program. Before you sell your Windows 11 PC, you can run this software to help you securely and permanently erase all sensitive data.
If you also want to reset your Windows PC to its factory settings, check this guide: steps to reset Windows 11 PC to factory settings.