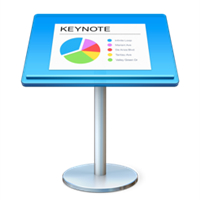 Let's say you find yourself editing a Keynote presentation, as usual; or that you are using it for the first time, but for multiple reasons it closed without saving or was deleted by accident. Stay calm, because you can get it back.
More and more people prefer Keynote, and it is a very useful tool to explore the more creative side of your presentations, but we must not forget that due to some external cause, these presentations could be lost.
For these cases, we bring you a solution that will make you recover all your work that you thought was lost, you can recover your Keynote files not saved or lost on a Mac.
Keynote File Recovery Methods for Mac
We can classify this recovery into 2 parts, the first includes processes that you can carry out preventively with the tools available on your MAC, while the second part (which is the most required) has to do with recovering the files that have already been lost.
1. Prevention for saving files in Keynote.
This option can be the difference between repeating a bad experience with a lost or unsaved file and always being prepared for any inconvenience.
To configure an automatic save, you simply have to enter the Apple Menu, then go to "System Preferences", followed by "General", and there you will check the option to keep changes when closing documents. So your presentations will be saved automatically if something happens.
2. Recovery of unsaved Keynote files.
The most common actions to recover files not saved in Keynote are the following:
File paths
Through this option you will be able to access all the existing versions of the document that you need to recover. Its use is really simple and fast, so you don't have to worry much more.
First, you must open the system search engine, then click on the "Go" option. Followed by this, you will go to the "Go to Folder" option. Then you must put this path:
~/Library/Containers/com.apple.iWork.Keynote/Data/Library/AutosaveInformation
Clicking "Go" will open all the options related to Keynote unsaved files, you must choose the appropriate one and save it.
3. Recovery of Keynote files from temporary files.
This is another of the options available to perform unsaved file recovery, and putting it into practice is incredibly easy. The first thing you should do is go to the "Finder" option, followed by this, you must enter "Applications", and finally look for the "Utilities" option. This is where you will start the Terminal of your MAC, you must enter the following in this new screen: "open $ TMPDIR". Following this, you must press the "ENTER" button.
All the options available in the folder will then appear, you just have to open them and save the ones you need.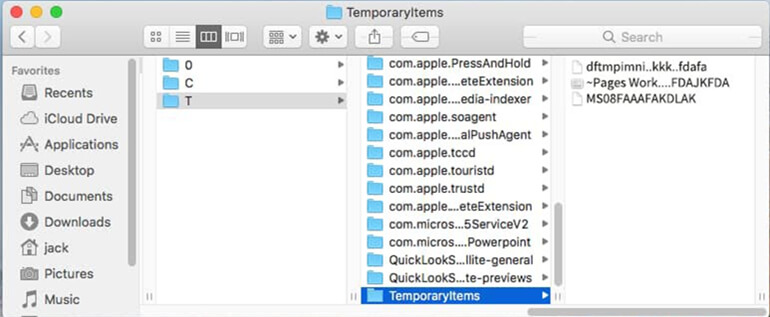 4. Recover deleted or lost Keynote files with Do Your Data Recovery
Do Your Data Recovery for Mac is a powerful Mac data recovery application. It supports to recover all types of lost files under Mac OS. With this data recovery software, you are able to recover deleted Keynote files or recover lost Keynote files from formatted or inaccessible hard drive. Download it here:
Do Your Data Recovery for Mac is complete DIY Mac data recovery software. This Mac data recovery is pretty simple to use. Just follow the steps below to recover deleted or lost Keynote files on Mac or from external device.
Step 1. Just select the right hard drive.
First of all, open Do Your Data Recovery for Mac on your Mac, then select the hard drive where you delete your Keynote files.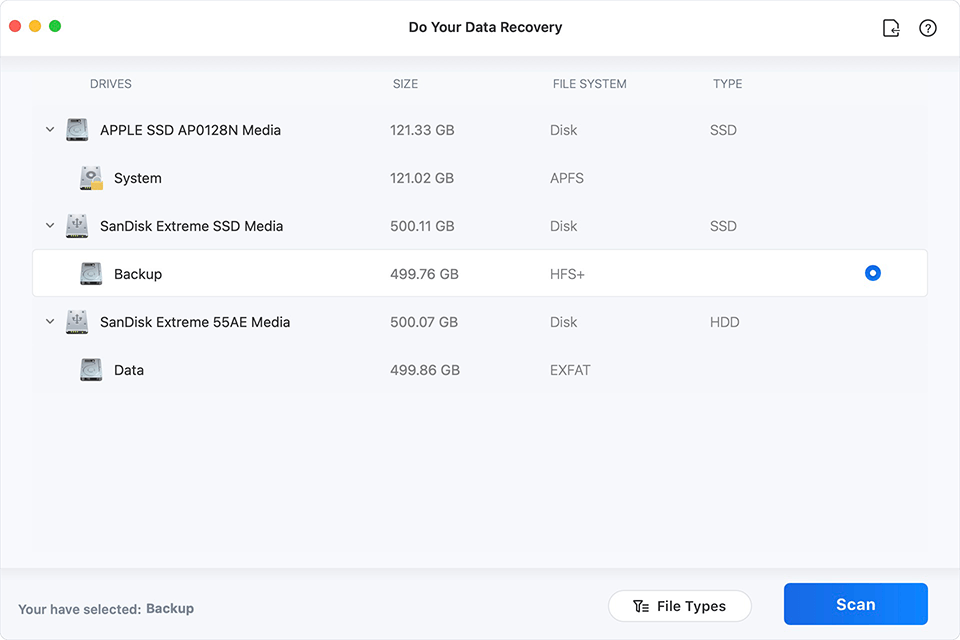 Step 2. Scan your hard drive and find deleted/lost Keynote files.
Click on Scan button to scan the selected hard drive, Do Your Data Recovery for Mac will quickly scan your hard drive and find deleted/lost Keynote files.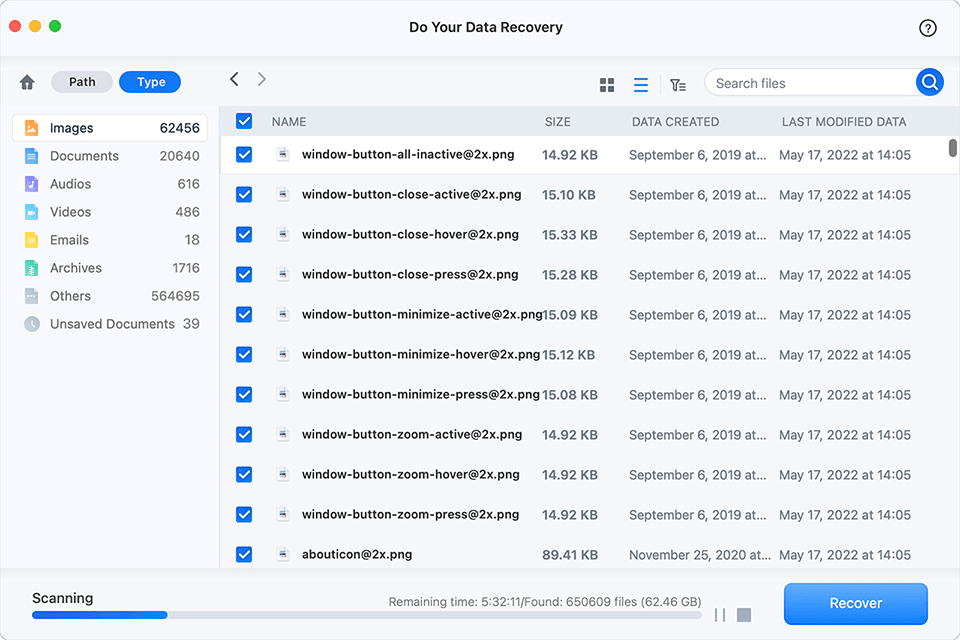 Step 3. Preview and recover lost Keynote files.
After scanning, you can preview all recoverable files. Then select the wanted Keynote files and save them.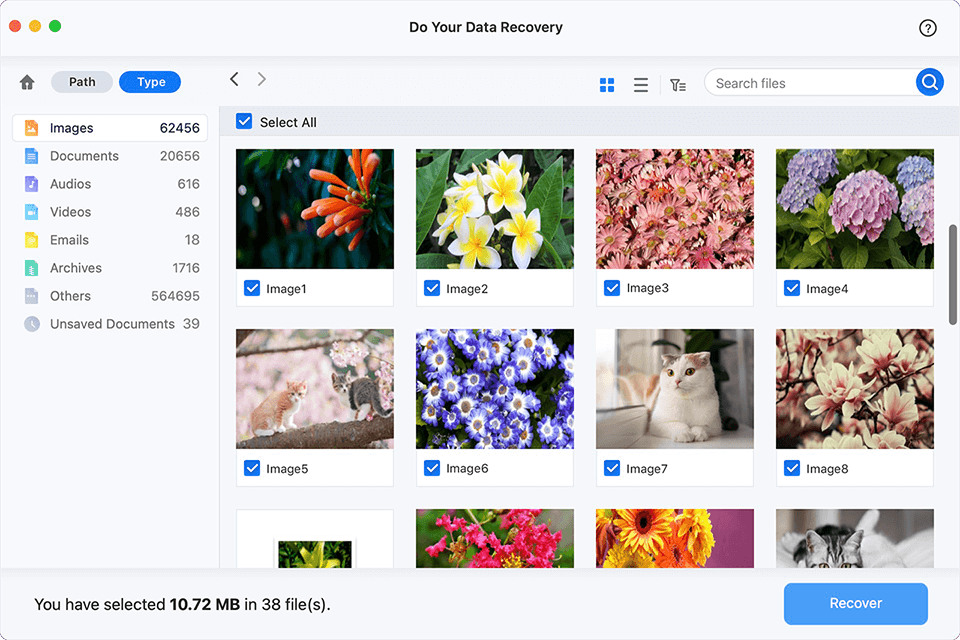 Do Your Data Recovery for Mac offers two data recovery modes. If you can't find all lost Keynote files after quick scan, just try advanced recovery mode to find more lost Keynote files. Do Your Data Recovery for Mac also can help you recover deleted/unsaved Pages documents on Mac, recover deleted or lost Word documents, images, PDF files, Excel files, PowerPoint files or other files on Mac. It supports to recover lost data from Mac local hard drive, HDD, SSD, memory card, USB flash drive, digital camera, etc.