Quick Navigation:
Extended File Allocation Table (ExFAT) is a file system for USB flash drives that debuted in 2006. However, older versions of Windows may legally incorporate it. Possibly a happy medium between NTFS and FAT32. Unlike NTFS, which has no sensible constraints on file size or disk capacity, the lightweight ExFAT file system has both. Compatibility is a major plus of ExFAT.
ExFAT USB Flash Drive/SD Card/Hard Drive Not Working on Mac
Some Mac users found the device did not appear in the Finder after plugging in their ExFAT drive. In this article, we'll examine the nature of the problem and the steps you can take to fix it. Therefore, this post is for you if the ExFAT drive is not working or mounting on your Mac computer.
Typical ExFAT drive errors on Mac:
The ExFAT drive is full, but shows no files.
The Mac shows the ExFAT drive not initialize.
ExFAT drive is not showing up on your Mac.
ExFAT drive is not mounting on your Mac.
ExFAT drive shows 0 byte.
ExFAT drive is not recognized by Disk Utility.
Can not reformat the ExFAT drive.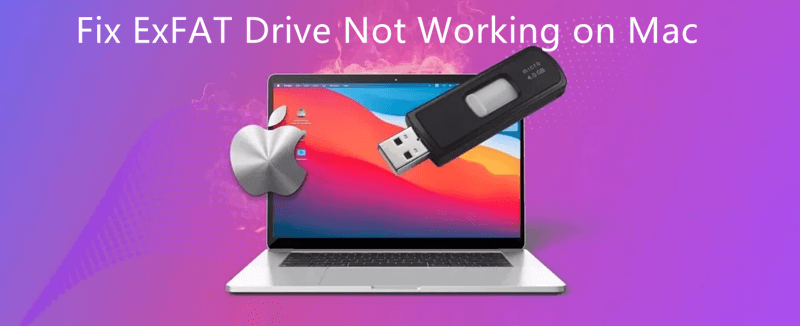 Why Won't Mac Mount ExFAT?
Mac OS incompatibility: Older OS X versions cannot mount ExFAT. Check your macOS version's system requirements to fix the ExFAT Mac not mounting issue.
Problems with hardware: Mac hardware damage prevents it from mounting ExFAT volumes. Connect the ExFAT volume to another system to confirm Mac ExFAT disk not mounting issue is resolved.
Missing File System Format: Your system's OS creates the ExFAT volume. The ExFAT hard drive not mounting Mac issue occurs when using the volume on a different OS. Make the ExFAT volume OS-compatible to remedy this problem.
Software Driver Issue: After the OS X upgrade, your Mac may lack ExFAT driver software.
File System corruption: Mac ExFAT drive not showing up due to faulty file system. Use Disk Utility to fix the broken file system.
Methods to Fix ExFAT Drive Not Mounting/Not Showing Up on Mac
If you're having trouble seeing an ExFAT hard disk on your Mac, try one of the methods outlined below before diving into the manual fixes. Your data could be lost. Do your backup first, then use the different methods to solve the issue:
Fix1. Check Finder Settings.
Mac users can utilize the Finder to determine if a certain drive is mountable on the Mac. Follow these directions.
1. Open Finder. Choose "Finder" from the top navigation bar. Select "Settings".
2. Second, select the "General" menu. Select "External disks" from the menu.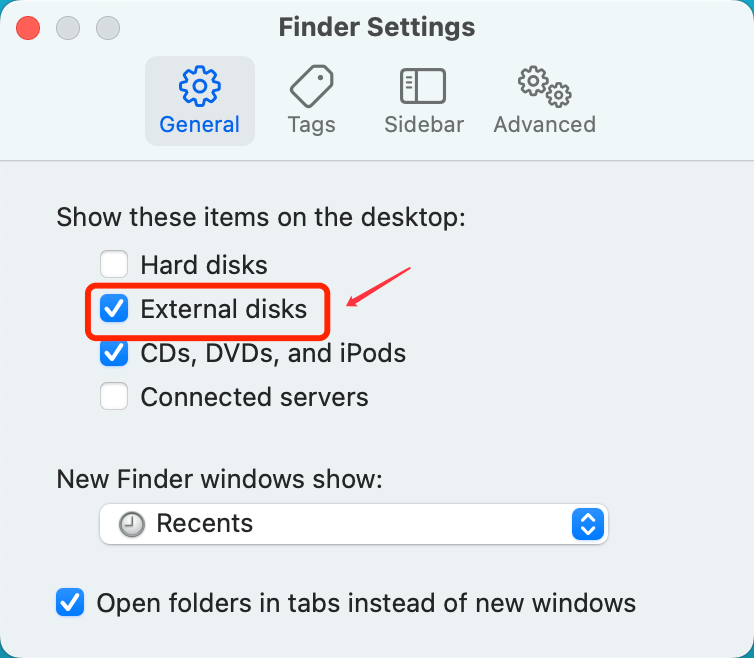 3. Third, click the "Sidebar" menu item. The "External disks" checkbox must also be selected here.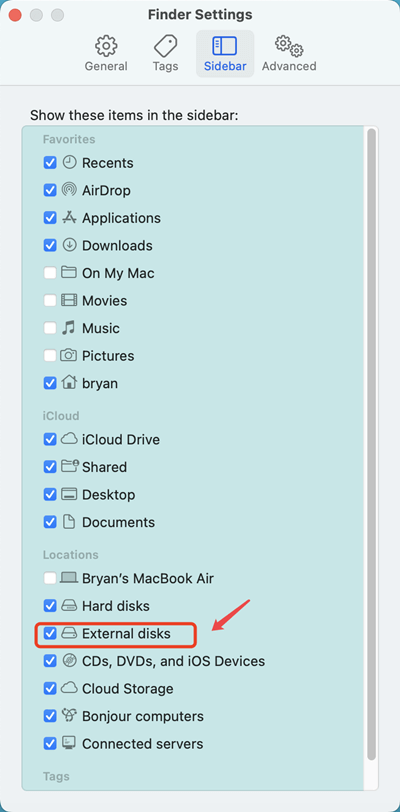 4. Then check if you can see the ExFAT drive on desktop and Finder.
Fix2. Plug into a different port.
The faulty port may be on your drive and not the cable. If so, try switching to a different port and seeing if it helps. If Windows or macOS detects the ExFAT drive when plugged into a different port but not the faulty one, try cleaning the faulty port and, if that doesn't work, see a hardware expert.
Fix3. Using Disk Utility to Repair a Failing ExFAT Drive.
The instructions to use Disk Utility to make an ExFAT external hard drive visible on a Mac are provided below.
Go to Launchpad > Other > Disk Utility and open Disk Utility. Connect the ExFAT drive to your Mac:
1. If the ExFAT drive is not mounting on your Mac, click on Mount button.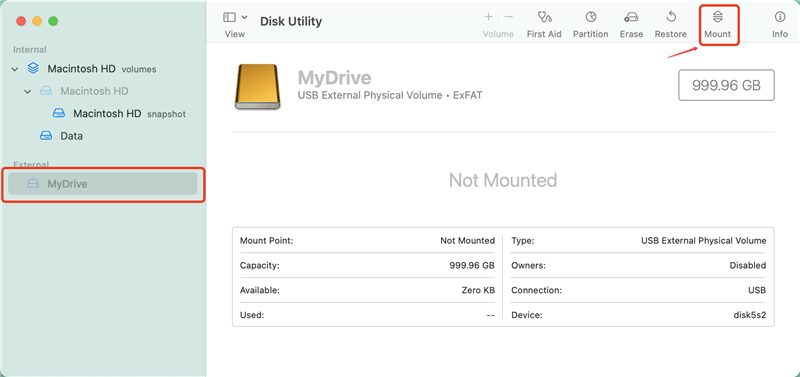 2. If the ExFAT drive gets damaged, click First Aid to repair the drive.
3. If the ExFAT drive gets corrupted, you can click Erase button, then select a file system and click Erase again.
Recover Lost Data from ExFAT Drive on Mac
If you want to recover lost data from the ExFAT drive, you can download a data recovery application - such as Do Your Data Recovery for Mac to scan it and get all lost data back.
Do Your Data Recovery for Mac
Recover formatted or erased ExFAT drive.
Export data from inaccessible ExFAT drive to your Mac.
Step 1. Open Do Your Data Recovery for Mac on your Mac, and select the ExFAT drive to start data recovery.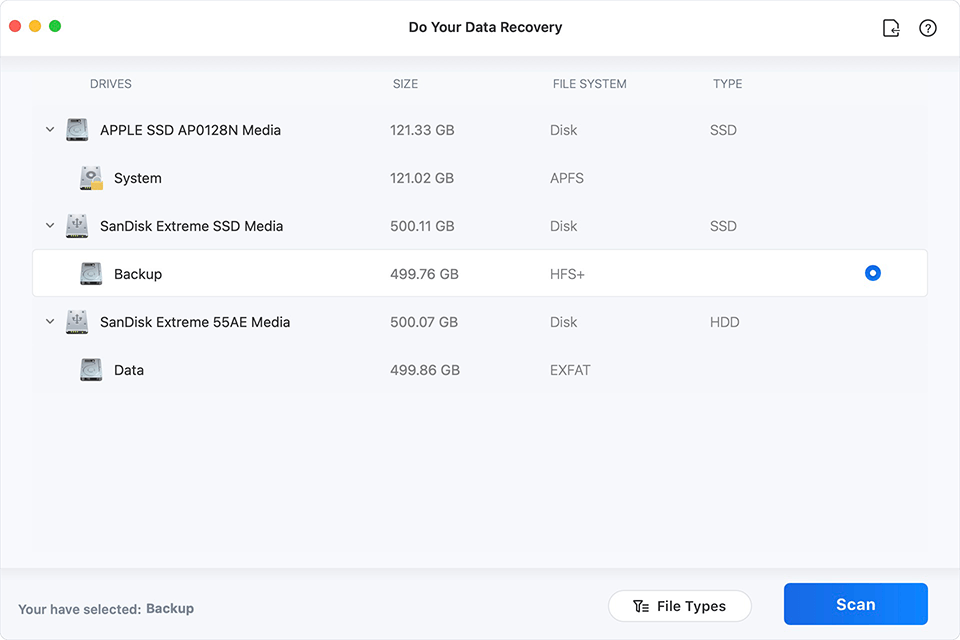 Step 2. Click on Scan button to deeply scan the ExFAT drive, it will find all recoverable files.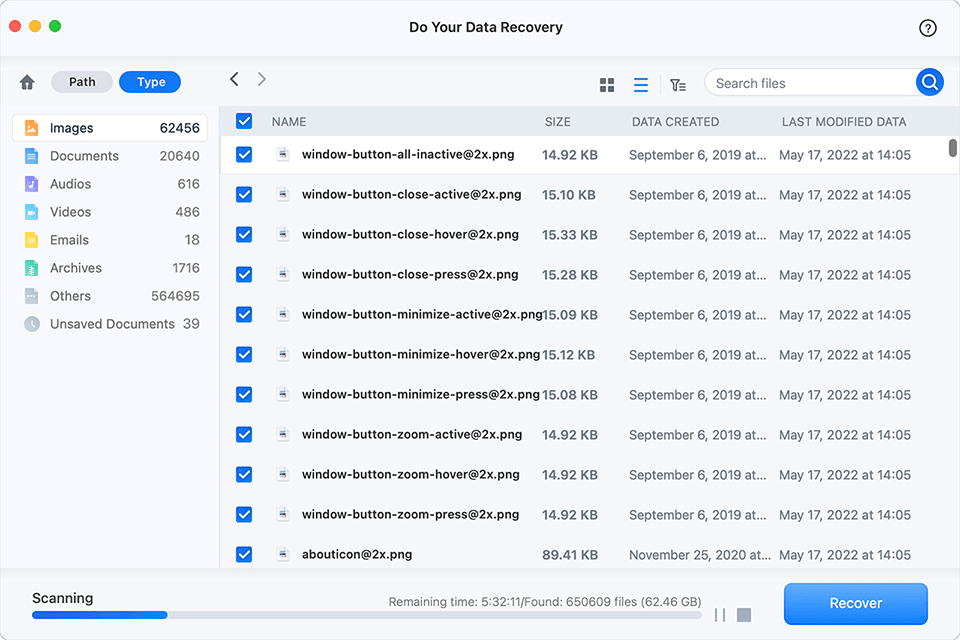 Step 3. Once the scan is completed, select the desirable files and save them by clicking on Recover button.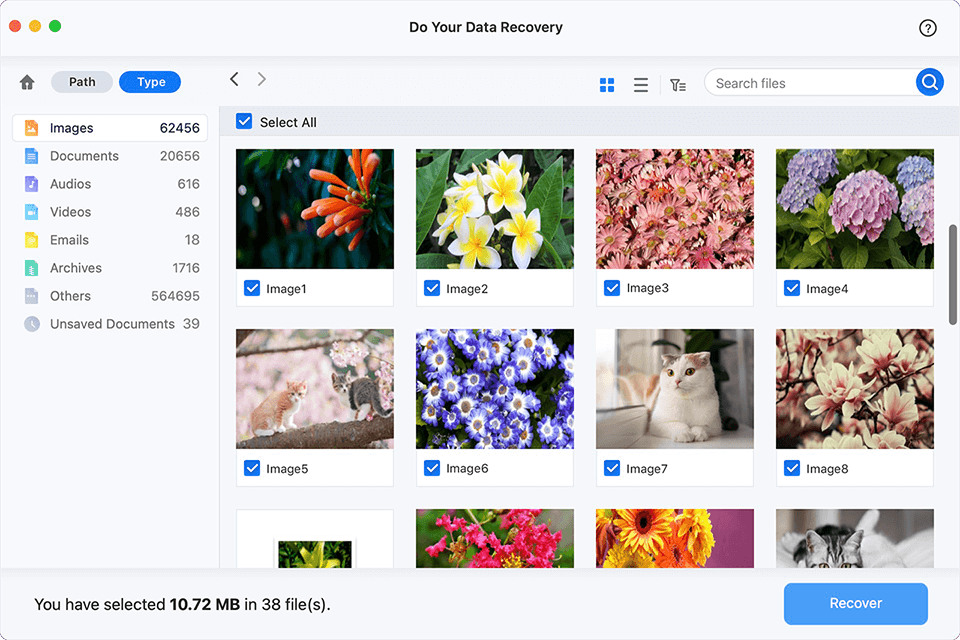 Whether the ExFAT drive has been erased by Disk Utility or not, you can use Do Your Data Recovery for Mac to quickly recover all lost data from it.
Conclusion:
There are logical errors on the ExFAT drive. However, ExFAT file system compatibility has improved considerably on the most recent macOS. Possible causes of the drive's inaccessibility on a Mac include logical problems. After using the Mount button in Disk Utility, you can run First Aid to fix any problems with the drive.
However, First Aid can only correct minor mistakes in reasoning. The external hard disk may be severely corrupted if the Mac refuses to recognize it. The key concern here is recovering the data from the drive. Professional data recovery software is the only practical option for retrieving data from an unmounted drive.