YouTube is the number one platform to access and watch videos on demand. While you can watch almost any video of your liking on it, there is hardly any legit way to download YouTube videos on your computer or smartphone.
The reason why YouTube does not let its users download and save the videos is that pretty much all content is copyright protected on the platform. So, if you are trying to use a third-party website or software to download videos from YouTube, then you should know that it is copyright protected by its owner.
Therefore, it is never okay to download a video from YouTube without the permission of the uploader especially if you are planning to reshare it or send it to someone else. But it is probably okay to download videos as far as you are only going to use them for personal purposes.
Now that you have understood the risks and ethics of downloading a YouTube video, let us move forward with the heading of this article which is how to download videos from YouTube.
Download YouTube Videos from IDM by Tonec
This is the first method to download any YouTube video in a very convenient manner. IDM is a very good tool when it comes to downloading videos. What it does (especially on a YouTube video) is that it places a download toggle on the corner of a video for easy access to download options.
Follow the below procedure to learn how to download videos from YouTube using IDM.
Download IDM from its official website. Afterward, open the downloaded file and start the installation process by following the guidelines. Once installation is complete, you can test IDM by visiting YouTube and playing a suitable video. A download box should appear on the corner of the video box once the video starts to load.
In case you cannot see the IDM Download box, then you may need to enable or integrate IDM from the browser extensions. Detailed instructions addressing this issue can also be found on IDM's official website.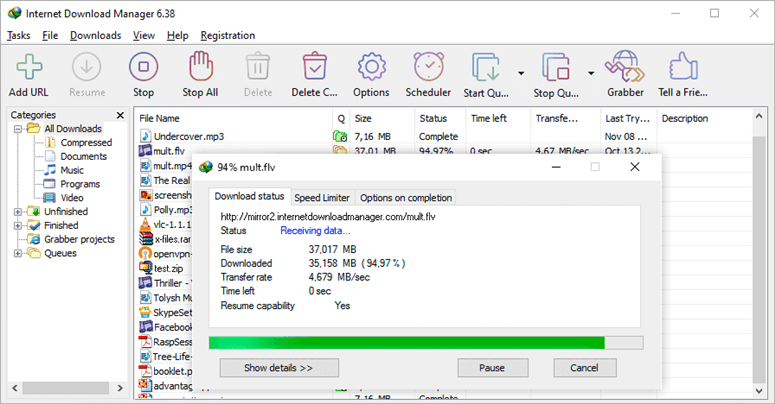 Once you find and click on the IDM download toggle, it will present a list of different formats and video qualities. After you select a suitable option, IDM will trigger a download box in which the size of the downloadable video will be mentioned. Moreover, users can also select many other options from this download box.
IDM offers a free and complete trial for 30 days to its users. But after that, you will have to buy the license to continue using it. For now, IDM by Tonec is only available for Windows users and has no access to Mac users.
Download YouTube Videos from VLC Video Player
Almost every desktop user has a VLC video player installed on the computer. But what VLC users may not know, until now, is that it can also let them download a YouTube video. Although the process is a little complicated here, it eliminates the need to download third-party software or visit a third-party website.
While this method should work for YouTube videos, you may not be able to play and download a video if it is location-protected by YouTube. Also, an outdated YouTube script for VLC may render YouTube videos unplayable. Moreover, YouTube videos that contain ads may also struggle to attempt to play with VLC.
Here's how to download videos from YouTube using VLC player.
First, open the video that you want to download, in the web browser on your computer. From the address bar, copy the video link by right-clicking the link. Open VLC player on your PC or Mac.
Now, click on the Media tab on PC (File tab on Mac). Select Open Network Stream button (Open Network button on Mac). It will open the Network tab. Now, paste the copied link in the "Please enter a network URL" box. You can use "CTRL + V" on PC and "Command + V" on Mac to paste quickly.
After pasting, click the Play button on PC and the Open button on Mac. This will let you open the YouTube video in your VLC video player. If you have successfully played the video this way, then the remaining process must be easier for you.
After opening the video, click on the Tools tab in your VLC on PC and then on the Codec Information option while for Mac, click on the Window tab and later, on the Media information option. This will open a tab and here you will find the Location field with an address opposite to it.
From here, you can Copy the address on PC, or you can Open URL on your Mac. A PC user will further paste the copied link text and then paste it in the URL box of the web browser to open it. Conversely, a Mac user, having already opened the URL will be directed to the video page on the web browser.
This process will open the video on your web browser whether PC or Mac. Right-click on the video on the web page and click the Save Video as option to save the video on your computer.
Select the desired location to save the video from the download box and your YouTube video will be saved in MP4 format.
If this method does not work for you because of the outdated script, then please follow the official download method given below.
Download YouTube Videos with YouTube App and YouTube Premium
To conclude this article and the center of our discussion that is how to download videos from YouTube, we will present the official method that you can use to download a YouTube video. However, the term "download" does not really live up to its name with this method.
In the YouTube app on mobile platforms and the paid version of desktop aka YouTube Premium, you can find an option to download a video and save it so that you can watch it later especially when you are offline or do not have access to the internet.
Having its own limitations, this method does not let you download and save a copy on your device. It only allows a user to save a video INSIDE the YouTube app. Furthermore, you will have to download the YouTube app for your desktop in case you are using YouTube Premium to download the video. The YouTube app itself is free to use. Moreover, you need to have an active internet connection every 30 days to keep accessing these YouTube downloaded videos.
While there is a plethora of third-party items available to let you download YouTube videos, these 3 methods are among methods to download videos as the threat of malware attacks and virus attacks can always compromise the security of your precious data.
Other Information:
Recover deleted or lost videos on PC >>
Permanently delete videos before selling PC >>
DoYourData Products
Permanently delete data from any device or disk to prevent data recovery.
Free Trial