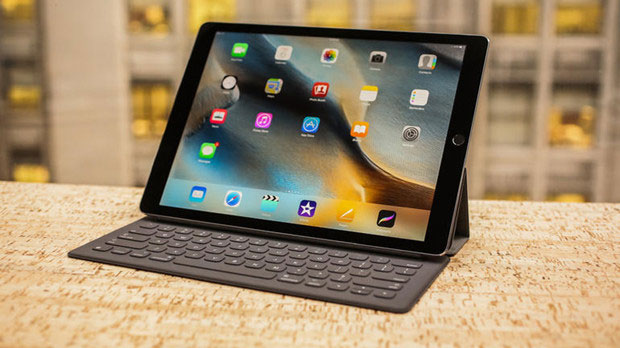 Quick Navigation:
Almost everyone has a cell phone in this advanced and most technological era. There is no doubt that anyone with an iPad (Air, Pro, Mini) keeps a collection of unique and irreplaceable videos since these are the captured moments of our lives. Don't panic if you have accidentally deleted videos on an iPad Pro.
Don't worry about it if this thing happens to you. There are ways you can take to recover deleted videos.
In the below section, we will discuss and help you recover the deleted videos. Please have a look at it.
Can I Recover Permanently Deleted Videos on iPad Pro?
Yes, you can recover the deleted videos irrespective of the deletion, either mistakenly or intently. There are different methods of recovering deleted videos, but you have to follow the steps carefully to avoid further loss.
Where Does Deleted Files or Videos Go on The iPad Pro?
You have repeatedly done that accidentally deleted videos transferred to recycle bin or the trash folder. We can restore our files if we delete them accidentally or undo them on the computer.
Some rumors are that deleted files go in the trash folder or recycle bin folder, but this is not the case with iPad Pro. In contrast, iPads have a Recently Deleted Folder that keeps your deleted data for up to 30 days.
What Do You Need to Know When Losing Videos?
When you lose your videos or other data from your iPad, the first and most important thing is to stop using your iPad. Even you need to turn off the cellular data and Wi-Fi.
4 Easy Ways to Recover Deleted Videos from iPad Pro or Other iOS Device
You can use any of the below-mentioned methods for recovering iPad Pro's deleted videos:
Method 1. Recover Videos Using "Recently Deleted" Option from iPad Pro
A built-in feature in Apple iOS is included called "Recently Deleted", which is very similar to Mac Trash. It is used to keep your videos or other data before permanently removing them from the photos app.
Following are the steps to retrieve deleted items from the Recently Deleted folder.
First, you have to open the Photo app on your iPad.
After that, click on Albums, and go to the Recently Deleted folder.
On opening the folder, you will see the videos inside this folder.
Touch and select the videos which you want to recover.
Click the Recover option to get them back to the Photo app.
After completing the process, go back to the Albums or Photos to see or preview the recovered photos or videos.
The iPad user needs to keep in mind that videos in "Recently Deleted" will only be kept for a certain amount of time, usually 40 days. After that, your files or videos will be deleted automatically.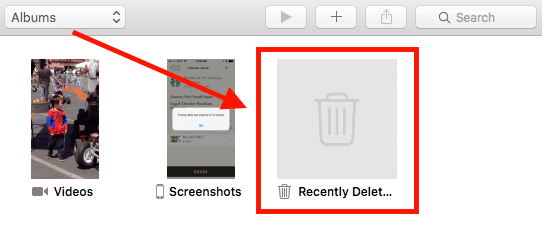 Method 2. Recover Deleted Videos on iPad Pro Using iTunes Backup
It is much easier to retrieve videos or files if you have a backup of your iPad Pro to a computer using iTunes. iTunes file has all the information of your videos and photos you have purchased or downloaded from the iTunes store of your iPad.
Here are helpful steps to retrieve videos from the iTunes Store, and you can begin with the under-listed sequence.
First, attach your iPad to the computer using a USB cable, run the latest version of iTunes.
Click the Trust tab on your iPad; it allows the computer to get access to iPad files.
In the iTunes window, you have to click the iPad icon.
Under the summary, tab select an option of Restore backup.
Now select the relevant/latest backup file.
Tap on the "Not on This iPad" option and select the movies previously deleted on your iPad.
Tap the cloud icon to start re-download the deleted videos.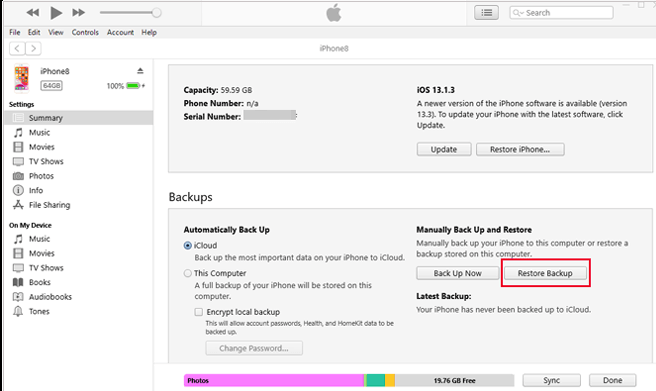 Method 3. Recover Deleted Videos on iPad Pro through iCloud Backup or Photo Library
It is easy to retrieve your iPad Pro videos by accessing the iCloud Photo Library only when enabling iCloud backup and taking regular backup to iCloud.
Keep in mind that if you ignore any instruction or step, it can permanently delete all your data, so you have to pay special attention.
The thing which you need to do is to log in to the iCloud web and follow the steps.
First, you have to go to Settings. The steps will be Settings/General/Reset/Erase All Data and settings.
Follow the instructions that appear on your screen.
Open iCloud's official website.
Put your Apple ID in the sign-in tab.
As you reach the main window, select the backup file comprised of lost videos.
Here, you can restore or download the computer's videos you want to restore.
Just wait until the process of restoring the videos is completed.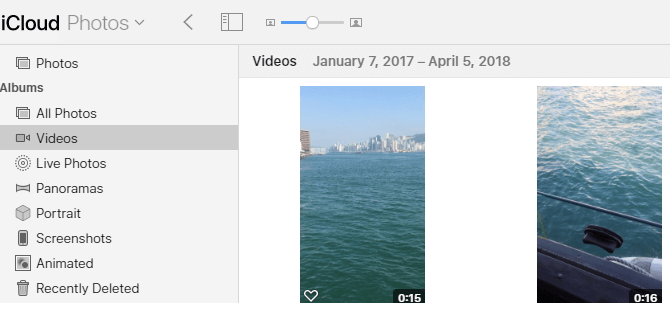 Method 4. Recover Deleted Videos from iPad Pro Using Recovery Software
The quickest way to recover deleted videos or other files from your iPad Pro is to use a iOS data recovery tool - such as Do Your Data Recovery for iPhone.
Do Your Data Recovery for iPhone
Recover lost videos, photos, messages and more from iPad Pro.
Recover lost data from iPhone, iPad, iPod touch!
Three steps to get all lost data back.
Now, follow the steps below to quickly restore lost videos or other data from iPad Pro:
Step 1. Run Do Your Data Recovery for iPhone on your computer, then connect the iPad Pro to this computer. Do Your Data Recovery for iPhone is able to quickly recognize the iPad Pro.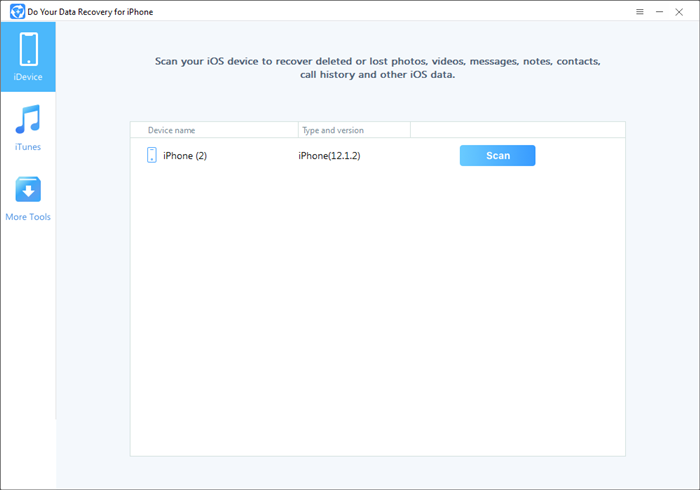 Step 2. Select the iPad Pro and click on Scan button.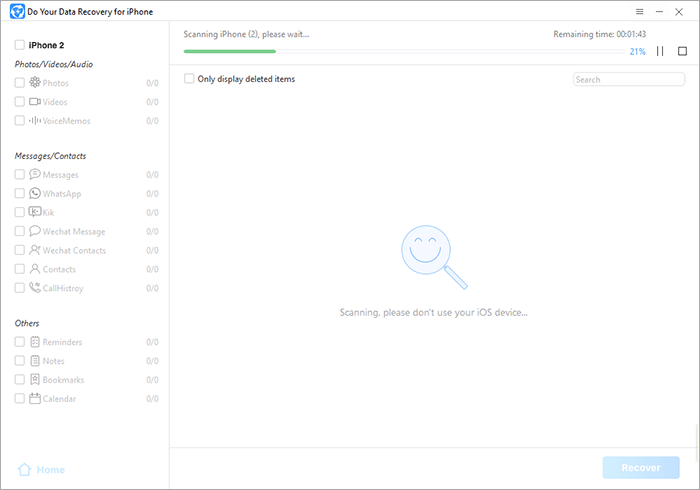 Step 3. Once the scan is completed, you can find the deleted videos. Select them and recover them.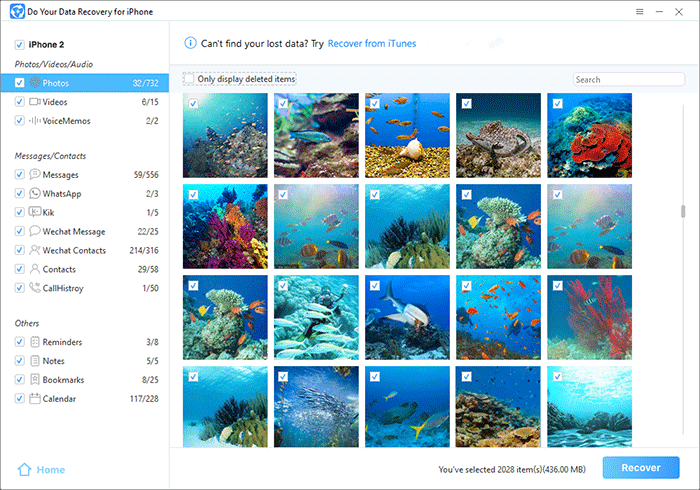 Conclusion:
The above methods will help you eliminate the iPad Pro users' problem by accidentally deleting the file or videos. One important note is a third-party app which iPad Pro video recovery app is handy to recover the deleted videos without backup from the iPad Pro or restore the videos from iCloud or iTunes.