Quick Navigation:
"Hi, I stored about 40 MP4 videos on my Mac, however, after reinstalling macOS, all the videos were erased, and couldn't find them in Trash bin or Time Machine Backup. Is there any way to get them back?" - Jenny
MP4 files are often used for the online playback of videos. Additionally, MP4 is the standard video format for digital cameras. For a variety of causes, MP4 files may disappear from your Mac computer or external storage device.
Is it true that you have recently misplaced your MP4 collection? You've accidentally erased several MP4s and are now desperately looking for guidance on how to get them back, right? If you're seeking no-cost MP4 video recovery options, you've found them here. You'll find all you need to know to get your files back here.
What is MP4?
MP4 is a popular multimedia file storage type for storing and transmitting video. This universal standard supports a wide variety of devices. The term "MP4" refers to the digital container file that is a wrapper over the video, not the video itself.
It stores the video data and any extra data required to play it in a compressed format. A video file's encoding method may be tailored to work best with many different systems and applications. It's a process that includes transcoding and compression.
MP4 video files are often smaller and more compact than other video file formats because of their higher compression ratio. The video quality is rather good after compression since the audio and video are compressed independently.
Is it possible to recover deleted MP4 videos on Mac?
MP4, short for "Moving Picture Experts Group Part 14," is a multimedia content container format that may store video, audio, subtitles, and still photos in one file. While ".MP4" is the recommended filename extension for MPEG-4 Part 14 files, many people use ".m4a," ".m4p," and other extensions instead.
Similar to other recent container formats, MP4 files may be streamed over the web. This allows the data to be seen immediately and stored for further viewing. Instead of instantly erasing the data after you erased an MP4 movie from a local disk or portable device (such as an SD card, USB stick, or external hard drive), the file system designated the file as free for fresh data to occupy it.
It is still feasible to recover data that has been destroyed before newer data overwrite it. This process occurs when a file is permanently deleted from a Mac computer's local drives (Command + Delete or emptying the Trash bin).
In conclusion, if you need to recover MP4 files, you should stop using the storage device immediately and work to retrieve your films as quickly as possible. The most challenging aspect is figuring out how to reassemble the erased data fragments, which is more complex than preventing lost data from being replaced. Data recovery programs make it simple to get your files back.
Methods f recovering deleted or lost MP4 videos on Mac
Method 1. Check trash bin to find deleted MP4 video files
If you need to restore certain files that were previously erased, the first place to check is the Trash. If you remove anything on a Mac and don't empty the Trash or delete the file permanently, you can get it back.
If you've accidentally deleted an MP4 file on your Mac, you may get it back by following the instructions below.
Step 1. Go to your trash folder and find the MP4 files you wish to restore.
Step 2. Select the Put Back option from the file's context menu when you've located it.
You may also drag the MP4 file onto your desktop by dragging it.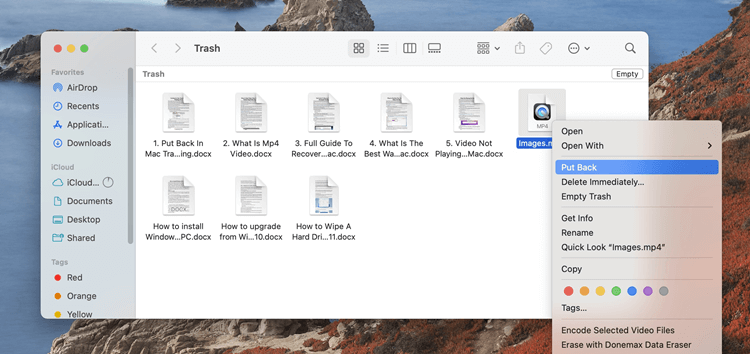 Method 2. Recover lost MP4 videos using Mac recovery tool
If you can't recover lost MP4 videos from Trash bin or backup, you can try Mac data recovery software. Mac data recovery software, in most cases, is able to recover all types of lost files from Mac-based hard drive or external storage device such as external disk, USB flash drive, SD card, etc.
Do Your Data Recovery for Mac provides complete solution for recovering lost files including MP4 videos on Mac.
Recover permanently deleted MP4 or other files on Mac.
Recover erased videos and other files on Mac.
Recover corrupted MP4 videos on Mac.
Step 1. Get Do Your Data Recovery for Mac onto your Mac computer. After installing it use it and choose the drive from which you want to retrieve the lost MP4 videos.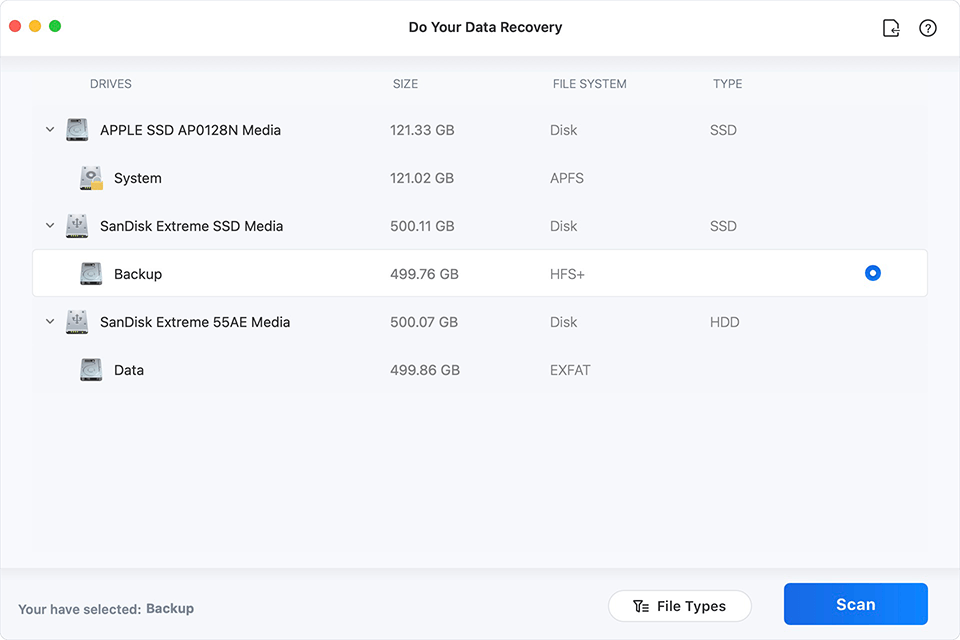 Step 2. Select the area where your data was lost, then click the Scan button to begin your scan; recovering your data will take some time, so please be patient.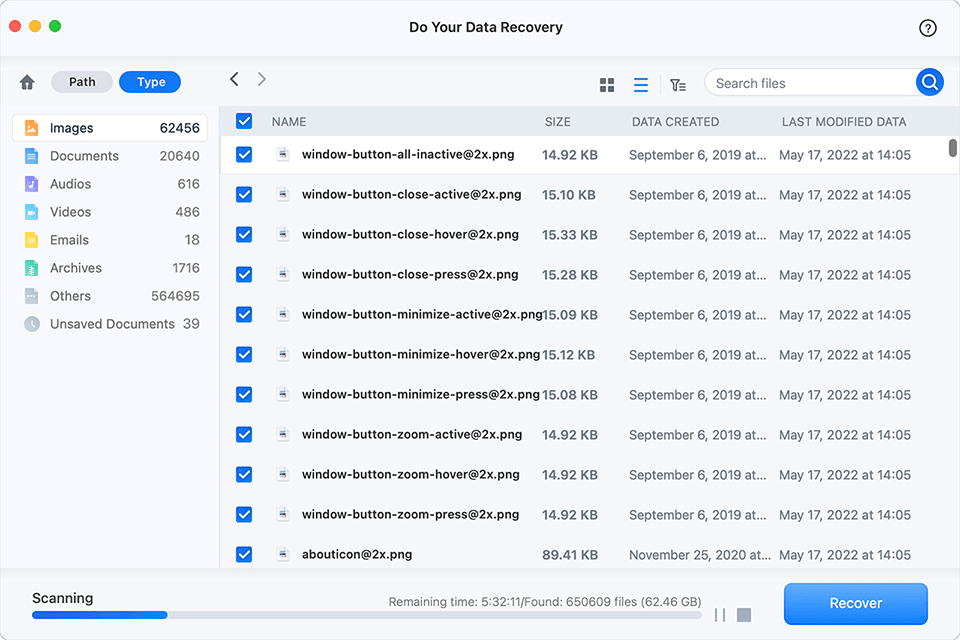 Step 3. Simply choose the Recover button (located at the screen's footer) to get your lost MP4 videos back.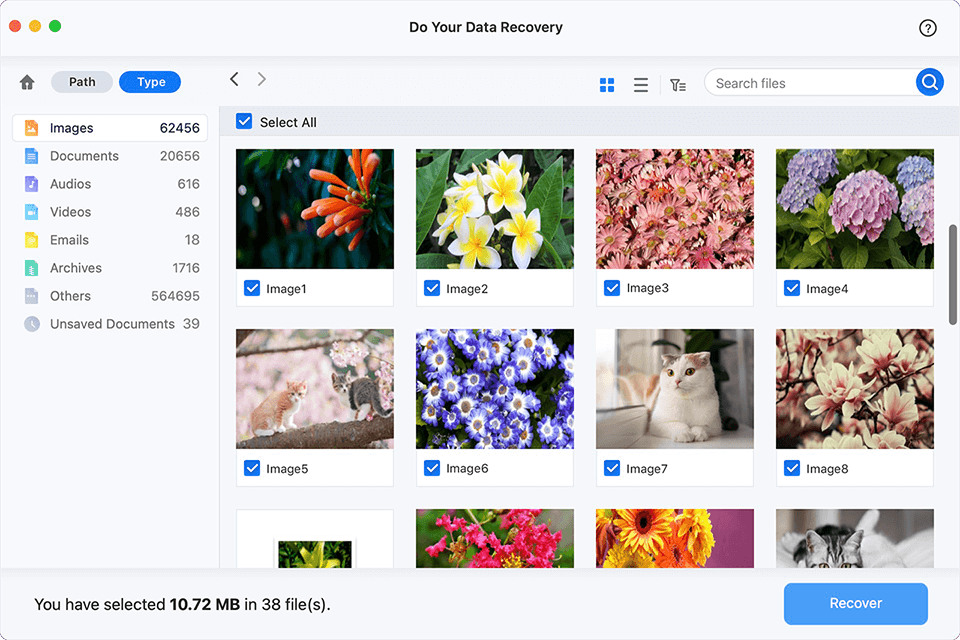 Conclusion
There are many potential causes for this, but we've compiled a list of solutions to assist you in recovering lost MP4s on Mac. It is possible to restore MP4 files using any of these methods. However, Do Your Data Recovery for Mac is strongly suggested if you're looking for the simplest option.
To prevent data loss, we recommend you to make a full backup for your Mac.