Cleaning your Mac is one of the foremost necessary things to try and do in ensuring that your system is safe. But many of us don't take into account, creating their Macintosh cleaner. Completely different programs are introduced in the marketplace for making an attempt to erase junk files and build your mac-cleaner. One of them is that the CleanMyMac is therefore aware. Each Macintosh must be maintained frequently if it's a constitutional HDD and additional so if it's SSD.
What Is CleanMyMac?
CleanMyMac is a famous Mac junk cleaner. It can scan the Mac system and delete all junk data. It also can remove duplicates, useless apps, etc. This software is developed by MacPaw and trusted by millions of users around the world.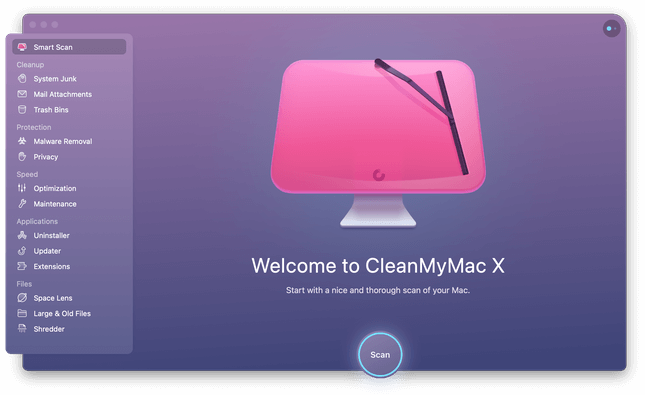 How Does CleanMyMac Work?
CleanMyMac is a fantastic piece of mac cleaner software. It will unlock dozens of gigabytes in your drive and additionally optimize it. At constant time, it can extend its operative time considerably. Thus, if one would need to stay his drive as clean as possible, then he can use CleanMyMac software. It plays a good role in ensuring that your files are organized. It's one of the simplest applications found within the market today.
Files Supported by Memory Clean
The process of clean up your mac is easy and it's done automatically. Totally different files will be cleaned up or deleted from the mac such as:
Logs, User and System Logs
Cache Files User and System Cache Files
Trash Folders Trashes on HD, external drives, and also iPhoto
Applications ExtrasDev Junk, Universal Binaries, Languages
Safe iPhoto Library things turned photos, RAWs, Fix fly
This software system works well since when your system has been scanned for all junk, automatic clean-up algorithms notice those files that are completely safe to be deleted. This method makes certain that your Mac's performance continues to be stable even when these files are removed.
Recover lost files which are deleted by CleanMyMac
#1 Restore deleted items from trash bin
When you discover that some files are missing from your Mac, the first thing you should do is to check the Trash Bin. The Trash Bin is a special folder that temporarily stores deleted files until it's cleared. Files planted in the Trash Bin are fluently recovered by using the following procedure:
Open the Trash Bin by clicking on its icon.

Find the lost or deleted files that you wish to restore.

Right-click on the named file or folder.
Choose Put Back to restore deleted files on Mac to their original position.
This method can help you recover lost files which are not emptied from the trash bin. However, in most cases, the files which are deleted by CleanMyMac are deleted immediately, will not be moved to the trash bin. So, you have to find another method to recover the lost files which are deleted by CleanMyMac.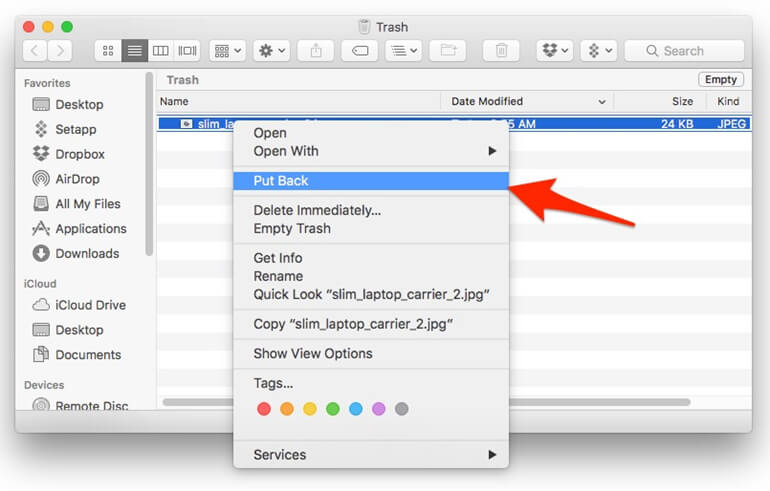 #2 Recover deleted or lost files with data recovery tool
If your files are deleted by CleanMyMac, they are disappeared immediately. Data recovery software can help you easily & completely recover deleted, lost files on Mac.
Do Your Data Recovery for Mac is a famous Mac data recovery application. It is fully capable of recovering deleted files which are erased by CleanMyMac. Download it here:
Do Your Data Recovery for Mac
Recover lost files which are deleted by CleanMyMac or other Mac cleaning software.
Recover permanently deleted files from emptied trash bin.
Step 1. Open Do Your Data Recovery for Mac, then select the Mac startup disk to start data recovery.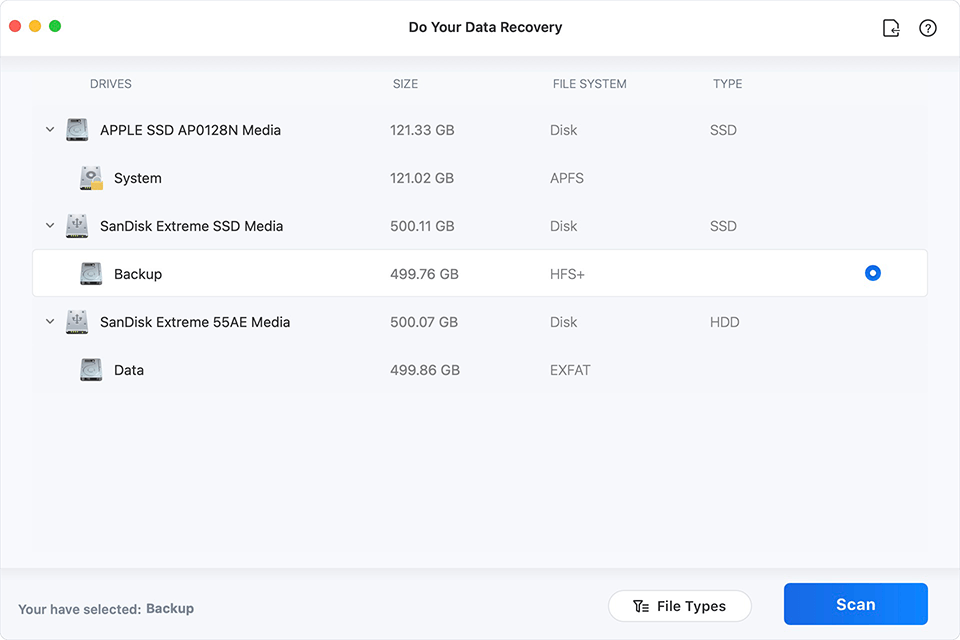 Step 2. Just click on Scan button. Do Your Data Recovery for Mac will scan the disk and find all lost files.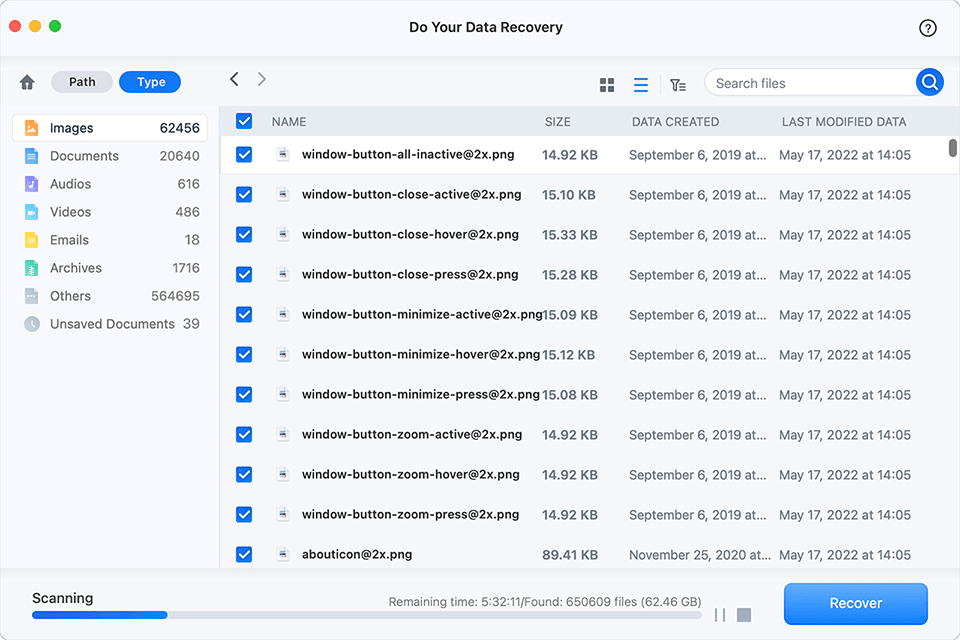 Step 3. Once the scan is completed, you can preview all recoverable files. Then select the wanted files and save them.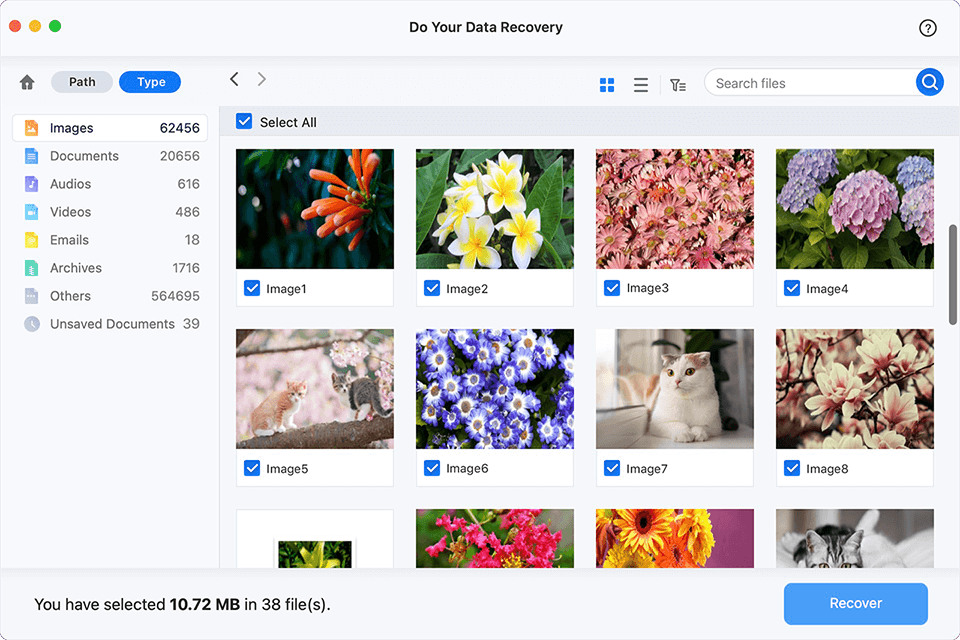 Do Your Data Recovery for Mac offers two data recovery modes: quick recovery and advanced recovery. If the quick recovery mode can't find all files which are deleted by CleanMyMac, just click Advanced Recovery. This deep scan mode will deeply scan the Mac disk and find much more lost files.
Do Your Data Recovery for Mac also can help you unformat hard drive on Mac and recover lost files from external hard drive, USB flash drive, memory card, digital camera, etc.