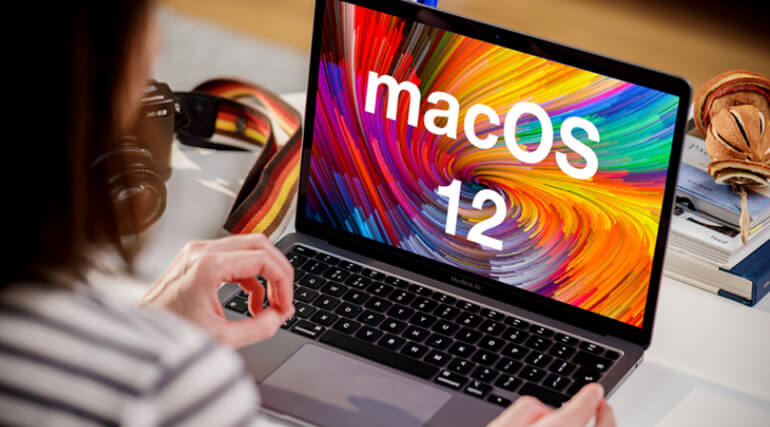 Quick Navigation:
If you're curious about those files that disappear on your desktop after an update of macOS Monterey or where the deleted files are gone. We'll teach you how to get them back securely. Accidental data loss is a common issue for Mac OS Monterey users. Even if you have the most up-to-date MacBook Pro, you still run the risk of accidentally erasing crucial data.
It might be a stressful situation that has to be resolved immediately. Using the cleaning drive, you were able to remove all of your Mac's unnecessary and space-hogging files. However, there were a few crucial files that you didn't want to remove.
Later, when you realize that those files are gone and no longer accessible in their respective directories, you begin to regret the action. And now you're desperate to get back the data you accidentally erased from your Mac's hard drive.
In this article, we'll go through top 4 ways to get back files that have been accidentally deleted from your macOS Monterey system or external device.
Method 1: Recover lost macOS Monterey data from a Time Machine backup.
Before installing macOS 12, every instruction will encourage you to create a recent backup of your Mac if there are any difficulties, such as data loss, after the upgrade. Using a Time Machine backup to restore files and even the whole system is quite simple.
Get your Time Machine backup disk attached and powered on before you begin. You'll want to make sure your Mac and disk are linked to the same network. If you accidentally deleted files, you may restore them by following the steps outlined below.
#1 In macOS Recovery, you may start your Mac. When using an Apple computer with Apple silicon, the results are as follows: Shut down Mac by a hit and hold the power button until you see 'Loading startup options', then select Options, click Continue, and follow the on-screen instructions. When using an Intel-based Mac, choose the Apple menu, restart, press and hold Command+R until you see the starting screen, and follow the on-screen instructions to reboot.
#2 On your computer's built-in recovery disk, choose Reinstall macOS Monterey in the Recovery screen, and then press the Continue button to continue.
#3 A Time Machine backup or another Mac may be used as a data source after installing the new system files. Select Time Machine Backup, then click on Continue. Access credentials for your backup drive may be needed. Depending on how the backup was encrypted, you may also be prompted for the password.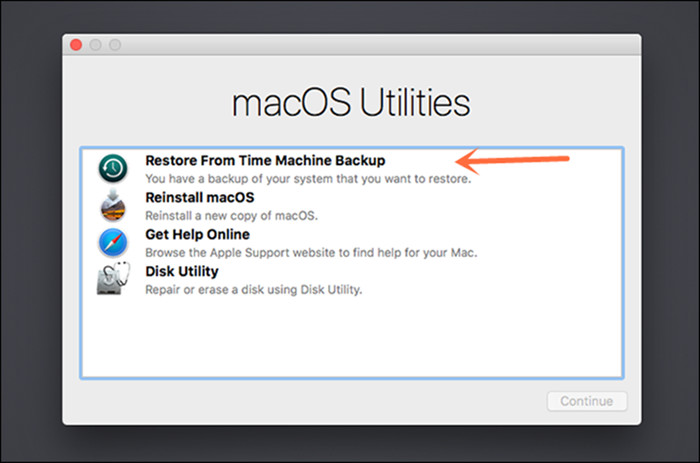 #4 Follow the on-screen steps after selecting the date and time of the backup you wish to restore. Time Machine may perform a complete backup of your system at the next scheduled backup time after executing the restoration. It's very usual for this to happen. After completing a full backup, Time Machine restarts incremental backups.
Method 2: Recover lost files from macOS Monterey Trash.
The Trash is a folder on a Mac where deleted files are kept until they are manually or automatically emptied. Trash files may be recovered with a few easy clicks until they are in the Trash, and the recovery is guaranteed.
#1 In the Dock, click the Trash icon to start the process.
#2 Choose your file, and if you know the name of the file you wish to recover, you may use the search box to find it.
#3 Right-click any of the chosen files and choose 'Put Back'.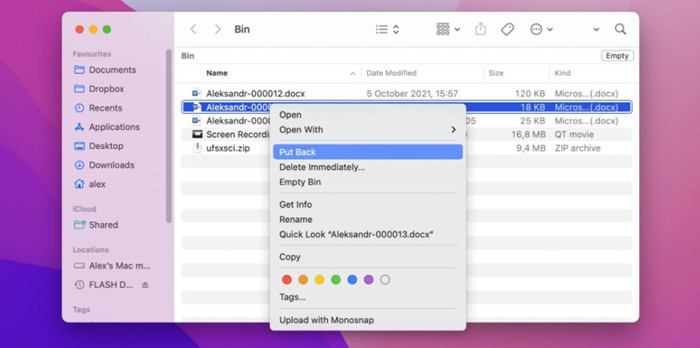 If you don't want to restore the deleted files to their original directories, you may drag and drop them to a new location of your choosing.
Method 3: Go through each folder one-by-one by manually.
It is challenging to discover the lost files after macOS Monterey upgrade, particularly if you aren't a seasoned Mac user. In this condition, the best course of action is to go through each folder on your Mac one by one and locate any missing files.
You may access the Apple menu by clicking the Apple icon.
Select Go then Go To Folder.
Go ahead and type "~" in the input field.
To locate the lost data after a Mac update, go through each folder and its subfolders on your computer.
Method 4: Recover lost data on macOS Monterey with data recovery software.
If you can not recover lost files with the 4 methods above, you can try macOS Monterey software. This is the easiest way to recover deleted, formatted or lost files on macOS Monterey. Do Your Data Recovery is one of the most powerful Mac data recovery software, and it supports for all OS X and macOS systems including macOS Monterey. Download it here:
Do Your Data Recovery for Mac
Quickly undelete files on macOS Monterey even you have emptied trash bin on macOS Monterey.
Unformat hard drive on macOS Monterey, recover erased data on macOS Monterey.
Recover inaccessible or corrupted data on macOS Monterey.
Do Your Data Recovery supports to recover all types of lost files including photos, documents, videos, audio files, emails, archives, etc. It can recover lost data from macOS Monterey disk, external hard drive, Mac, USB flash drive, memory card, digital camera, etc. Now, follow the steps below to recover lost data on macOS Monterey:
Step 1. Select the hard drive where you lose your files.
Open Do Your Data Recovery on your Mac computer, it lists all hard drives and external devices. Now, just select the hard drive where you delete or lose your files.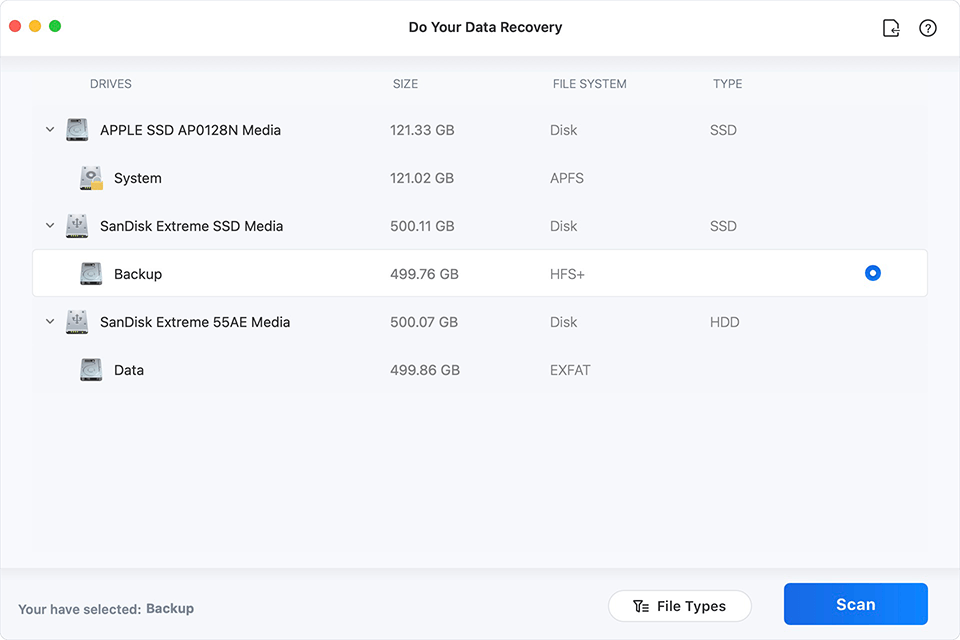 Step 2. Scan your hard drive to find lost files.
Click on Scan button. Do Your Data Recovery offers two recovery modes: quick recovery and advanced recovery. If the quick recovery mode can not find all lost files, just try advanced recovery mode to deeply scan the hard drive.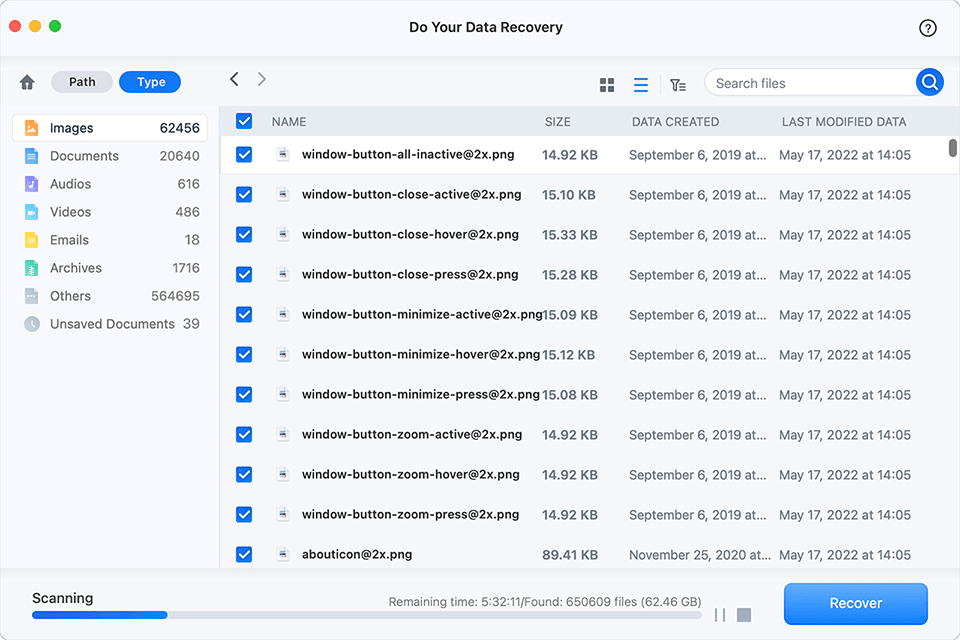 Step 3. Preview and recover lost files.
Once the scan is completed, you can preview all recoverable files. Then select the wanted files and save them.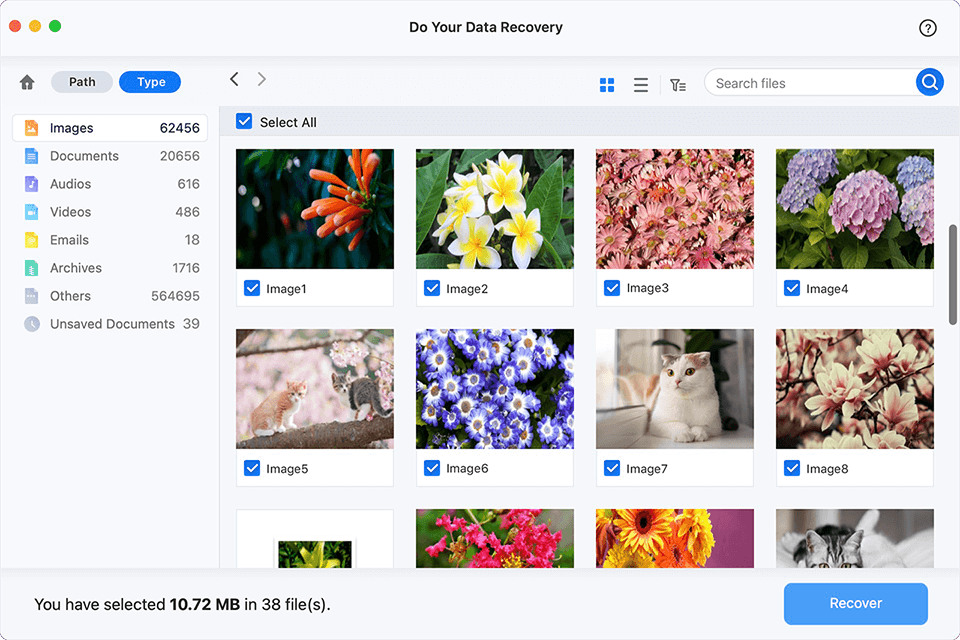 Conclusion
We hope that the methods above can help you quickly recover deleted/lost files after upgrading to macOS Monterey. Data loss can result in big problems. When you are going to recover lost files on macOS Monterey, Do Your Data Recovery is a good choice. We also recommend you to back up your Mac regularly to protect your data from data loss.