>
Mac Data Wipe
> How to Permanently Erase Deleted Files on Mac?
How to Permanently Erase Deleted Files on Mac?
by Shirly Chen, 2017-02-06
When you have deleted some files and empty the Mac trash bin, are those files permanently lost? NO! Those deleted files are still on your Mac hard drive after you empty Mac trash bin, and they can be easily found & recovered by most of data recovery programs. Anyone can recover your deleted data from emptied trash bin with easy-to-use file recovery freeware. As the files are deleted, you can't see them on your Mac. So you can't erase the sensitive content or those files, and can't use secure deletion option to delete them again. Then, is there any way to permanently and completely erase those "already deleted" files on Mac computer?
The deleted files are stored on the free disk space of the Mac hard drive. So if you want to permanently erase deleted files, you should find a tool to wipe the free disk space and overwrite the free disk space with zero or random bites.
Permanently Erase Deleted Files on Mac with Super Eraser for Mac
DoYourData Super Eraser for Mac is a comprehensive data erasure tool. It offers an option to erase free disk space to permanently erase already deleted files and traces on Mac hard drive. This option will destroy and shred all deleted files, lost files on selected hard drive. Once the process gets finished, all the deleted files will permanently lost, can't be found or recovered by any data recovery software. And it is very easy to use. Here, you just need to select this mode "Wipe Unused Space", select the hard drive you deleted your files, then click on "Wipe Now" button.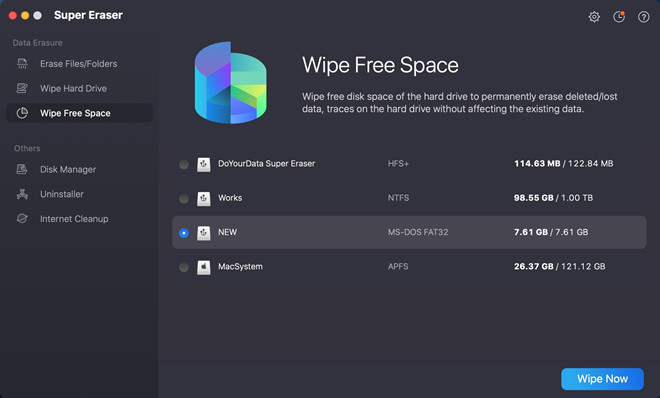 This option will only erase the deleted data, history traces on your Mac hard drive, it will not affect the existing files on your hard drive. It will make sure the already deleted files being permanently erased.
Why Need to Permanently Erase Deleted Files on Mac?
If you don't have sensitive data on your Mac, you just need delete your files and empty the trash bin before you sell or give away your Mac computer. However, most of us have stored very private files on our Mac hard drive more or less, like pictures, family videos, business documents, etc. So before we sell or donate our Mac computer, it is very important to erase those already deleted files to avoid data leakage.
Now data recovery software is widely available on the internet, so you can't make sure other people will not do data recovery on your Mac computer. To permanently prevent your deleted files from being recovered, you can use DoYourData Super Eraser for Mac to erase the free disk space to destroy all deleted files on your Mac hard drive.
DoYourData Super Eraser for Mac also supports to erase deleted files from external hard drive, USB flash drive, memory card, digital camera, etc. It is the most powerful Mac data erasure software on the market.