Quick Navigation:
Have you ever left your iPhone, iPad, Mac, or other Apple devices in a place you don't know about a lot, or your Mac or other Apple device has been stolen?
It is an awful scenario, and you'd like to retrieve your lost device as it contains personal information you can't afford to lose. Apart from losing the data, you might be shivering, thinking that someone might access your personal information and misuse it.
To avoid the damage, you must ensure that you've set up a screen lock password, turn off automatic login, or log in with your Apple ID credentials across all your devices to manage them appropriately to stop any unauthorized person from accessing your data.
Moreover, you can also opt for using Find My Mac and Activation to secure your Mac, and it also helps you to locate your Mac.
This post tells you about the importance of Activation Lock and would you be able to enable or disable it.
What is Activation Lock?
Activation Lock was introduced in 2003 and has been around since. People were able to use Activation Lock with iOS 7, and Later, it was shifted to WatchOS, iPadOS, and macOS. However, only Mac computers embedded with an Apple Silicon Mac and T2-secured are eligible to use the Activation lock.
When you turn on Activation Lock, it will ask you to enter the device password or Apple ID password whenever someone tries to wipe your MacBook and turn off Find My feature.
Surprisingly, suppose you tend to erase your MacBook Air/iMac/Pro. In that case, the activation lock will remain and won't allow any person to reactivate your Mac PC without entering your Apple ID and password.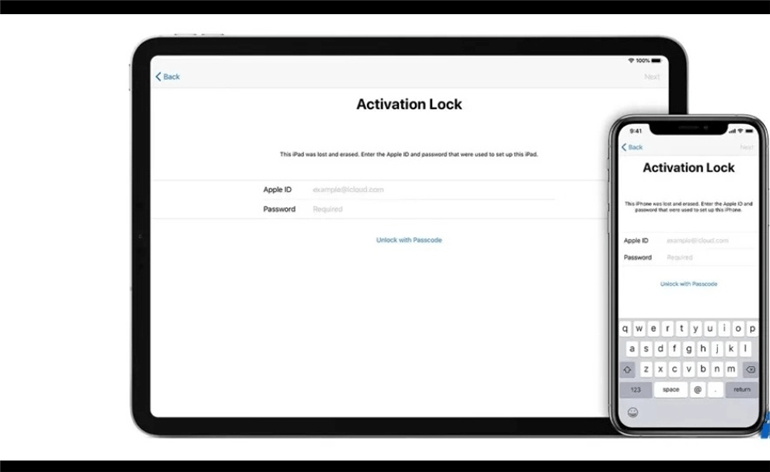 How to enable Activation Lock on your Mac?
Unlike other features that allow you to turn on or off, you won't be able to find the switch of turning on and off Activation Lock.
Since Activation Lock is combined into Find My on your macOS, it remains the same for your iPad, iPhone, Apple, and iPod Touch.
Hence, whenever you tend to turn on the Find My feature on your Mac or other Apple devices, it will turn on the Activation Lock automatically.
Another thing that you'll need to ensure before activating the Activation Lock is to check whether your device qualifies to activate Activation Lock and whether your Apple Device fulfills the following requirements.
A Mac with a T2 security chip or an Apple Silicon chip.
Your device can turn on the Two-factor authentication feature for your Apple ID.
It can run macOS, Monterey, or Big Sur.
You can set the Full Security in M1 Mac.
You can set T2-secured Mac PC to disallow booting from external content in startup Security Utility and secure boot.
After ensuring that your device meets the requirements we've discussed, you can follow the step-by-step guide below to enable the Find My feature on your Mac PC.
Step 1. Select System Preferences after navigating to Apple menu.
Step 2. You'll only need to tap the Apple ID icon next to your profile name.
Step 3. Select iCloud after finding it from the left column.
Step 4. Navigate to Find My Mac and toggle it on. After turning on the Find My Mac icon, you can activate Activation Lock on your device.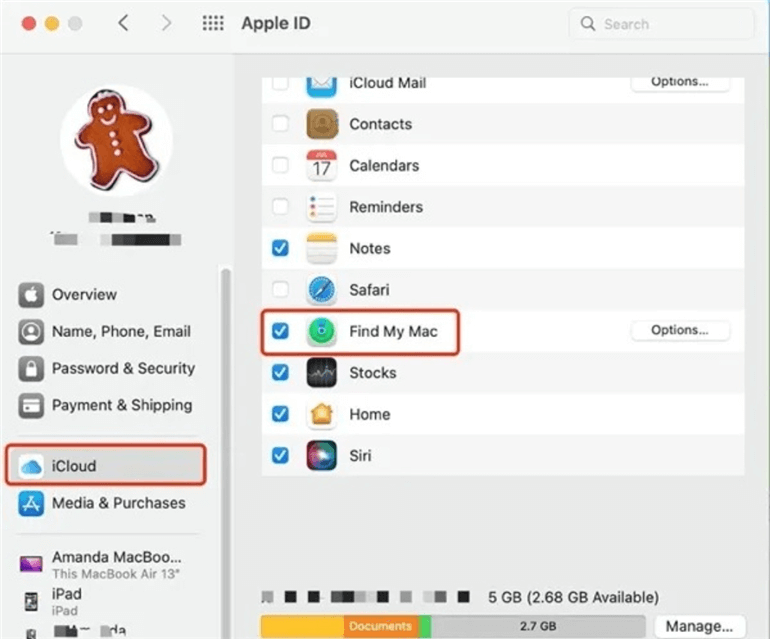 How to disable Activation Lock on your Mac?
If you want to factory reset your Mac from your friends, family members, or someone else, or you intend to erase your Mac PC, the Activation Lock screen might appear if you didn't turn off the Find My Mac feature or log out from your Apple ID.
In this scenario, the Activation Lock will be active on your device, and you may need to disable it to use your Mac.
If you can access your Mac device
Enter the Apple ID credentials and remove the Activation Lock from your device.
If you can't access your Mac
If you're far from your device and want to remove Activation Lock, you can serve your purpose by navigating to iCloud.com.
Step 1. Navigate to www.iCloud.com/find on any web browser you'd want.
Step 2. You'll need to enter your Apple ID credentials and proceed ahead.
Step 3. Select the All Devices icon from the top and choose the Apple device you'd like to remove the Activation Lock from.
Step 4. After selecting your device, you'll only need to tap the Remove from account option to end the proceedings.
You can reset the Apple ID passcode via iCloud.com or on other devices when you tend to forget it.

However, despite trying hard, if you cannot recover the Apple ID account, don't waste any time before taking assistance from Apple Support. It will ask you to create ownership files, including MEID, IMEI, or product serial number.
FAQs
1. Will Apple disable Activation Lock without purchase proof of your Mac?
Suppose you're the device owner and have the ownership proof documents, including IMEI, serial number, or MEID. In that case, Apple won't ask you to give purchase proof to disable Activation Lock. You'll be able to disable Activation Lock pretty quickly after giving the necessary information.
2. How to remove the Activation Lock?
You can use the Apple ID and password to disable the Activation Lock, or you also opt to visit iCloud.com to erase the Activation Lock. However, after visiting iCloud.com, you'll need to ensure the Apple ID credentials.
Final Words
It would be best if you took extreme precautions to ensure no one can access your Mac's data when you lose your device or get stolen. Of all the methods you can look up that might help you secure your device, Activation Lock is one of the most reliable methods.
Activation Lock, when enabled, doesn't allow anyone to access your Mac device, as whenever he tries to unlock the Mac device, the Activation Lock screen will appear, and he won't succeed in his cause. You can take the notes from this post to know how to enable and disable Activation Lock.
DoYourData Products
Clone HDD, SSD, Mac OS, external disk, USB drive, and more under Mac OS.
Free Trial