About two years ago, Apple silicon was introduced in the M1 chip. It was clear that more than one line of processors akin to the A-series chips that power iPads and iPhones would be required to switch away from using Intel CPUs in Macs. There are too many different Macs available from Apple for a single chip to handle them.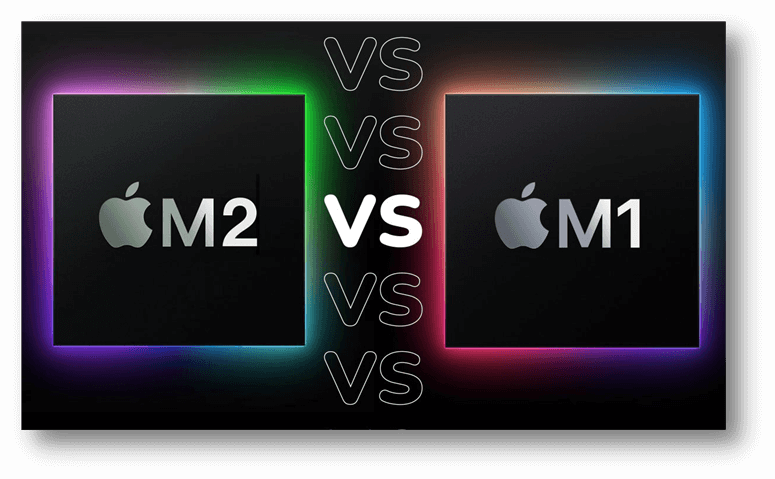 The M1 is a powerful processor by 2020 standards, but advancements in silicon technology are lightning-fast. If you're still using a laptop powered by first-generation Apple silicon, you might be wondering if it's time to upgrade now that the M2 has been announced two years later.
Neural engine and secure enclave on M1 vs. M2 chips:
The M2 chip is Apple's latest and greatest A-series processor. It boasts several improvements over its predecessor, including a secure enclave and a neural engine that is 40 percent more powerful. As with Apple SoCs, the M series' primary encrypting unit is the secure enclave. Even in the M2 chip, this feature has not been modified.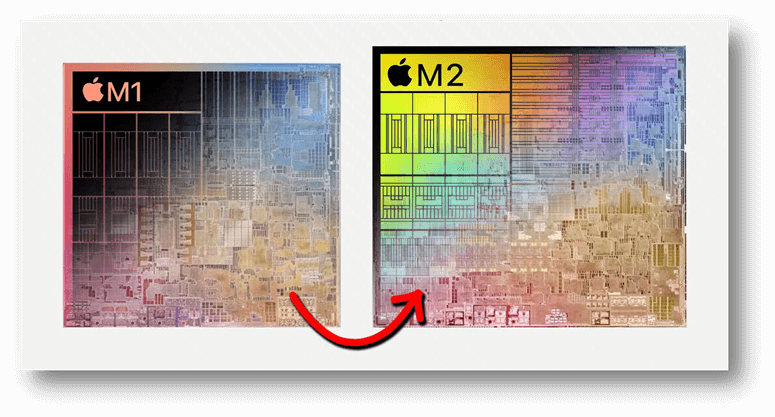 The M1 can perform up to 11 trillion total operations per second (TOPs), which is more than enough to handle even the most demanding computing tasks. It is impressive, however, that the neural engine on an M2 chip can handle up to 15.8 trillion TOPs. You can't possibly use an M1 and an M2-powered MacBook side by side and not notice the significant performance and speed difference.
CPU Performance:
What about actual efficiency, though? Assuming specifications are correct, the M2 MacBook Pro has the same core configuration as the previous model, namely 8 CPU cores. Comparable to the M1 chip, this combines four high-performance cores with four efficiency cores. In addition, these chips are manufactured using a 5nm process, so there are no significant process-related differences.
Instead, Apple crammed even more transistors into the M2's design, resulting in a claimed 18 percent performance boost. Even though the MacBook Pro 2022 is not yet available to the public, single- and multi-core benchmarks appear to support these claims. Also, as we mentioned, the M2 can be paired with up to 24GB of RAM instead of the previous maximum of 16GB, giving you some breathing room for more demanding tasks.
GPU Performance:
The M2 MacBook Pro's graphics processing unit can only be had in a 10-core version. It appears that the 8-core configuration is reserved for the 2022 MacBook Air. In addition, the M2 has 10 processing cores instead of the 8 found in the M1 MacBook Pro.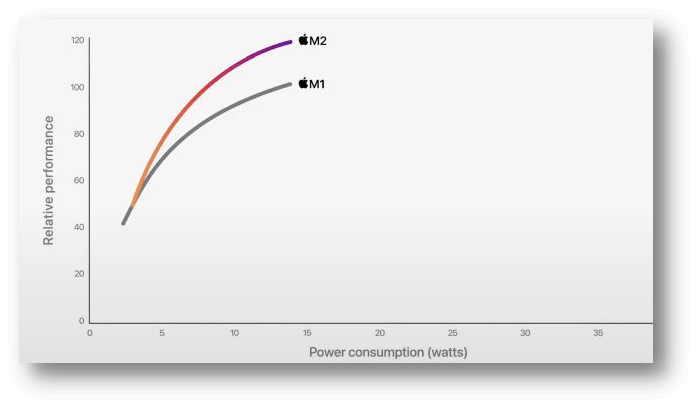 Apple claims that the result is a sizable increase of 25 percent at the same power levels. But at full throttle, the new MacBook Pro with the Apple M2 chip will be 35% more powerful than the previous M1 MacBook Pro. The improved CPU performance is certainly nothing to scoff at, but the enhanced GPU performance may be the deciding factor.
Unified Memory Strength
Compared to the M1 chip's 68GBps memory bandwidth, the M2 CPU can read and write data at a blistering 100GBps. Memory bandwidth nearly 50% more than the M1's is impressive enough to warrant bragging rights in a consumer electronic device.
There are presently two versions of the M2 chip available, but with Apple's history of regular hardware updates, you may expect more in the future. When Apple releases M2 variants, you may see a similar chip to the M1 Ultra. And without question, this will provide far more bandwidth than the M1 Ultra (which operates at 128GBps).
The M1 chip's 16GB of unified memory based on LPDDR4x is sufficient for most demanding workloads, but the M2 increases it to 24GB through an LPDDR5 memory interface. LPDDR5 is known for its low latency and power consumption, but it further improves both characteristics.
How much power does an M1 or M2 chip use?
When the GPU and CPU specifications are combined, we see that the M1 and M2 chips have better performance and speed without sacrificing power efficiency.
Furthermore, many processors lack features allowing peak performance at low power costs. With the same power, the M2 processor outperforms the M1 chip in numerous situations.
When comparing M1 and M2, overall power consumption rates are very similar. Even with all the upgrades, it's great to see that the M2 processor continues the M series' commitment to low power consumption.
Conclusion:
The efficiency gains, however, keep us on the winning side. Incredibly, the CPU performance can be improved by nearly 20%, and the GPU performance can be improved by up to 35%. Since we now know what to expect from Apple's M1 lineup, we anticipate the same for the M2 Pro and M2 Max chipsets found in the 14-inch and 16-inch MacBook Pros.
We advise waiting until you need a new MacBook Pro before making the purchase. We suggest searching the online Refurbished Store at Apple for a 14-inch MacBook Pro with the M1 Pro. Compared to the M2, even the most basic configuration of this new device is likely to provide more processing power and a better display.
Software for M2/M1 MacBook Pro:
DoYourData Products
Clone HDD, SSD, Mac OS, external disk, USB drive, and more under Mac OS.
Free Trial