Before you upgrade macOS Monterey to a higher system such as macOS 13, you may want to make a full backup of your Mac data.
The easiest strategy to avoid data loss on your Mac is to make regular backups of the Mac Disk. We'll explain to you how to clone a hard disk on macOS Monterey in this post. You may use the techniques below to safely and conveniently clone data in macOS Monterey, whether you want to back up your startup disk or simply move data from your SSD to an external hard drive.
What Does Clone A Mac Hard Drive Mean?
When you clone your Mac's hard drive, you get a perfect, bit-for-bit replica of your Mac's hard drive. It has all of the information you'll need to start your computer from that copy. Of course, it's simply a short-term fix for an emergency, but it's still useful.
What's the Difference Between a Cloner and a Time Machine?
Both are good backup alternatives for personal data like photos, videos, emails, music, apps, and documents. Time Machine is a built-in backup program that comes pre-installed on every Apple computer and is possibly the most accessible tool of macOS for moving data across machines.
Cloner, on the other hand, is a reliable third-party backup program for Mac users.
Time Machine creates an automatic backup of your whole hard disk to a secondary hard drive, making it easy to recover if something goes wrong. Cloner, on the other hand, creates backups and clones of your hard drive to provide a secure and speedy backup. The time machine checks in on your Mac every hour and creates hourly backups discreetly and automatically. Cloner, on the other hand, creates a clone of your whole hard drive and records your files precisely as they are.
Monterey Steps Upgrade
However, let us return to our backups (pun intended). All successful businesses begin with precise and tedious business strategies. All effective upgrades should begin with tedious but essential backups. Have you double-checked that all of your important data are safe and sound and that you have a second (and third) backup? Are you able to restore the prior system from a bootable backup? Have you double-checked your hard and cloud backups?
If not, Get Backup can assist you. Not only do you get a free trial of complete functionality to get everything done, but you also get the important ability to make regular backups of your data with Scheduled Backups. But it isn't the end of Get Backup's excellent features.
Making a bootable clone of your disk is one of the most common solutions during a system update. This lets you to retrieve all of your data and the system "as is" without making any modifications, eliminating the concern of losing work.
On macOS Monterey, how can you make a clone of your Mac's hard drive?
If you want to make a full copy of macOS Monterey, just try disk cloning application - such as DoYourClone for Mac. It can help you securely clone Mac's startup disk to the external hard drive and make it be bootable.
You can use the clone backup as a startup disk on any Mac.
Restore deleted/lost files from the clone backup.
Restore macOS Monterey using clone backup.
Downgrade from macOS 13 to the original macOS Monterey with backup data.
Just buy an external hard drive and then connect it to your Mac. Follow the steps below to create a full copy of your macOS Monterey Mac.
Step 1. Download and install DoYourClone for Mac on your Mac computer.
Clone SSD, HDD, USB drive, external disk and other device on Mac.
Create disk image on Mac.
Support for Intel-chip Mac, Apple Silicon chip Mac.
Step 2. Open DoYourClone for Mac, choose disk cloning mode - Clone OS. The system disk will be selected as the source drive and then select the external hard drive as the destination drive.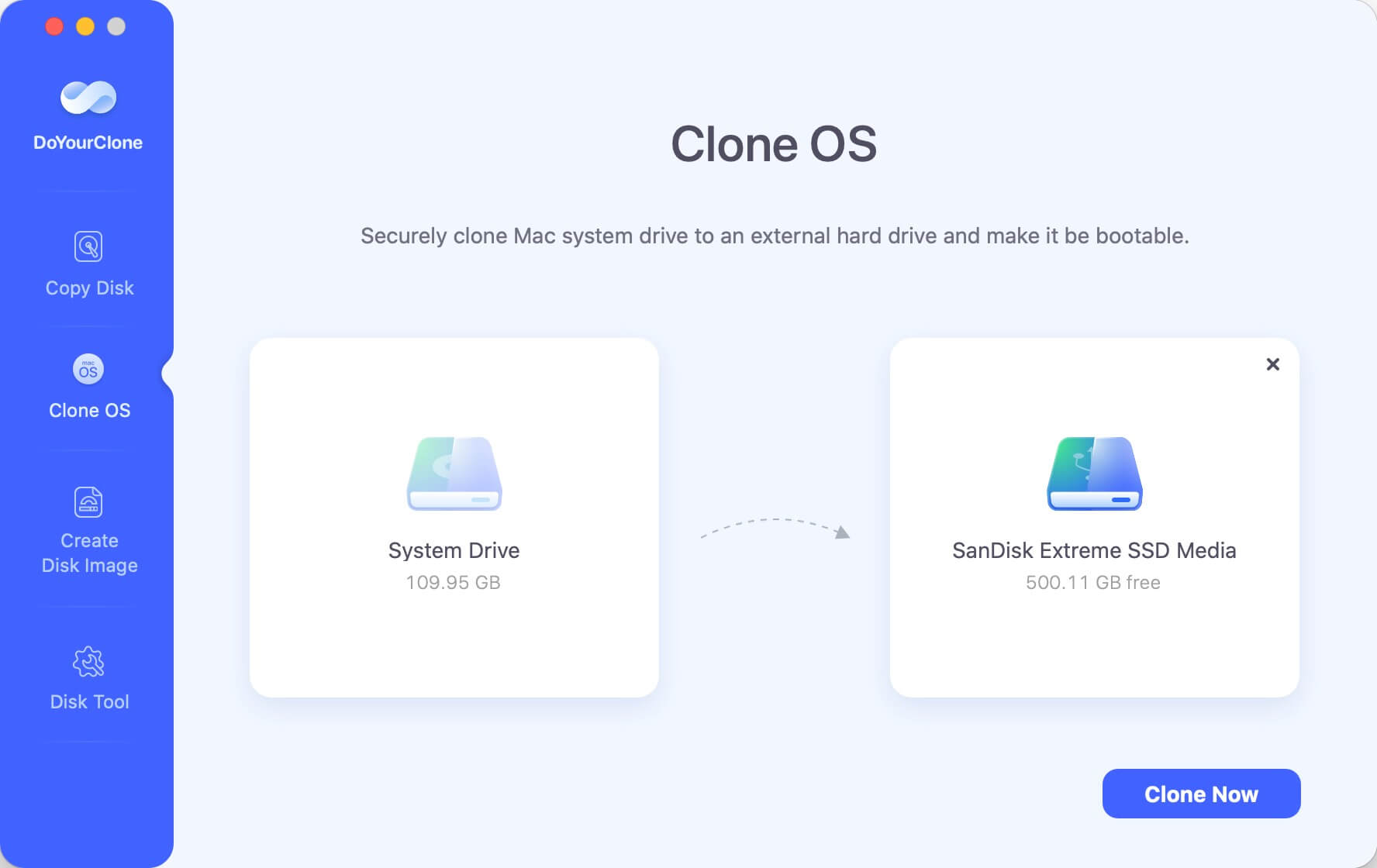 Step 3. Click on Clone Now button. Then it will clone all data including system data, files, Applications, settings to the external hard drive and make it be bootable.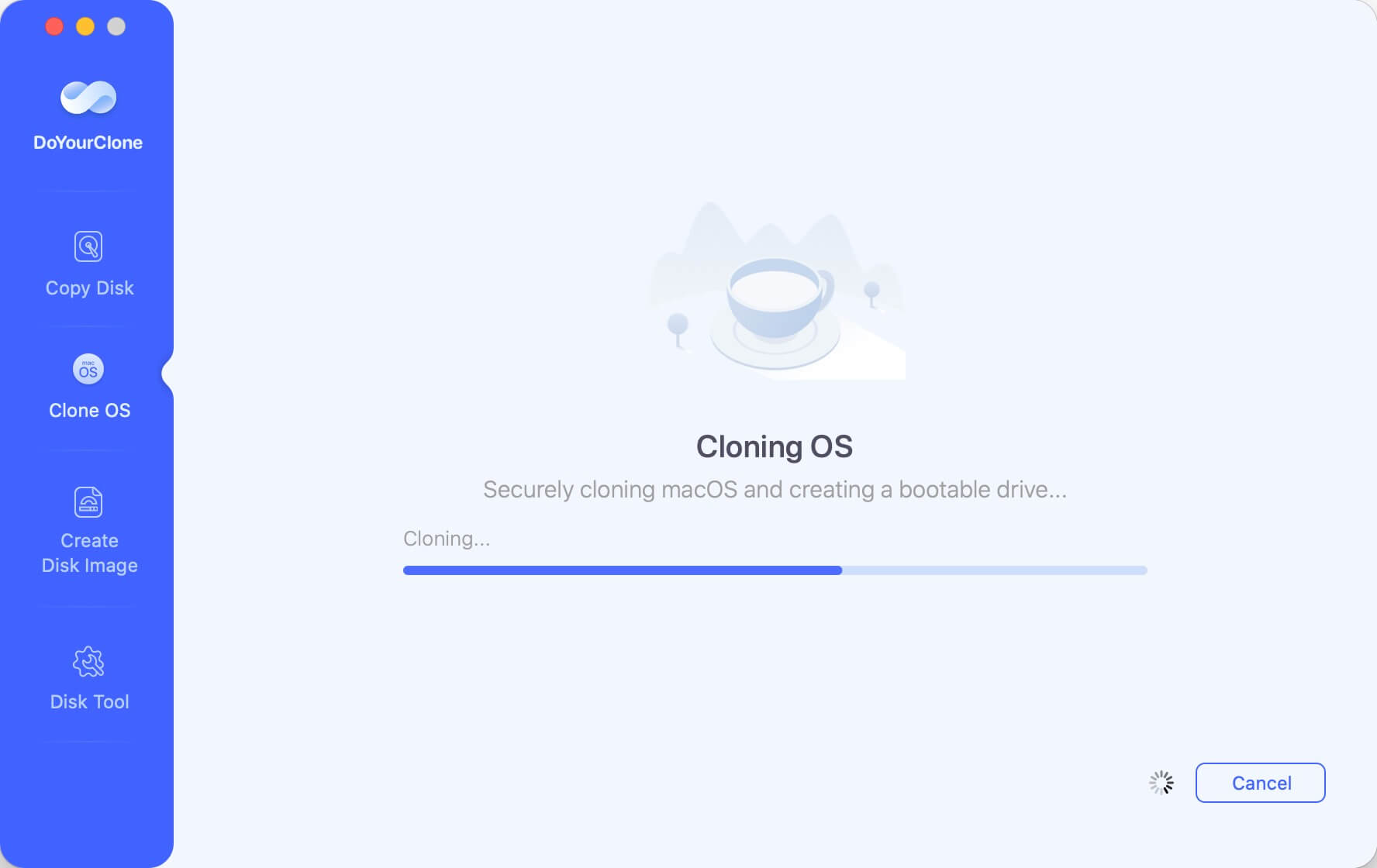 Once the process gets finished, you will get a full copy of macOS Monterey. You can use it as a bootable disk to continue your work, or use it to restore lost files or restore macOS.