It is generally known that deleted or formatted files can be recovered. Data recovery software or manual data recovery service can easily restore your files after deletion or format. In some cases, to protect your privacy and business secrets, making files unrecoverable is necessary. For instance, when you resell your computer to other people, you'd better delete all the private files on the hard drive and make the files unrecoverable. It is impossible to permanently get files lost by deletion or format. How to make files unrecoverable? Here is the solution.
DoYourData Super Eraser is a data erasure program that can help users permanently erase files from your hard drive or storage media. It will completely make files unrecoverable after erasure. Selectively erase files or folders from PC, laptop or storage media including digital camera, SD card, Memory card, USB flash drive, etc.
After erasure, the files are permanently lost and can't be recovered by any data recovery software / service.
Why DoYourData Super Eraser can make files unrecoverable?
DoYourData comprehends the data recovery principle / method, so it knows how to avoid it. When you delete a file or formatted your hard drive, the system only marks the disk space of lost files is available for new data. Before the disk space is overwritten by new data, you can easily recover the lost files with data recovery software. In other words, if you want to make files unrecoverable, you need to delete them, destroy them and overwrite the disk space with new data.
DoYourData Super Eraser can do the job well. When you use it to erase files, the software will automatically erase the files and overwrite the disk space with 0 bits or random bits. So it can make sure that your files will be permanently lost and it is impossible to recover them even with the most data recovery software / service.
Here are the easy steps to make your files permanently lost & unrecoverable.
Step 1: Download and install DoYourData Super Eraser on your computer.
Step 2: Select the files or folders you want to erase.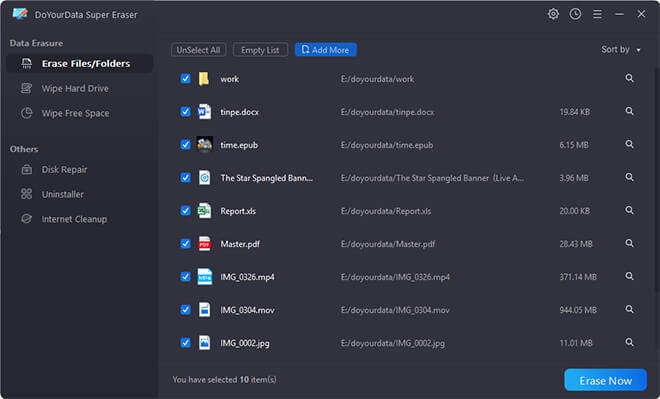 Step 3: Permanently erase your files or folders.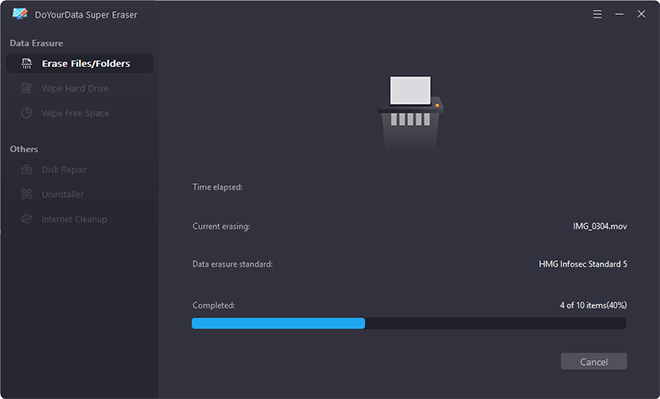 Now you have known how to make files unrecoverable, and how to permanently erase your files. Before you do the job with DoYourData Super Eraser you should think carefully, because that the files will become unrecoverable after erasure. It is recommended to back up your files to another place before you permanently erase them. In our society, cyber crime is not rare to see. To protect our life and work, it is important to eraser private files, business files before we resell, donate our device or login out from a public computer.