When you accidentally erase some files from your hard drives, there is no reason to panic since you can rely on many data recovery software tools or professional data recovery services to restore the files in no time at all. The software and services have become a lifesaver to many computer users around the world.
On the other side, it creates more worries to the people who like to erase their unwanted data permanently from hard drive. They certainly need a reliable solution to permanently wipe hard drive files. This is when permanent erase software comes into play. It has turned out to be a great solution for the need of permanently wiping hard drive files. The use of this powerful software requires more consideration since you will not be able to recover the deleted file in any way.
Super Eraser: Best Solution to Wipe Hard Drive Files Permanently and Completely
DoYourData has been introducing and developing powerful computer software for every need that you have. When you look for a reliable permanent erase files solution, DoYourData Super Eraser can be our trusted software to permanently wipe hard drive files. It has the power to remove files from your hard drives or other storage media for good. You shall never recover the deleted files regardless to the data recovery software you use to try to recover the deleted files.
The Super Eraser from DoYourData has a great power to wipe out the unwanted files from your hard drives completely and permanently. DoYourData has equipped their powerful permanent eraser software with user-friendly interface. Deleting your files permanently has become a lot easier with this software. You can simply select, delete, destroy and overwrite the selected files very easily and the next thing you know is that the files are gone permanently from your hard drive.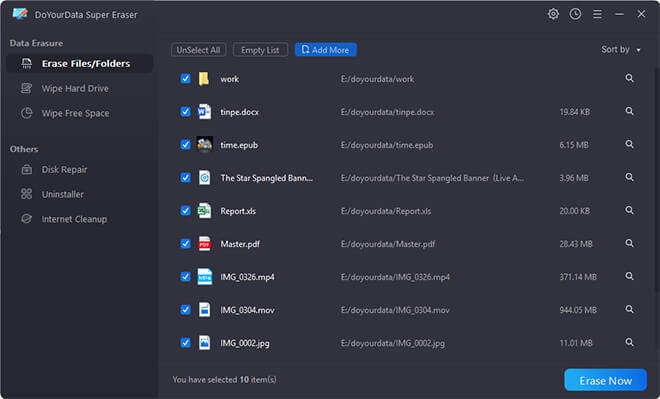 There are some software programs for permanently wiping hard drive files purposes in the market. But, it does not mean that you can choose any permanent eraser software that you find. It would be best if you choose the one that allows you to select the files easily. That way, you will not have to erase the folders or your hard drives entirely when you mean to erase a certain file only.
The permanent erase files software that you use must be capable of erasing one or more folders from your hard drive more efficiently. Make sure that the software can do its main functions when you need to erase some files in some other storage media. Your permanent erase files software should be reliable when you need to get rid of the unwanted data from various devices. Either the files are stored in your USB drive, digital devices, external hard disk or multimedia cards, the permanent eraser software should be able to remove them easily.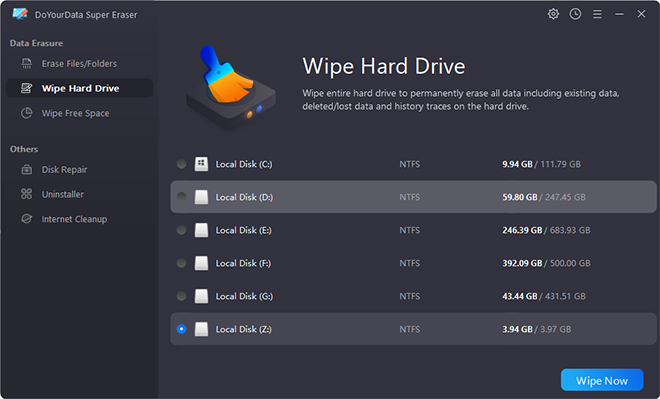 DoYourData Super Eraser has turned out to be powerful and reliable data erasure software. In addition to its easy-to-use interface, Super Eraser is also a safe permanent erase files solution as well. It safely removes the selected files and folders completely and permanently regardless to where or storage device you use to store your unwanted files.