Shred Files and Folders with Shredo
Shredo is a handy little application that can help Mac users shred files and folders under Mac OS. It is a good option to destroy some files/folders that contain sensitive information on your Mac. However, it only supports Mac file shredder and only is compatible with Mac OS 10.10 – 10.12. And Shredo don't support to wipe entire hard drive/ erase trash bin.
Powerful data erasure tool – Shredo alternative Download
Is there an all-in-one file shredder that can help in erasing files/folders, wiping hard drive, erasing free disk space? Yes, there are some other applications that are much more powerful than Shredo can help you destroy data under different situations. In this article, we call these data erasure software "Shredo alternative". Super Eraser is one of the best Shredo alternatives. It has more powerful features than Shredo, for example:
More than 4 data erasure methods.
Fully compatible with Windows 2000 – Windows 10, and Mac OS 10.6 – 10.12.
Supports to wipe hard drive and erase trash bin.
This Shredo alternative – DoYourData Super Eraser can be installed on Windows PC and Mac. It supports to erase data from hard drive, digital camera, external hard drive, USB flash drive, and other storage media. It can easily shred files and folders, and it also can wipe entire hard drive and erase free disk space to erase deleted data. Whether you are a Windows user or a Mac user, you can download Shredo alternative to securely and completely erase your sensitive data before you dispose your device.
Three modes to erase data with Shredo alternative (Windows & Mac)
After you download Shredo alternative – Super Eraser, you can run it on your PC or Mac to securely erase data. It offers three modes to help you erase data.
Mode 1: Erase files and folders with Shredo alternative
This mode allows you to selectively erase files and folders from computer or storage media. You just need add files/folders to the erasure list and click on "Erase Now" button to permanently destroy the selected files/folders.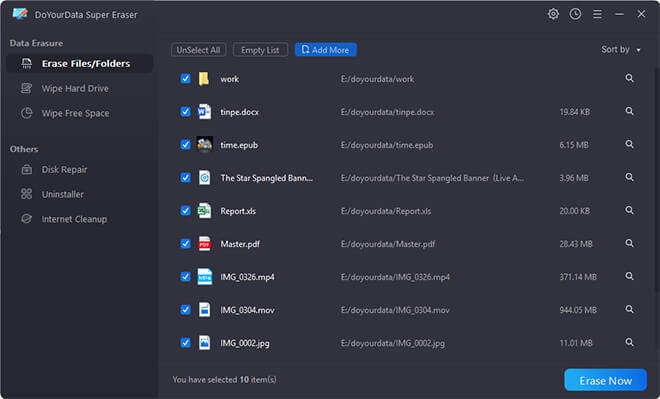 Mode 2: Wipe hard drive with Shredo alternative
This mode can permanently wipe all the data on the selected hard drive or device. Before you resell or donate your computer, you can use this mode to erase all your private data by only 1-click.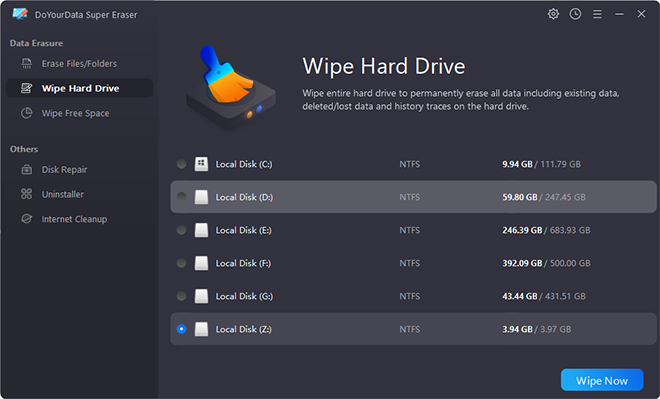 Mode 3: Wipe free disk space
This mode is designed for erasing "already deleted or lost" data on your hard drive/device. It will not affect the existing data on your hard drive, only erasing the deleted/lost data on your hard drive.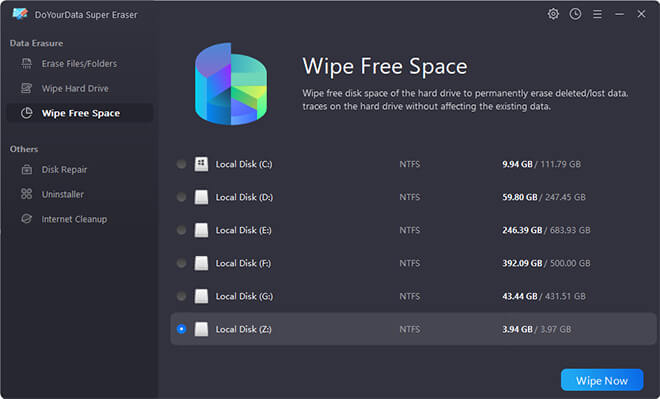 With certified data erasure algorithms, the selected data will be permanently erased, can't be recovered by any data recovery software. So please back up your important data before you use Shredo alternative to erase data from your computer or storage media. And, it is strongly recommended to securely erase sensitive data before you sell, donate or give away your device, even before you lend your device to other people.
Shredo alternative is very easy to use. Even the most newbie can use it to destroy data. So just download and try it.