Quick Navigation:
Many users want to switch from the "FAT32" file system to the more modern "ExFAT" one. Those interested in making a file system change can find helpful information here.
This article provides the difference between the "FAT32" and "ExFAT" file systems, with a variety of methods for converting from "FAT32" to "ExFAT" on Windows/Mac, such as the use of file explorer, disk management, Disk Utility, and the third-party disk formatting application. Additionally, some additional guidelines for partition formatting are provided.
What Is A File System? What Is FAT32 or ExFAT?
The files on a hard drive or other data storage medium are organized using a file system. File systems are responsible for many tasks, including data isolation, user access management, attribute storage, and file permissions.
There are currently a large number of incompatible file systems in use. Some are cross-platform friendly, while others are not. For instance, the APFS (Apple File System) used by contemporary Macs' internal storage is incompatible with Windows without special software. Other operating systems cannot directly write to Windows' NTFS internal disks.
FAT32:
File Allocation Table is an abbreviation for this concept. Microsoft released the first version of the FAT file system in 1977, and since then, FAT32 has become the de facto standard. Since it is an older file system, FAT32 is widely supported. Many portable and embedded devices employ FAT32, including USB sticks, SD cards, and other solid-state drives.
ExFAT:
Extended File Allocation Table is commonly referred to by its acronym, ExFAT. Flash memory is compatible with the ExFAT file system, launched by Microsoft in 2006. It operates similarly to the FAT32 file system but without the restrictions that come with it. It's a newer format that can easily replace FAT32.
Since the ExFAT and FAT32 file systems are so widely supported, many people choose to format their portable media with them. Although FAT32 has size restrictions on individual files and partitions, it is backward-compatible with a wider range of legacy OSes than ExFAT.
For this reason, users may need to switch from ExFAT to FAT32 when using certain devices. Knowing how to make the switch from ExFAT to FAT32 in this scenario.
Why Do We Use FAT32 and ExFAT for Portable Storage?
Suppose you have an internal disk that will only ever be used in one computer. In that case, utilizing a proprietary file system is best to take advantage of all its special characteristics. However, it has been established that NTFS and APFS are incompatible with various operating systems. Connecting external storage to a device with a USB port, such as a game console, TV, or router, is another use case where these cables fall short.
Nearly all operating systems support FAT32 and ExFAT. FAT is the oldest. It's been used since 1977 and was certain OSes' default file system. As disk capacity expanded, FAT was revised. The only widely used version is FAT32, the last major upgrade.
2006 Microsoft created ExFAT for flash memory like SD cards and flash drives. The corporation published file system specifications in 2019, making it non-proprietary.
The ExFAT successor to FAT32. It doesn't have the overhead of NTFS and eliminates several FAT32 constraints.
How to Convert FAT32 to ExFAT?
Solution 1: Converting from FAT32 to ExFAT in File Explorer
Changing a flash drive's file system from FAT32 to ExFAT in Windows File Explorer is simple and quick. Below is a thorough breakdown of the procedures:
A double-click on "This PC" will launch File Explorer.
Your USB flash drive should now be visible in the list of drives; right-click it and select "Format" to continue.
Third, select ExFAT from the list of available file systems. After that, hit the "Start" button.
Solution 2: Erase FAT32 to ExFAT using Disk Utility
On a Mac, you also can convert FAT32 to ExFAT. Disk Utility is a built-in disk management tool and it can quickly convert FAT32 to ExFAT:
Open Disk Utility on Mac.
Select the external device and click Erase.
Select the ExFAT as the file system, click Erase again.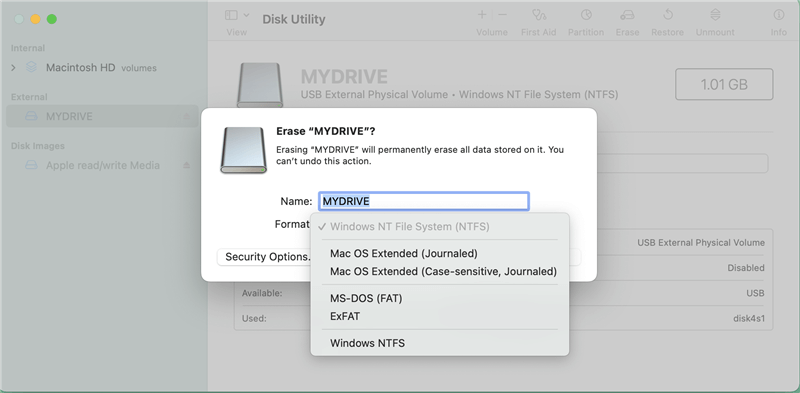 Solution 3: Use third-party ExFAT converter
Third-party disk formatting tool supports to format FAT32 to ExFAT. Here, we will show you how to format FAT32 to ExFAT using DoYourData Super Eraser.
Download and install DoYourData Super Eraser on your computer.
Choose Disk Repair, select the target drive and click Format.
Select the ExFAT as the file system and format it.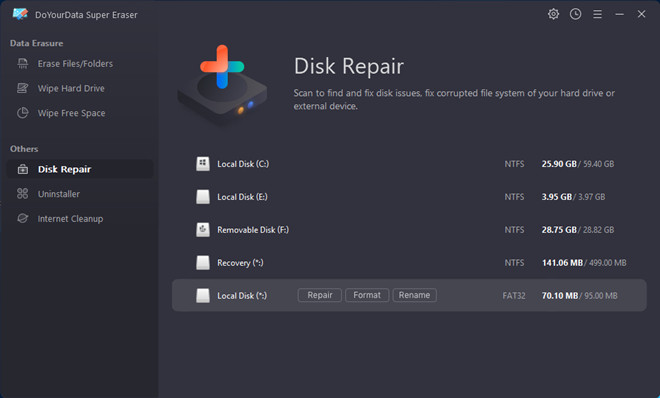 If you will sell/donate your device, just choose Wipe Hard Drive mode to help you wipe the device and permanently erase all data.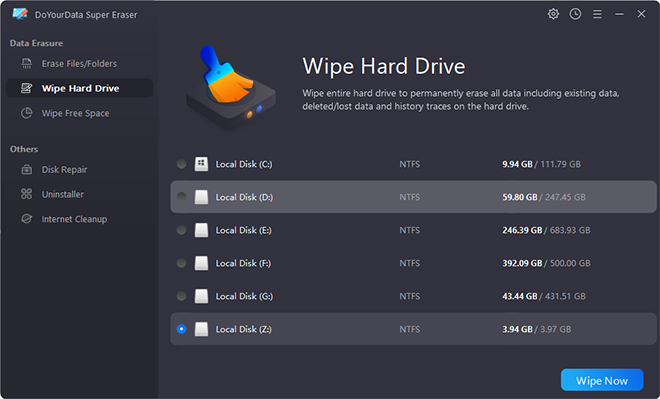 Recover Lost Data after Formatting FAT32 to ExFAT
Formatting will erase all data stored on the hard drive. If you have formatted a hard drive from FAT32 to ExFAT without backup, you will lose all data on the hard drive. Data recovery software is able to recover lost data from a formatted hard drive.
Step 1. Download and install Do Your Data Recovery on your computer.
Step 2. Open the data recovery software and select the formatted hard drive.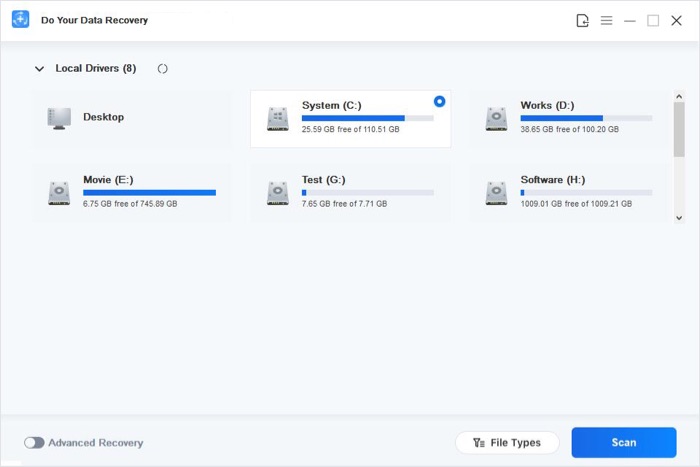 Step 3. Click on Scan button. Do Your Data Recovery will deeply scan the formatted hard drive and find all recoverable files.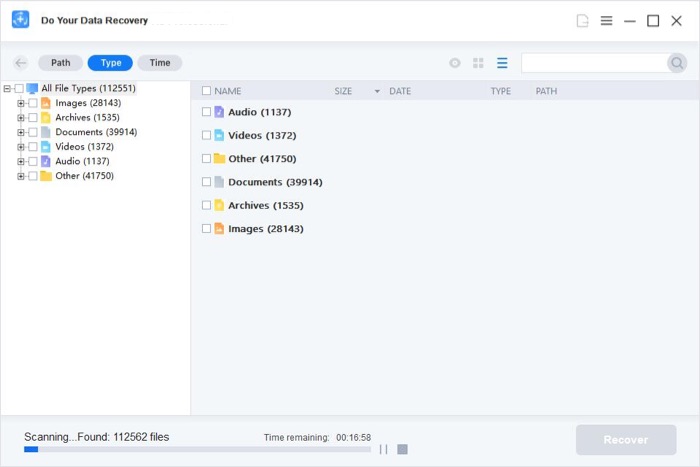 Step 4. Select the wanted files and save them on your computer.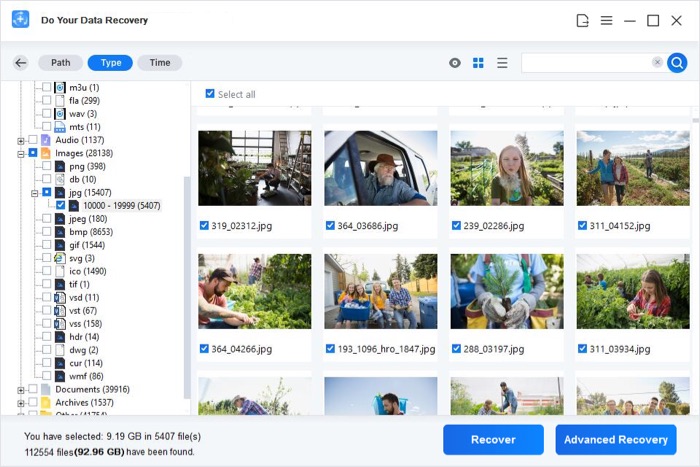 Conclusion:
With built-in disk formatting tool or third-party software, you can easily convert FAT32 to ExFAT on Windows or Mac OS. It is recommended to back up your files before start formatting. However, if the data is list, you can download a unformat tool to help you recover lost data after formatting FAT32 to ExFAT or formatting FAT32 to NTFS, etc.
And if you will sell or donate a hard drive, you should permanently wipe data from it. Data erasure software - DoYourData Super Eraser can help you wipe ExFAT, FAT32 or NTFS hard drive, erasing all data stored on the hard drive. Once the data is erased, the data is gone forever, can't be recovered by any data recovery software.
DoYourData Products
Permanently delete data from any device or disk to prevent data recovery.
Free Trial