Is it possible to format your SSD for a Mac? How do you do it? Mac users may easily format their solid-state drives (SSDs). File systems are the only thing that varies. FAT32 is the standard file system for Macs and PCs alike. To be clear, Macs cannot write files to NTFS-formatted drives. Using the Mac Disk tool to format the SSD is the simplest method. Begin by backing up the most crucial data on your Mac device's SSD.
What's the purpose of formatting an SSD?
An SSD (solid-state drive) provides speedier load times for games, programs, and movies. SSDs are thinner, lighter, and better equipped to tolerate movement and page drops, thanks to the technology they utilize. SSDs are also more energy-efficient, resulting in quieter PCs.
As a consequence, most consumers acquire a new SSD to replace their old HDD. It is possible to improve performance by moving the OS to a solid-state disk (SSD). As solid-state drives (SSDs) become increasingly prevalent, the need for formatting or reformatting arises.
You'd want to get rid of your SSD
If you're planning to give or sell the SSD, you'll need to remove all of your personal information. Then, it's a good idea to format the SSD. If you're certain you don't want the data on the SSD, you may also delete it permanently.
You wish to replace the OS on the SSD with a fresh one
The SSD must be formatted in order to install a new operating system. Using third-party software, you may move the operating system to a solid-state disk (SSD) without losing any data.
You recently purchased an SSD and want to use it on Mac
Most of the time, you'll have to format a brand-new solid-state drive (SSD). It is because SSD drives may be utilized on a wide range of systems that they are formatted in the SSD format. File systems (NTFS, HFS+, Ext3, or Ext4) may be used on these platforms. The disk must be partitioned and formatted before it can be installed on your system as a storage volume.
Two methods to format SSD for Mac
Method 1. Format SSD on Mac with Disk Utility
A variety of capacities and personalization options are available for Solid State Drives, much as with traditional hard drives. You may use the system's primary disk management settings to format your MacBook's SSD-based storage.
The "Finder" icon is usually found in the lower-left corner of the screen by default. To open it, click on it.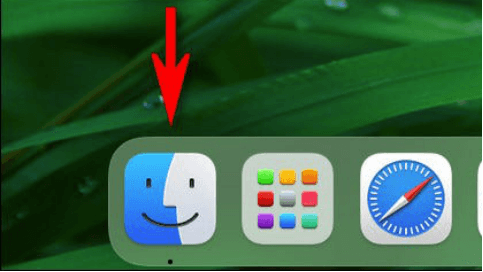 From the left pane choices, choose "Applications."
Click the "Utilities" option, then "Disk Utility," from the list that appears.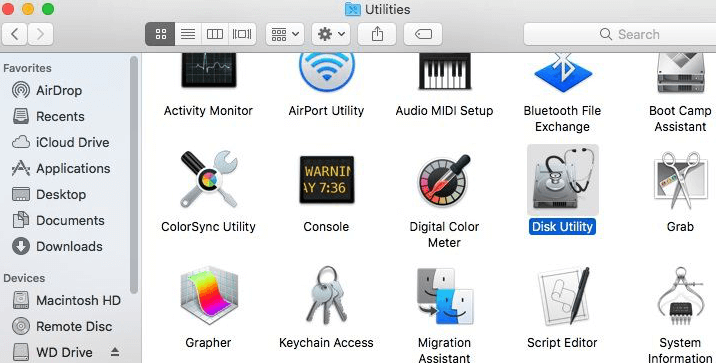 Load all of your system's accessible hard drives. The entire capacity and volume label for identification are shown when you click the SSD device in question from the left pane.
Take a look at the "Erase" button on the next screen.
Select a file system from the "Volume Format" drop-down menu, such as the FAT format or the default OS X Extended Journaled, which is Windows OS-compliant.
Assign a volume label to the "Name" box to help you remember which storage unit you're working with. Click the "Security Options" button if you'd want to apply a different degree of security while erasing data from an existing drive. If this is the case, choose the appropriate radio option from the list of Secure Erase Options and then click OK.
Click "Erase" and then click "Erase" again in the confirmation popup that appears. After completion, a new label for the SSD is shown in the left pane of the Disk Utility window.
If you lose important data after erasing the SSD with Disk Utility, just try data recovery software - such as Do Your Data Recovery for Mac to help you recover lost data from the SSD.
exFAT or FAT32, Which is preferable for a Mac
All Mac, Windows, Linux, gaming consoles, and other USB-capable devices are compatible with FAT32. However, a single file on a FAT32 partition can only be 4GB in size.
A disk partition greater than 32GB cannot be converted to FAT32 using Windows' built-in tools; on macOS, a drive cannot be larger than 2TB. A third-party partition manager is required if you need to format a huge hard disk to FAT32 in Windows exFAT's f.ile-size (up to 16EB) and partition-size constraints are completely unrealistic.
If you don't mind a file size restriction, FAT32 is a better option than exFAT, according to some users. Furthermore, the exFAT file system is incompatible with certain older operating systems. It's only compatible with Mac OS X 10.6.5 and above. In addition, a PC running Windows Vista SP1, Windows 7, or a later version is required.
Method 2. Wipe and format SSD on Mac
Please note that even your SSD is erased by Disk Utility, the lost data on the SSD is not lost forever and can be recovered by data recovery software.
If you will sell, donate or give your SSD away, you'd better permanently erase all sensitive data to prevent potential data recovery. DoYourData Super Eraser for Mac is a powerful data erasure application which offers certified data erasure methods to help you securely and permanently erase data.
The Wipe Hard Drive mode can help you wipe and format SSD on Mac. Once the SSD is erased by DoYourData Super Eraser for Mac, all data on the SSD will be gone forever, can't be recovered by any data recovery software. And the erasure will not cause any damage to your SSD, will not shorten the service life of the SSD.
Step 1. Download and install DoYourData Super Eraser for Mac on your Mac. Then run it from Launchpad.
DoYourData Super Eraser for Mac
Step 2. Make sure the SSD is connected to your SSD, and then choose data erasure mode - Wipe Hard Drive.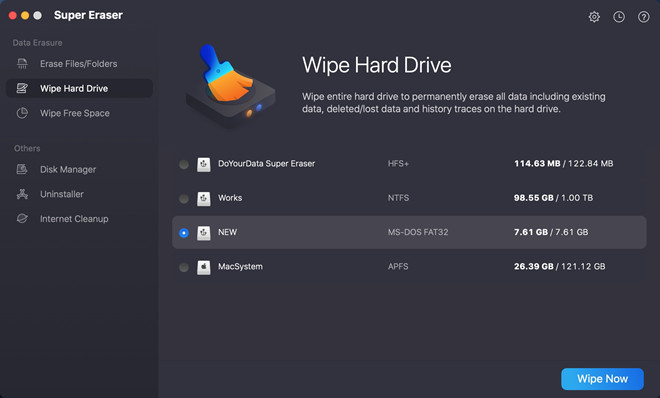 Step 3. Select the SSD and click on Wipe Now button.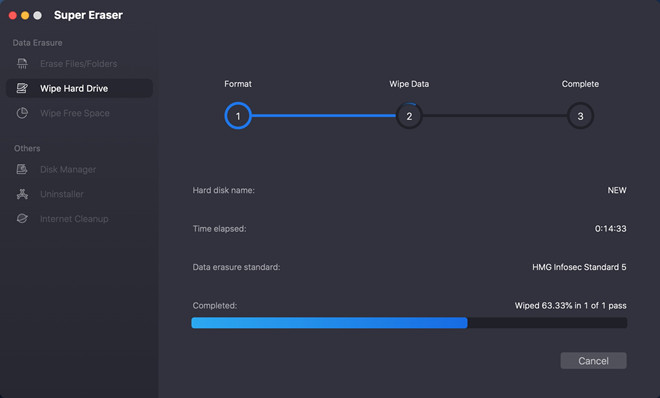 DoYourData Super Eraser for Mac will securely format and wipe the SSD. All data on the SSD will be permanently erased.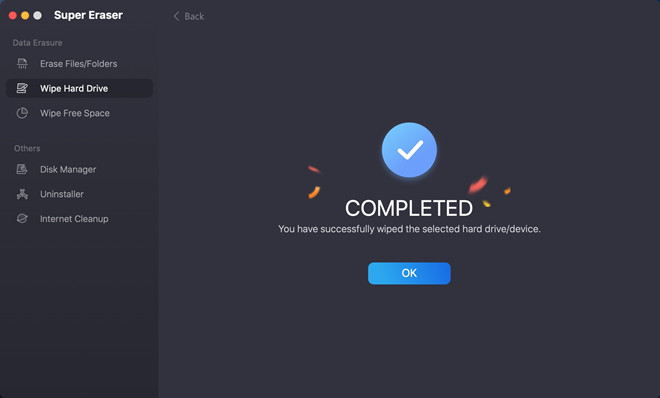 Conclusion
Using the methods shown above, you should be able to format your SSD simply. Ask us for assistance if you run into any additional issues when trying to format your SSD.
DoYourData Products
Clone HDD, SSD, Mac OS, external disk, USB drive, and more under Mac OS.
Free Trial