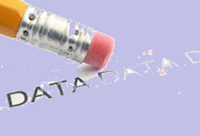 In this age of rampant ID theft, the best way to avoid the leakage of privacy is completely killing the data dead. Form Mac users, before disposing the old Macs or Mac hard drives, completely destroying and wiping the sensitive data on the hard drives is the must-do thing. The deletion or format can't permanently destruct the data, it only make the data be hidden. Mac data recovery software can easily recover deleted or formatted data on emptied Mac hard drive. The only way to destroy the data on Mac and make data recovery impossible is using Mac data destruction software to kill your data dead completely.
To complete destroy the data on the Mac hard drive, you should permanently delete the data, destroy the data and overwrite the disk space of the data. It sounds a bit complex. Don't worry, Mac data destruction software can provide 1-click solution to kill data under Mac OS.
Best Mac Data Destruction Software – Super Eraser for Mac
Super Eraser for Mac is a 5-star Mac data destruction software program. It is equipped with advanced data destruction technology that also used by US army so that it can completely destroy Mac data on Mac hard drives or storage devices. To meet different data destruction needs, it offers three Mac data destruction modes for permanently wipe data under Mac OS.
Mode 1: Destroy Selected Files or Folders on Mac
Mac data destruction doesn't mean that you have to destroy all the files on your Mac hard drive. If you only want to destroy specific files of folders that contain your private/business/unwanted-shared information, just choose this mode to destroy them. This Mac data destruction mode only wipes the selected files or folders on your Mac hard drive. Once the process gets finished, the selected files/folders will be permanently destroyed and lost, leaving no chance of data recovery.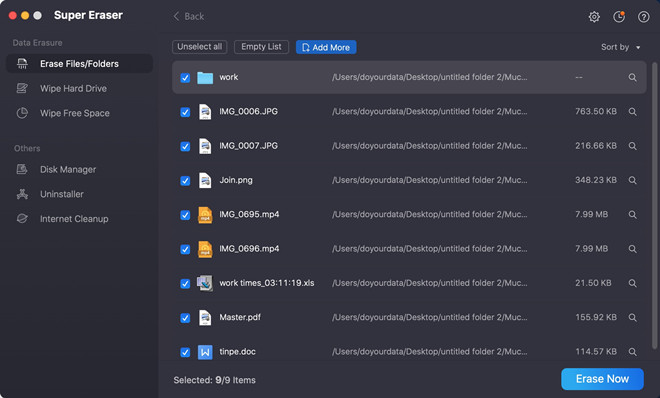 Mode 2: Destroy All Data on Mac Hard Drive
Before reselling or donating your Mac hard drives to other people, you'd better destroy all the Mac data on the hard drives with this Mac data destruction mode. This mode will complete destroy all the data on the selected hard drive. It will wipe all the existing and preciously deleted data/ traces on the hard drive. No data can be recovered after destruction. But it can't wipe the system hard drive volume that has installed the OS X system.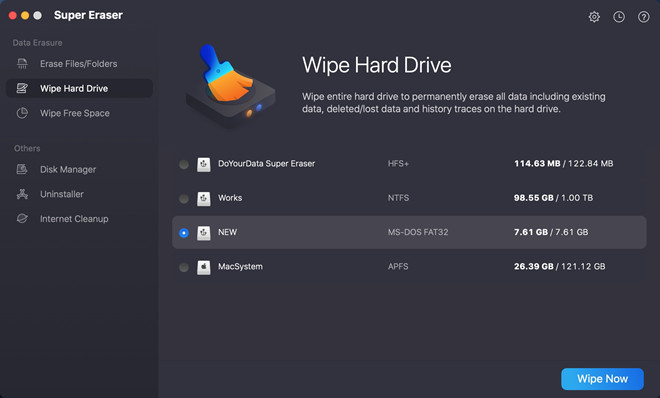 Mode 3: Wipe Unused/Free Disk Space on Mac
As I said above, the deleted or lost data remains on the Mac hard drive and can be recovered by Mac data recovery software even you have emptied the trash bin. If you just want to permanently destroy the deleted/lost files, and previous traces on the Mac, you can choose this mode. It supports all the hard drives including the system hard drive.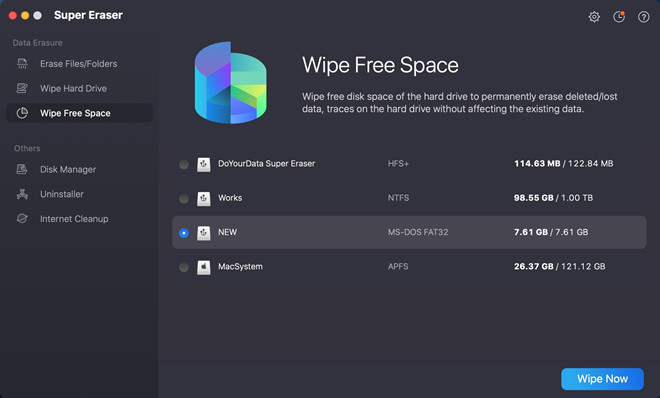 Super Eraser for Mac also supports to destroy data from USB drive, Memory card, digital camera, SD card under Mac OS. It is the most secure, easy-to-use and complete Mac data destruction solution. We strongly recommend you to destroy sensitive data with Super Eraser for Mac before you give your Mac to other people. All data formats are supported including Emails, Photos, Videos, Audio files, Documents, Folders, Drawings, etc.