If you're looking for a new computer, go no further than the M2 MacBook Air. No essentials are left out, and yet it still meets the needs of 99 percent of users. It also helps that it has a really sleek design.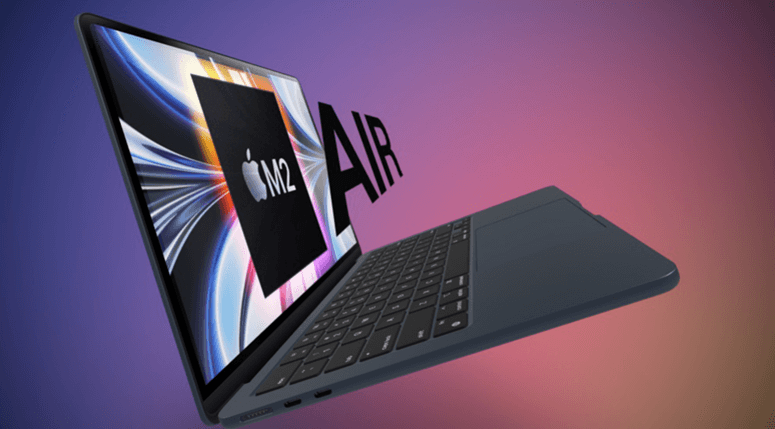 Like the recently redesigned MacBook Pro, the new Air has a MagSafe charger, a flat-sided design, and a screen that protrudes so far into the lid that a notch is required to accommodate the camera. Unless you already own the M1 variant, this is the laptop you should get if you're in the market for a new computer.
Features
There are many amazing new features to look forward to. The newest iteration of the MacBook Air has been updated with a thinner and lighter chassis, new color options, a larger and brighter screen, and a more refined camera.
However, the M2 processor that drives the new MacBook Air is Apple's own second-generation silicon. The new Apple chip should provide the MacBook Air with a significant performance bump, which is only one of its many advantages.
LCD
Featuring 1 billion colors, the stunning 13.6-inch Liquid Retina display is the largest and brightest on a MacBook Air to date. Photos and videos have more contrast and sharper detail, and the text is very clear.
Camera And Microphone
Use the 1080p FaceTime HD camera and three-mic array to your advantage during video chats. The four-speaker Spatial Audio setup will provide an immersive listening experience. The purpose of creating the MacBook Air was to excite the user.
The three-microphone array and sophisticated beamforming algorithms ensure crystal-clear transmission of your voice during conversations, no matter where you are.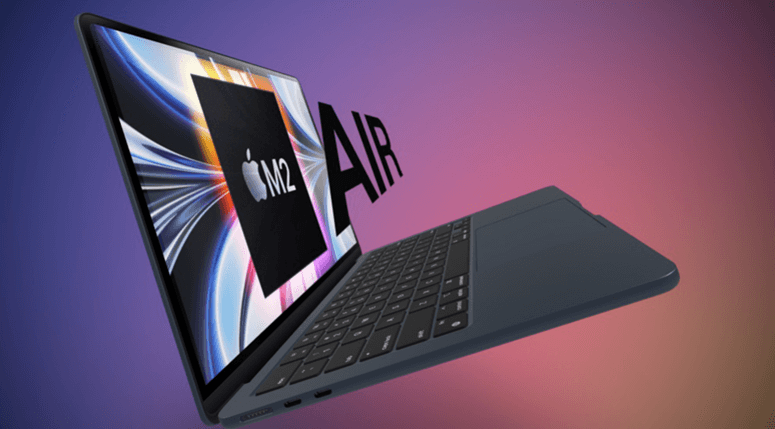 Enjoy movies and music more fully with enhanced stereo separation and voice clarity, thanks to two tweeters and two ultrathin woofers. The inclusion of Dolby Atmos capability in a system's Spatial Audio creates an immersive experience.
Keyboard
The new and improved Magic Keyboard is both silent and comfortable, including a set of dedicated, full-height function keys that provide quick access to commonly used functions and shortcuts.
All it takes is the touch of a finger to unlock your Mac, input your password, or make a secure payment.
Powerhouse
The device's most compelling feature is the M2 processor inside Apple's newest MacBook Air. The M2's 8-core CPU, with its four performance cores in the front, provides blistering performance.
According to Apple, the M2 processor gives the laptop a 40 percent performance boost over the M1 it replaced. Apple claims a 20% improvement in speed, making even photo editing programs like Photoshop easier to use.
Why Needs To Buy This?
This MacBook Air is the finest laptop for the money since it is small, light, and easy to transport. Many professionals may also benefit from the inclusion of the Apple Silicon chip within. Due to the addition of the hardware video encoder found in M1 Pro chips, the M2 chip can do some rather advanced tasks so long as they are not overloaded.
And that includes the resource-heavy medium of video. This computer has more than sufficient power for any other creative endeavor, whether photography, writing, design, or music.
It can be expanded into a more elaborate configuration with a display adapter and peripherals by connecting them to its two Thunderbolt ports with just one cable.
If You Are Not Among These People, Don't Buy It
Although this computer suits the needs of the vast majority of people, there are a few situations in which you may want to explore elsewhere. There is no way to install Windows on a modern Apple Silicon Mac.
These aren't like the old Intel Macs that could dual boot with Windows or run a virtualized version of the OS. This requires the use of a personal computer. The MacBook Air begins at $1,200, so it's not exactly cheap even if you consider the features it offers. Many people would rather not spend so much.
The MacBook Pro M1 is a great option if you have professional demands. It boasts a larger and superior display, more processing power, and expanded I/O in the form of an additional SD card slot, Thunderbolt connectors, and an HDMI port. Comparatively, the MacBook Air can only support one external monitor, whereas this one can support two.
Conclusion
When it comes to power and speed efficiency, the M2 chip is far ahead of its predecessor, the M1. So, with a more robust 8-core CPU, you can do more in less time. Make stunning visuals and animations using a GPU with up to 10 cores.
The high-performance media engine allows for the processing of several streams of 4K and 8K ProRes video simultaneously. Additionally, the battery may last up to 18 hours; you can continue working or playing throughout the day and into the night.
DoYourData Products
Clone HDD, SSD, Mac OS, external disk, USB drive, and more under Mac OS.
Free Trial