Daily software giveaway sites offer data recovery software giveaway with free full giveaway license code. Before it is expired, you can download the software and get the full data recovery software license code for free. Most giveaway sites require entering your email address and they will send you the license code & download link to your email inbox.
Top 3 Data Recovery Software Giveaway Sites
No.1 Giveawayoftheday.com
This is the most influential software giveaway site offering free full Windows software daily. It of course offers data recovery software giveaways. If you are lucky enough, you can get the free full data recovery software during a data recovery software giveaway. But it doesn't offer Mac data recovery software giveaways.
No.2 WindowsDeal.com
This is another big giveaway site, and provides all kinds of programs for free. If you are looking for data recovery software giveaway, it must be the option.
No.3 Sharewareonsale.com
Unlike other site, it can provide both Windows and Mac software in giveaways. So you can download both Windows and Mac data recovery software from this site.
Of course, data recovery software giveaway is the best opportunity for you to get full data recovery software license code for free. But it does not happen every day. The giveaway site only launches data recovery software giveaway 1 or 2 times in one year. You may miss the chance. What should do when you exactly badly need an data recovery program? Most paid-for data recovery programs are very expensive. But there is still a chance to get free full version data recovery software.
Do Your Data Recovery Free is complete free data recovery software that can recover lost files from hard drive, USB drive, digital camera, memory card, SD card etc. It offers both Windows and Mac version. It is free for lifetime. Whenever you need a free data recovery program, it's just here for downloading.
Compared with other free data recovery software, Do Your Data Recovery Free is more easy-to-use and more powerful. Anyone can easily use it to recover lost files from PC, Laptop, Mac or storage media due to deletion, format, virus infection, partition loss, OS crash, etc.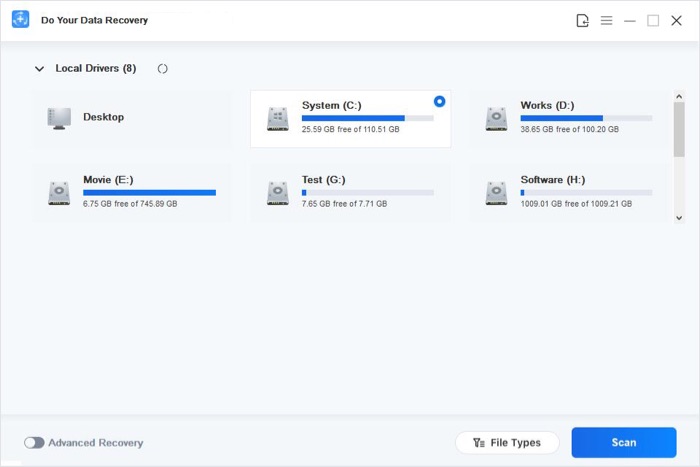 When you badly need data recovery software to recover data and there is no data recovery software giveaway available, you can download a free one here. Do Your Data Recovery Free is so good at recovering data from any kind of device. You can use it to scan your drive/device, preview the files and save the files with no limitation.