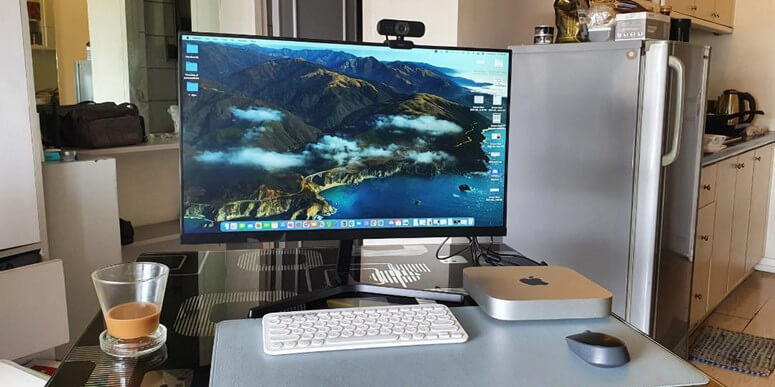 Quick Navigation:
#1 About Mac mini Data Recovery
There are tens of thousands of results in a Google search for "best Mac data recovery software." Because of this, it is essential to know and choose the proper software for your requirements. The finest Mac data recovery software can generally recover lost material, such as photographs, videos, documents, music, emails, files, etc.
Data may be recovered from all kinds of storage, including SSDs, hybrid drives, hard drives, flash, SD cards, and more using top Mac recovery software. The following instructions might assist you in searching for and recovering data from your Mac mini. These application listed below can be installed on Mac mini and completely recover lost data from Mac mini hard drive or external storage device.
#2 The 5 Best Mac Data Recovery apps for Mac mini (freeware included)
We've compiled a list of the top 5 Mac data recovery software applications which can completely recover lost data on Mac mini (Intel chip, Apple Silicon chip included).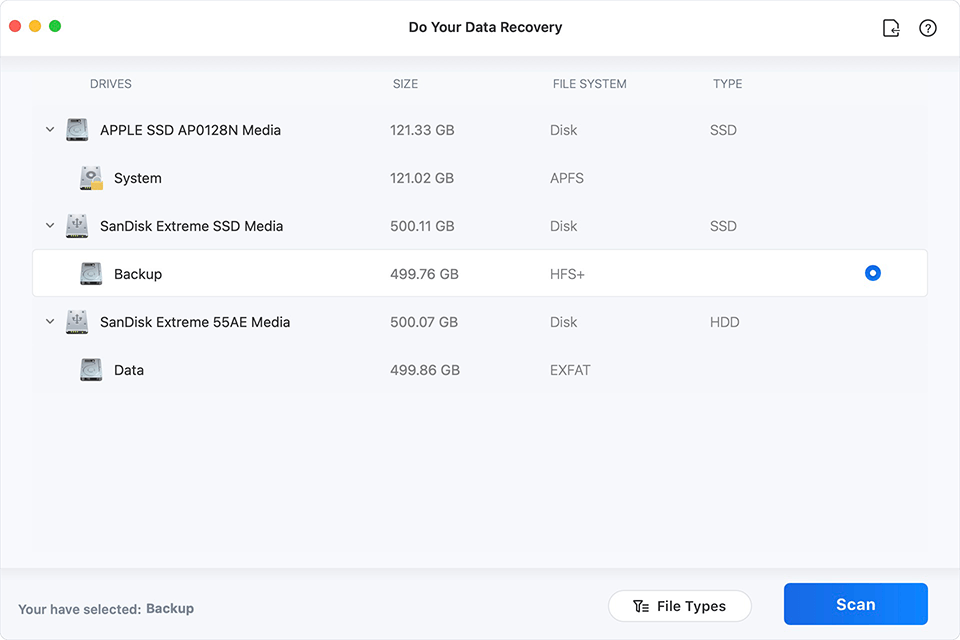 Do Your Data Recovery for Mac is a famous free Mac data recovery application. It supports to recover lost data from any type of Mac computer such as MacBook, MacBook Air, MacBook Pro, Mac mini, Mac studio, Mac pro, as well as recover lost data from external device including external hard drive, memory card, USB flash drive, digital camera, etc.
Recovering your data is as easy as clicking on the Recover button, regardless of if you really need to recover a single document from your disk or hundreds of photographs from a memory card. Do Your Data Recovery can display data in the same file formats as your Mac, giving you peace of mind that you're recovering the correct files.
Pros:
Recover lost data from any type of disk or external device.
Very-to-use.
Free version to recover lost data for free.
Recover all file formats on Mac mini.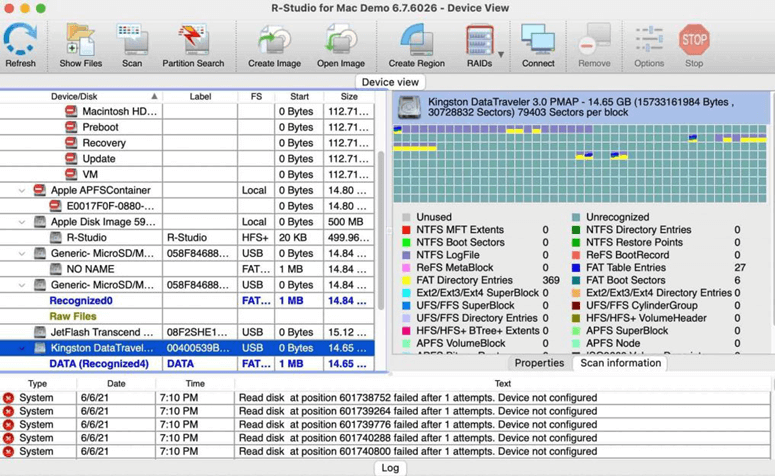 In terms of recovery capabilities, it's hard to beat R-Studio. It includes a plethora of functions that may be too much for novice users to deal with. Data recovery from networks and broken RAID arrays are two of the tool's many sophisticated features. All sorts of data recovery scenarios are covered by comprehensive documentation.
The preview edition allows you to examine recoverable files before making a financial commitment. The program has a wide range of additional functions that may help you recover lost data. A few functions may be difficult to find in the user interface.
Even if you don't use these features, it's worth the effort if you do. R-Studio is a top-notch recovery tool for professionals and expert computer users alike.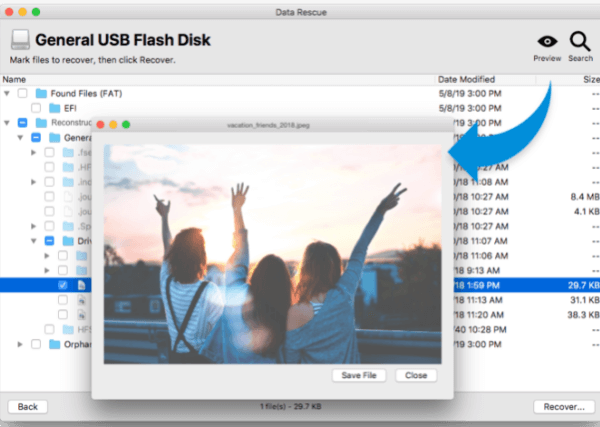 In terms of the finest Mac data recovery software, Data Rescue 6 is another highly regarded utility that was created with the average user in mind. You can recover data from your Mac hard disk using two methods, Quick Scan and Deep Scan. It offers a straightforward graphical user interface that displays all capabilities at once.
If your hard disk looks to be malfunctioning, Data Rescue 6 for Mac has the ability to clone it so you may restore your data. You may also choose to scan them from an internal or external hard drive when scanning files.
The quick scan tool is as fast as expected, but the deep scan takes a while. After the scan is complete, you may preview a file before recovering it using the preview tool.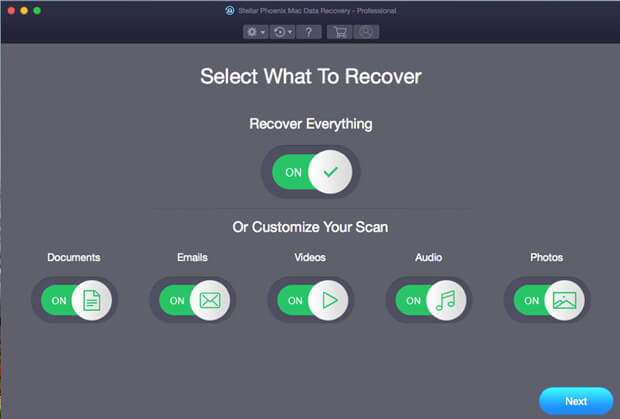 Stellar is the Mac data recovery software you've been looking for to quickly and effortlessly restore your deleted or lost information. Even if you've accidentally erased files or formatted a device, or cleared out your trash, Stellar can help you recover them all.
In order to discover and reassemble your missing data, it employs a file signature-based search strategy. Beyond formatting, Stellar can retrieve data from corrupted or erased Mac partitions, as well as from faulty sectors, corrupted systems, and more.
Recovering data from a deleted BootCamp disk is also possible with this software suite. Stellar is compatible with a variety of Mac models, including the MacBook Air, MacBook Pro, Mac Mini, and the iMac.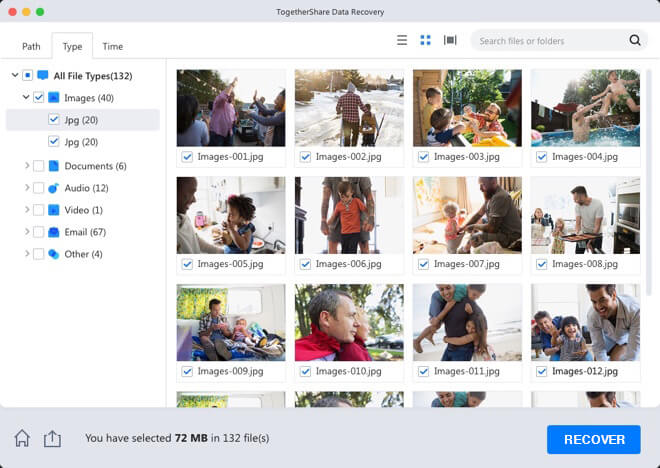 Using TogetherShare Mac recovery to recover data is a straightforward process that any Mac user can complete. Three simple steps are required to scan a device, see the data that may be recovered, and pick what you wish to save. This data recovery software allows you to store and reload scan findings at your convenience.
Users may recover up to 1 GB of data for free after downloading the software to test it out. Over a thousand distinct file formats are supported for recovery, including almost all of your Mac's data. External hard drives, detachable USB storage devices, and SD cards are all compatible with this system.
#2 Recover lost data from Mac mini with data recovery software
When you can't recover lost data on Mac mini via trash bin or Time Machine, you can download a Mac mini data recovery application - such as Do Your Data Recovery for Mac to help you quickly get lost data back.
When a file is deleted, it is not shredded but hidden. The deleted or lost files can be recoverable if the hard drive space which is occupied by the deleted/lost files has not been overwritten. When you delete files on your Mac Mini or format your Mac Mini hard drive, the files can be recovered. Stop writing new files to your Mac Mini to protect the lost files from being overwritten.
You can directly recover lost files from Mac Mini by yourself. There are some great data recovery tools that can help in recovering Mac Mini data. Do Your Data Recovery for Mac Free is reliable Mac Mini data recovery free software that trusted by Mac users. It can completely recover data from Mac Mini due to deleting, formatting, OS crash, power failure, virus infection etc.
If you want to get your files back from Mac Mini, just free download this free Mac Mini data recovery software.
Do Your Data Recovery for Mac Free makes data recovery on Mac Mini become easy and quick. Free download it on your Mac Mini within seconds. After installation, you can launch it to recover data. The UI is clear, so you can easily understand how to operate it. Here are the three main steps to recover data on Mac Mini.
Step 1: Select file types you want to recover.
By default, the Mac Mini data recovery free software will scan your hard drive and find all lost files in all formats. If you only want to recover 1 or 2 or 3 certain file types, just select the file types you are looking for at the first step. It will speed up the recovery process.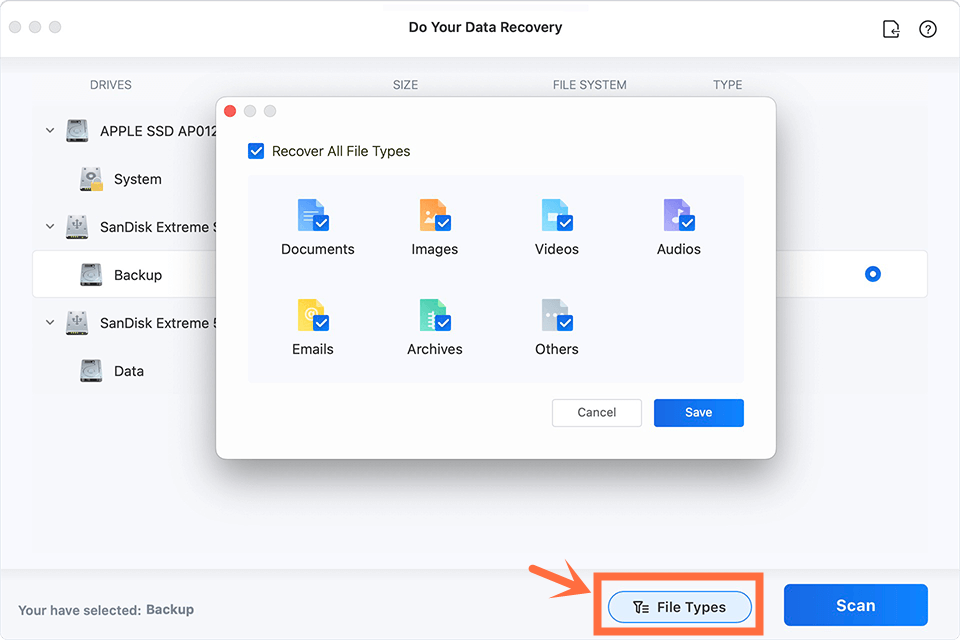 Step 2: Select the hard drive to scan.
Select the hard drive or device where you lose your files to start scanning. Click on Scan button.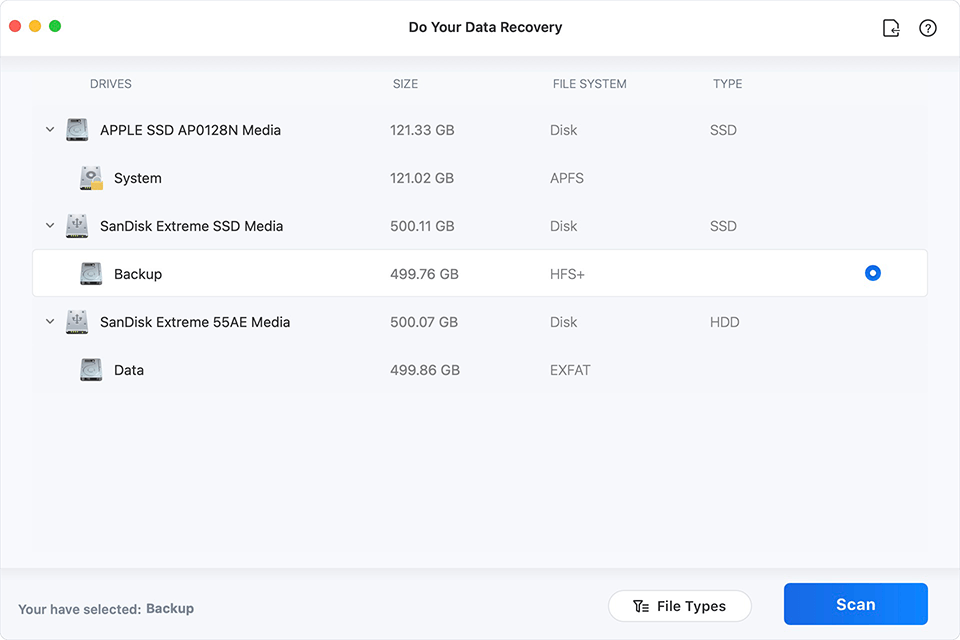 Step 3: Locate and recover your files.
After scanning, all the recoverable files will be displayed in three styles: Path, File type, Time, so that you can easily find what you want. After preview you can selectively recover files and save them.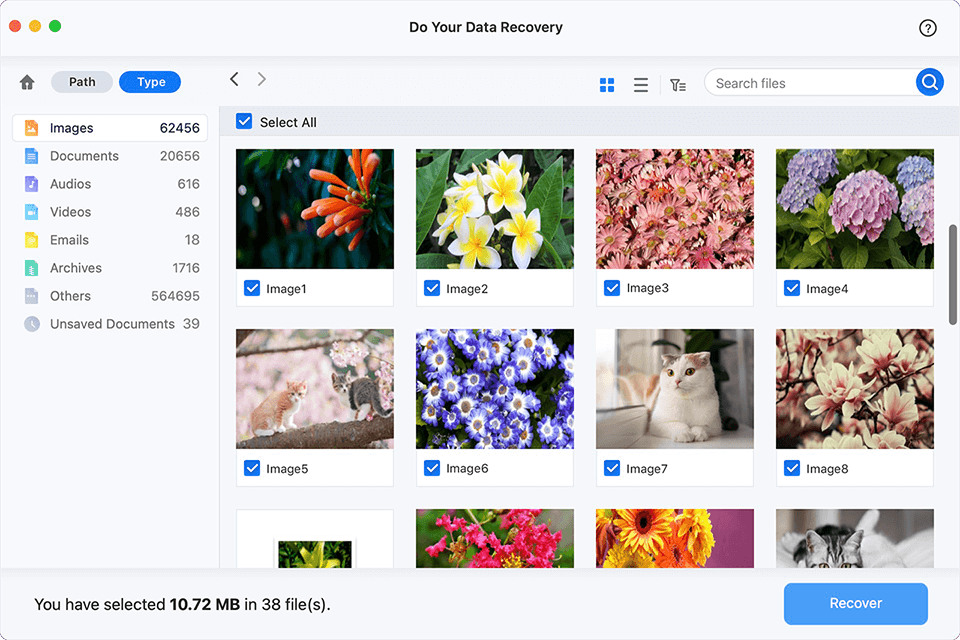 This Mac Mini data recovery freeware offers two data recovery mode: quick recovery and advanced recovery. It will help you securely and quickly find every recoverable lost file. Just free download it here:
#3 How to avoid data loss on Mac mini?
Here are some tips for Mac mini users:
When you find your files get deleted, quickly check the trash bin and get them back if they are still there.
It is strongly recommended to back up your Mac mini using Time Machine or disk copy software - such as DoYourClone for Mac.
When you find your files are lost and can't find them in trash bin, stop using your Mac mini. Immediately download a data recovery app to help you get lost data back.
Don't write new data to the disk where you lose your data, in case that the lost data would be overwritten by new data.
#4 Mac mini data recovery FAQs
1. Is it possible to recover permanently erased data from Mac mini SSD?
If your SSD is erased by Disk Utility, the lost data can be recovered my Do Your Data Recovery for Mac. But if the SSD is erased by data erasure software (such as Super Eraser), the erased data can't be recovered.
2. How to recover deleted files from Mac mini?
First of all, just check the trash bin. If they are not here, just download Do Your Data Recovery for Mac to quickly recover deleted files.
3. How to recover lost files on Mac mini for free?
Download free version of Do Your Data Recovery for Mac, it can help you recover 1GB files free. The pro version supports to recover unlimited files.
Conclusion
Data recovery from your Mac mini hard drive is a skill that everyone should be familiar with in case of an emergency or malfunction. Fortunately, you now have five solutions to examine that may help you recover your data and guarantee that if anything should happen, you're prepared!