Macs have a special mode built into their operating system called Recovery Mode, which may be used to perform urgent system repairs. It is a specialized mode that runs native recovery tools that can assist you in restoring from a Time Machine backup, receiving assistance online, reinstalling macOS, erasing a hard drive, and performing a number of other tasks.
A recovery image and a replica of the macOS installer are stored on a dedicated disk partition, which is used to launch the recovery tools. It's important to note that Recovery Mode on an M1/M2 (Apple Silicon) based Mac is different from that on an Intel-based Mac.
Connectivity to the Internet is required for usage of the mode. Fallback Recovery OS, often known as FrOS, is a boot option for Macs with Apple Silicon that adds to the already existing Safe Mode, DFU Mode, and macOS Recovery Mode for troubleshooting.
Simply said, Fallback Recovery is a backup plan in case Recovery doesn't work. This new startup option is your best bet for fixing some issues, such as 'MacBook Air M2 won't power on' problem.
Fallback Recovery OS
Apple's M1/M2 Macs contain a recovery method they refer to as "Fallback recovery OS" if the other option fails. As the name suggests, this is a different recovery mode that you may utilize in the event that the standard macOS Recovery mode does not function properly.
The Fallback recovery OS may be accessed by pressing and holding the power button twice while your Mac starts up. One definition of Fallback from Apple's Platform Security whitepaper is "a second copy of recoveryOS that is preserved for resilience."
It provides the same functionality as Recovery without changing the operating system's security settings, which is available in the latter.
How to use Fallback Recovery OS to boot an Apple Silicon Chip Mac?
There are other ways to start Mac's operating system, in addition to the standard method of turning the machine on with a single press of the power button.  You will discover shortcuts not only for Recovery Mode and Safe Mode but also for the Apple Diagnosis and the Apple Hardware Test, as well as for beginning with a complete log and other functions.
Another boot hack applies to late-2020 Macs equipped with an "Apple Silicon" system-on-chip (SoC) called M1/M2. It's like having an iron reserve in case the recovery mode doesn't do the trick. Thus, "Fallback Recovery OS" (fallback = reserve/replacement) is the operating system's name that was initiated.
To boot the M1/M2 Mac into its emergency recovery mode, do the following:
Shut down or turn off your Mac.
To begin, quickly push the power button twice, then hold it down for the second time after you've pressed it.
When the Apple logo and loading bar or similar screen shows, you may let go of the button.
For what reason won't your Apple Silicon Chip Mac launch Fallback Recovery OS?
If you purchase a fresh new computer and set it up from the ground up, it's possible that the Fallback Recovery OS won't come installed, as reported by eclecticlight.co.
The primary Recovery Operating System will serve as the Fallback Recovery OS until the very first time you install a macOS upgrade. If you haven't updated your M1/M2 Mac with the newest macOS yet, it doesn't have the FrOS and so won't let you in.
If you own an M1/M2 Mac and are curious whether it supports Fallback Recovery, try the following steps.
In Finder, go to your Macintosh hard drive (or system volume under a different name), choose the System folder, Volumes, and finally, the iSCPreboot folder.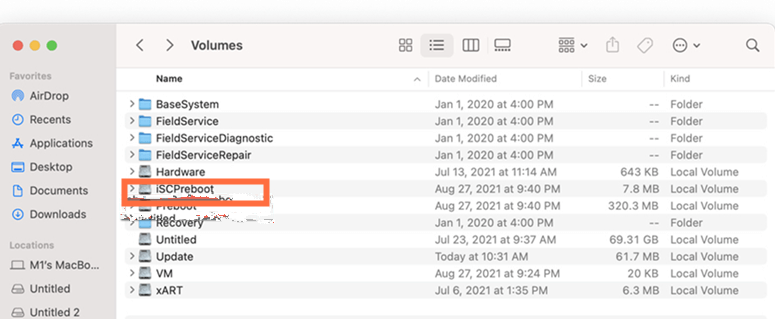 Navigate to the directory labeled  C8858560-55AC-400F-BBB9-C9220A8DAC0D.

Launch it and see whether any files within have the img4 extension.

If your M1/M2 Mac doesn't have a suitable img4 file, you'll have to wait until the next macOS update, during which the current Recovery OS will be promoted to the position of Fallback Recovery OS, before you may use it. If you can locate even a single img4 file, you will be able to boot your M1/M2 Mac into FrOS whenever the occasion arises.
Conclusion
By now, we hope you have a firmer grasp of the Fallback Recovery OS Mac Recovery Mode and how to utilize it to fix problems on your Mac.
Suppose you are still experiencing problems with your Mac. In that case, you may obtain personalized technical assistance by scheduling an appointment at a Genius Bar or going to the Apple Service Center that is most convenient for you.
DoYourData Products
Clone HDD, SSD, Mac OS, external disk, USB drive, and more under Mac OS.
Free Trial