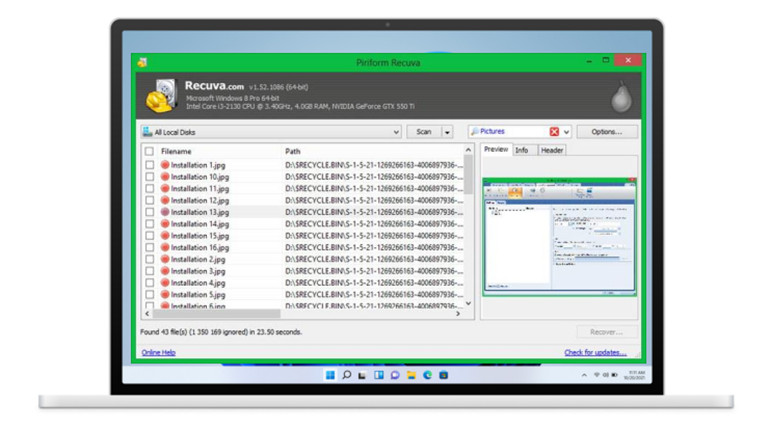 Quick Navigation:
Data Loss after Upgrading to Windows 11
Losing files and data on the Windows 11 system is one thing that can be frustrating and disheartening as files lost may be urgently and gravely needed or be of utmost importance. It happens to all of us. Maybe you deleted a file you need back, or you clicked Yes when you should've clicked No. Or maybe you had a glitch on a memory card from your digital camera or the USB drive you use with your laptop.
If you catch it right away, you can often undo the deletion in Windows 11 or recover the file from the Recycle Bin, But what if you don't catch it right away, or a program has deleted the file? Recuva to the rescue.
Reliable Windows 11 data recovery program - Recuva
There are quite a number of software that has been made to retrieve such lost or accidentally deleted file but Recuva has been rated as one of the best free Windows 11 data recovery software that can make data recovery possible.
This tool not only helps recover deleted data from hard drives, but it also recovers from Removable drives and lost Partition. This means from whatever device you have deleted files; they can be restored. Moreover, the tool offers Preview functionality and some advanced features.
Recuva is an undelete program for Windows 11, 10, 8, 7 and Vista, developed by Piriform. Recuva can recover files deleted from internal and external hard disk drives, USB flash drives, memory cards, portable media players, or all random-access storage mediums with a supported file system.
Recuva also serves as a small freeware program you can use to recover pictures, music, documents, videos, or any other types of files on your hard drive, memory cards, floppy disks, iPod or MP3 player, or USB sticks.
Did you mistakenly Delete a file on your system and looking for a way to recover? Or Looking for inexpensive data recovery software for Windows 11? Recuva is the solution you need.
Features of Recuva:
A portable option is available.
Lots of advanced options.
A wizard walkthrough makes it easy to use.
Works on most Windows operating systems.
Do you want to know more about what Recuva Can Do and Can't Do?
Can do:
Recuva has the special ability to securely delete recovered files. For example, you may have deleted a sensitive document the regular way (emptying the Recycle Bin or highlighting the file and pressing the Delete key). This type of deletion could let others recover the file. By using Recuva's restore-and-securely-delete functionality, you can make sure it's erased once and for all. Recuva includes the ability to overwrite a deleted file's data so that it can't be recovered by anyone else.
Recuva can also recover files from disks that may have become corrupted or damaged physically or through software. The process is the same as running Recuva generally, but first, you must tell Recuva to scan for non-deleted files.
Scan through your hard drives, memory cards, and USB sticks to find files and folders you've deleted.
Tell you in advance how likely it is that your file(s) can be recovered.
Recover files that Windows can't (see Problems with Windows and file deletion).
Recover emails you deleted 'permanently' from Microsoft Outlook Express, Mozilla Thunderbird, or Windows Live Mail.
Recover files from your iPod, iPod Nano, or iPod Shuffle (iPod Touch and iPhone not supported at this time). Recuva will even recover songs with Apple's FairPlay DRM. Recover Canon RAW (.CRW) format image files.
Recover files from NTFS, FAT, and exFAT-formatted drives.
Can't Do:
Recover all files. Yes, as great as Recuva is it won't work all the time. Sometimes Windows has overwritten the area where the file used to be, or sometimes the file is too corrupted to recover.
Recover files you've deleted securely. For example, if you've used our CCleaner software to delete files using the Secure option, they're gone for good.
Securely delete certain very small files that are held in the Master File Table (MFT) and files of zero-byte length.
Recuva is capable of recovering from NAS devices, however, the drive needs to be connected directly to the machine via USB/IDE/SATA.
Recuva is not capable of recovering data over a network.
Some of the recovered files may become unreadable.
Best free Recuva Alternative for Windows 11 - Do Your Data Recovery
If your files can't be found by Recuva or the recovered files can't be opened, you can try another software - Do Your Data Recovery Free. This Recuva alternative software can help you securely and completely recover deleted, formatted and corrupted data on Windows 11.
Do Your Data Recovery
Best Recuva alternative for Windows 11 & freeware.
Recover lost data from HDD, SSD, memory card, USB flash drive, digital camera, deleted hard drive partition, etc.
Recover permanently deleted files on Windows 11.
This Recuva alternative software is pretty simple to use.
This Recuva alternative software is pretty simple to use. Here, follow the steps below to quickly recover deleted or lost files on Windows 11.
Step 1. Open Recuva alternative - Do Your Data Recovery Free on your Windows 11 PC. Then select the hard drive where you lose your files.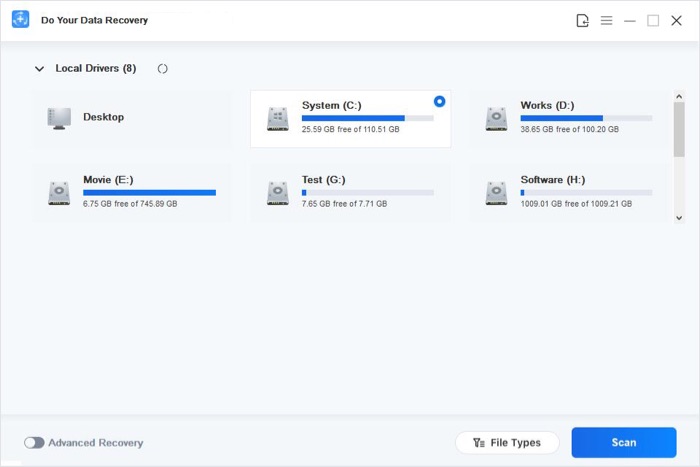 Step 2. Click on Scan button. Do Your Data Recovery Free offers two scan modes: quick scan and deep scan. If the quick scan can not find all lost files, just try deep scan (advanced recovery).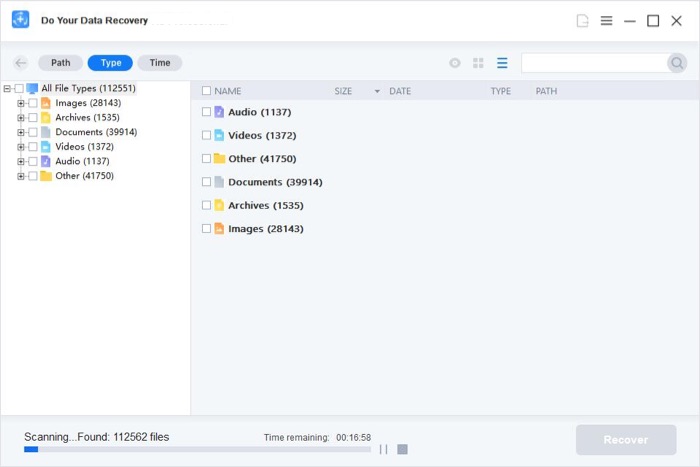 Step 3. Once the scan is completed, you can preview all recoverable files. Then select the wanted files and save them.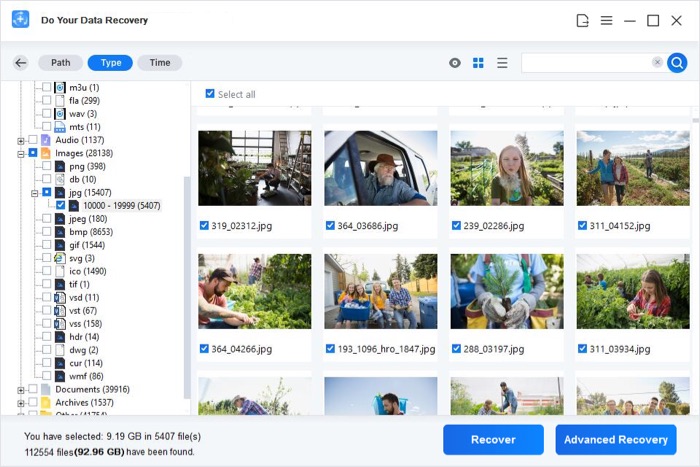 Do Your Data Recovery Free is 100% free data recovery software. It is fully compatible the latest Windows 11 operating system. If you want to recover lost data, just try it.