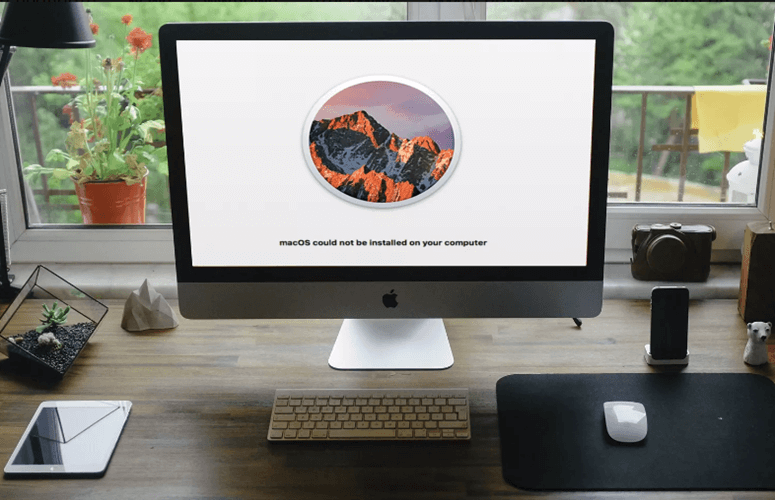 It already takes a long time to update your Mac. But when the update fails and a warning says "macOS could not be loaded on your computer," the process takes even more time.
Don't give up. These kinds of communications can have a variety of causes, and they occasionally have short-lived effects. Please attempt that first if the notice suggests a fix, such as re-downloading the installer and giving it another shot. The other solutions are listed here in order of difficulty. Please get in touch with Apple Support if the problem continues or if you need assistance.
What Causes the 'macOS Could Not Be Installed' Error?
Many things could cause the issue. But the error message should help you figure out what went wrong. Below the warning, you can notice the following messages:
The OSInstall.mpkg file in /System/Installation/Packages is corrupt or missing.
Have trouble installing macOS?
Volume cannot be unmounted for maintenance.
Verify or repair that the storage system failed.
While checking the firmware, a mistake happened.
Some provide more details than others, but they all point to various failed installation steps. Any issues stated above should be resolved using the actions and fixes below.
How to Fix the 'macOS Could Not Be Installed' Error?
It can take some time to fix the "macOS Could Not Be Installed" problem. It's great to start with easy solutions because they frequently work, but you still have other possibilities if they don't. The methods to test are listed below.
Restart Your Mac
You could try restarting your Mac if you weren't given any particular problem warnings during the installation process, yet macOS Ventura or other macOS versions won't install. Here's how to accomplish it without simply depressing the power button till your Mac automatically turns off and then on again:
In the upper-left corner of your Menu Bar, click the Apple icon.
Click Restart on the drop-down menu.
When logging back in, uncheck the box next to Reopen windows.
Select Restart from the menu.
You can try installing macOS once more to see if it will work when your Mac has rebooted.
Delete the installer File and Re-download macOS
Your Mac downloaded the macOS such as Monterey/Ventura [macOS 13] installation file into the Applications folder in Finder upon your request to install a new software update, as shown on the screen below. There are numerous reasons you may be unable to install or begin updating your Mac, including the fact that your computer downloaded a buggy or outdated file. I advise deleting this file and downloading and installing the new macOS Monterey file on your computer.
1. On a Mac, launch Finder, select Applications, and then look for the downloaded macOS file. Please move to the bin by doing a right-click on it.
2. From Mac's top menu, select the Apple icon, System Preferences, and Software Update.
3. Obtain and set up. I hope you can have your issue resolved. Nevertheless, if installation is still a problem, try the following fixes.
Check For Updates
This one is mainly intended for older Mac computers with out-of-date software users. Apple constantly upgrades its computers with various patches and bug fixes that must be installed along with major releases.
Additionally, you might need to do this before upgrading to a newer version of macOS. Here's how to check your system for any other updates if macOS isn't installing on your computer for whatever reason.
On your Mac, launch the System Preferences program.
Select "Software Update" from the menu.
To install an update, click the Download and Install option if one is available.
You can attempt to upgrade to macOS Monterey once more after installing the update, this time with all required updates included.
Use Personal WiFi & Internet connection
Most public WiFi networks have active firewall connections, preventing you from updating your device from the Apple server.
If your WiFi is experiencing the same problem, try updating it or switching to a personal hotspot [if you can afford it]. Otherwise, as 12GBs of Setup require fast data transfer, I highly advise using WiFi.
Reset PRAM/ NVRAM and SMC [For Intel Mac only]
You don't need to reset any RAM when restarting your M1/M2 Mac.
If you have an Intel Mac or MacBook, you should use the Reset PRAM/NVRAM Process to clear everything out and rebuild all startup program values on the computer.
Install from macOS Recovery
Install as your Mac boots into macOS Recovery. This provides you with the most recent or current installation of macOS. The steps are as follows to launch macOS Recovery:
Apple silicon
Press and hold the power button while turning on your Mac until the startup choices box appears. Select Options from the gear icon, then select Continue.
Intel processor
As soon as your Mac starts up, press Command-R until you see an image, such as the Apple logo.
When prompted to choose a user for whom you are aware of the password, choose that user, click Next, and then type the administrator password for that user. Select Reinstall macOS when you see the utilities window in macOS Recovery, then click Continue and adhere to the prompts on the screen.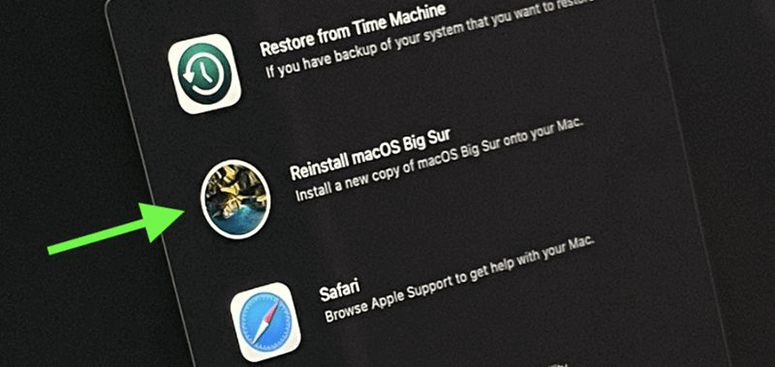 Free up space
In certain circumstances, macOS fails to install because of insufficient hard disc space. To find out how much storage space is available, go to About This Mac > Storage. You'll see a summary of what's on your computer.
Move your cursor over the white space to the right of this bar to find out how much space is available. If it appears low, temporarily remove non-essential files to see if the installation can proceed.
Run Disk First Aid
If you're getting the "Unable to mount volume" issue, try this. First Aid examines the internal hard disc and makes any necessary repairs. It might even be able to mount the volume once it's finished. You can then retry the installation.
Check the Date & Time setting
This could be the issue if the stated date and time do not match reality. If required, restart your Mac, and then navigate to System Preferences > Date & Time. To enable modifications, click the lock symbol and enter your password (if necessary). Then select Automatically set date and time. After that, retry the installation to see if it worked.
Still, Need Help?
If you continue to have difficulty installing macOS, your next step should be to contact Apple Support. You may be asked to take the Mac to an Apple Store or Best Buy to solve the issues. As a result, keep a backup of all your stuff in case a clean installation of macOS is required.
DoYourData Products
Clone HDD, SSD, Mac OS, external disk, USB drive, and more under Mac OS.
Free Trial