There's a great recovery option for Macs called macOS Recovery Mode. It can be used to reinstall Mac OS, check and repair disks with Disk Utility, reset the Mac to factory settings, restore from a Time Machine backup, and so on. Now, follow this guide to use macOS Recovery after upgrading to macOS Ventura.
You'll see a flashing question mark folder symbol at startup and a shutdown if your Mac can't find a bootable drive or macOS is corrupted on the one you're currently using.
The faults plaguing your Mac may be remedied by entering Recovery Mode, which you'll learn how to do here.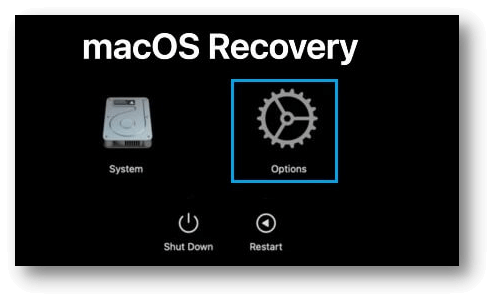 What Is Recovery Mode?
You can think of Mac Recovery Mode as a program that launches Mac's internal recovery utility from a disk partition containing a copy of the OS installation and a recovery image.
Consider the worst-case scenario in which your Mac is completely unrecoverable. You can always boot into Recovery mode if all else fails to check for disk issues. It's a handy program for Macs that can do much, including helping users restore lost data from Time Machine. Users can fix their computers, delete their data, and reinstall macOS.
When to Use Recovery Mode:
These tasks can be accomplished by entering recovery mode:
Troubleshoot startup issues, such as the appearance of a blank or pink "Screen of Death" upon booting MacOS Ventura.
Before you sell, donate, or otherwise part with your Mac, ensure it has been completely wiped.
Use Disk Utility to resolve issues with your hard drives.
Use an older version of Mac OS to roll back.
In order to resolve the issues, a fresh installation of macOS should be used.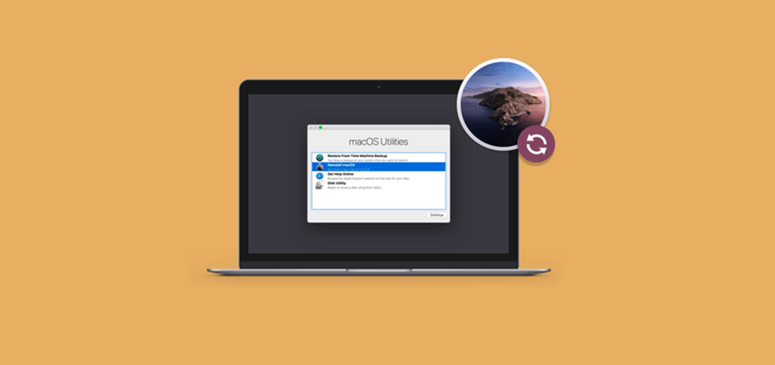 Mac Recovery Mode options:
The following menu items will appear when you boot into Recovery Mode:
Restore from a Time Machine backup
It is a simple method of restoring your system from a Time Machine backup.
Install Mac OS Ventura:
In this way, you can reinstall Mac OS Ventura.
Get Help Online
To reach Apple's help sites. If you need assistance, you can use Safari to surf the web; however, some browser capabilities may be disabled.
Disk Utility
Using this feature, you may check the integrity of attached drives and fix any problems they may be having.
Choose the appropriate response and press the Next button.
Why boot into recovery mode?
Here is a quick scene in which entering Recovery Mode may prove useful.
Your Mac is up for sale. When selling a Mac, it's best practice to erase all user information, including Apple IDs, to avoid identity theft. Using recovery mode to accomplish this is highly recommended.
You're troubleshooting an issue. Recovery Mode is similar to Windows Safe Mode in that it allows you to boot into your computer with minimal resources and more easily diagnose and fix issues.
You need to use Disk Utility. If your Mac's hard drive is malfunctioning, you can utilize Recovery Mode to launch Disk Utility and fix the issue.
Restore from Time Machine. With Recovery Mode, reverting to a previous Time Machine backup is a breeze.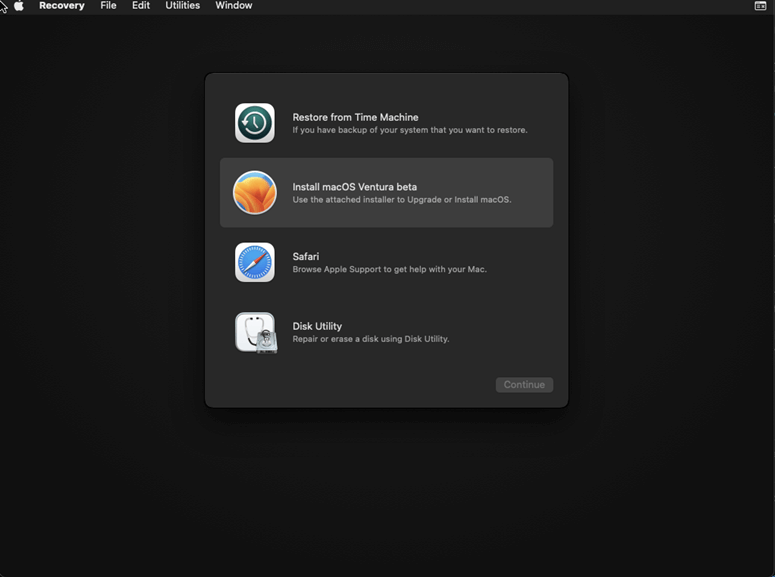 Intel Mac instructions for entering Recovery Mode:
Turn the power on.
Quickly after powering it on, hit and hold the Cmd + R keys.
Whenever you see the Apple logo, release your grip.
Your Mac should now log into Recovery mode.
Methods for activating Recovery Mode on a Mac (M1/M2)
Please power down your Mac.
Hold the power button down for a moment.
Keep at it until you get results. Initialization options are currently being loaded.
To access alternate settings, select Options.
Click Continue.
If prompted, type in your system administrator's password.
How to Exit Recovery Mode?
It's common to find yourself in Recovery mode yet unsure how to get out. Still, the process is simple.
Select "Restart" from the Apple menu to get out of the mode.
If you're having trouble with your Mac resuming normal operation, you might try using the Startup Disk option in the Finder's menu. If you choose the standard boot disk and then click the Restart button, your Mac will be ready.
Conclusion:
If you're having trouble getting your Mac to function normally, you might try booting into macOS Recovery mode. That said, you may be sticky if Recovery mode is ineffective. If that happens to you, go through the typical reasons and solutions for problems with Recovery mode. Contact Apple's tech support or an established third-party repair company when everything fails. You can expect them to identify the problem for you.
In most cases, Recovery mode functions as intended and restores your Mac's functionality when everything else fails.
Related article:
How to make a full backup before upgrading to macOS Ventura >>
Recover lost data after installing macOS Ventura >>
DoYourData Products
Clone HDD, SSD, Mac OS, external disk, USB drive, and more under Mac OS.
Free Trial